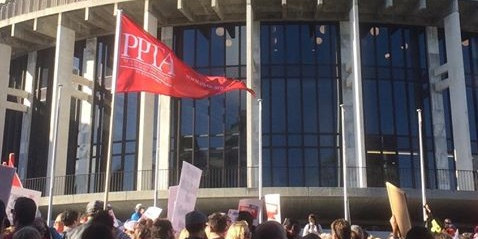 PPTA Te Wehengarua Christchurch Office Field Officer vacancy
A Field Officer position has become available in the Christchurch field office of the New Zealand Post Primary Teachers' Association Te Wehengarua. A starting date will be determined by mutual agreement.
The appointee will work as part of a team of three Christchurch-based field staff and will have responsibility for organising and providing services to members and branches in the areas served by that office. Skill or experience in one or more of the following is sought: dispute resolution, advocacy, union organising, or adult education. Experience in secondary teaching or employment law would also be an advantage. Applicants should list their strengths in their application.
The Association is committed to partnership in accordance with Te Tiriti o Waitangi. A commitment to union goals and a high quality public secondary education service is essential.
Salary will be within the range of salaries paid to secondary teachers. A staff collective agreement covers conditions of employment. The Association is an equal opportunities employer.
Applicants must be legally entitled to work in New Zealand. If you are not a New Zealand citizen, you must have the right of permanent residence or a work permit.
A job description may be obtained from Wendy Daniell by emailing wdaniell@ppta.org.nz. Queries about this position should be addressed to Adele Towgood, Deputy General Secretary (Membership), Email atowgood@ppta.org.nz.
Applications must be received by 12 noon on Monday 24 May 2021 and should be emailed to wdaniell@ppta.org.nz.