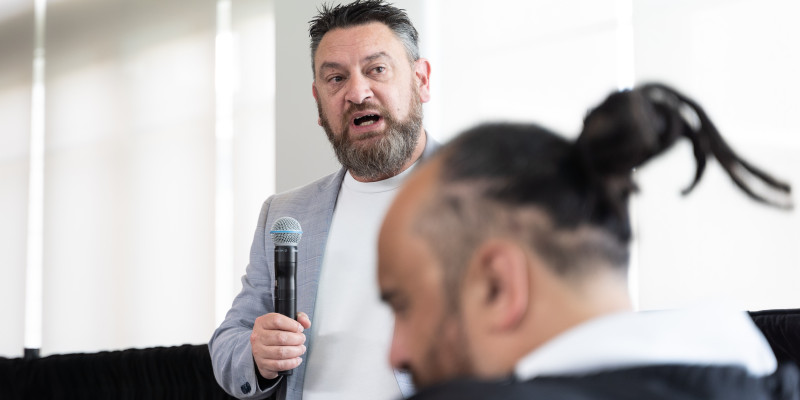 Ending Streaming in Aotearoa
At the most recent PPTA Te Wehengurau Annual Conference, the paper Ending Streaming in Aotearoa was passed with a near unanimous vote. While there are clearly some members who do believe that streaming has a place in our education system, there was almost no dissent in the room; some thought that 2030 was too long to wait, others thought it should have been more specific in terms of defining streaming, while others realised that the "writing is on the wall" and it's better to be at the table than not.
The media coverage felt very 'wall-to-wall' and began even before the conference heard the paper. A selection of these are included here.
Deputy Principal at Onslow College Misbah Sadat (previously HOD Maths at Horowhenua College), was interviewed on The AM Show which unfortunately has not been kept on the platform.
On the day of the vote, the media stepped up considerably with many platforms publishing articles. Stuff posted Teachers want 'racist, discriminatory' streaming system to be abolished in schools from 2030 which features HOD English Philippa Wintle and a link to the conference paper.
Te Karere ran a story which features Te Matau Flannagan, from Tokona te Raki and Tahu News did a great story showing how much this policy means to people outside of our sector.
Heather Du Plessis Allan on Newstalk ZB interviewed principal of Auckland Grammar Tim O'Connor who argues that we are trying to 'get in the camp of the Ministry of Education' and that we should focus more on issues such as attendance. He possibly hasn't read the paper as it clearly states that improved attendance is one of the positive side-effects of destreaming.
Junior Vice President Chris Abercrombie was on RNZ's Morning Report saying that "streaming is based on racist, sexist, elitist past, and so it's about changing that system and moving forward to make sure we can support all our students to be the best that they can be." Professional development for teachers was the key to successfully moving away from streaming, he said. Lessons could be adapted to different students within classes, which already happened even within streamed groups, he said.
Melanie Webber on Newstalk ZB (sadly Mike Hosking was absent) and the host held firm to the idea that 'some kids are smart and some kids aren't') but also seemed to 'get it' towards the end of the interview). Melanie was also on The Breakfast Show on TV1 and spoke to a fairly receptive Jenny-May Clarkson who shared her own experiences.
The day after conference the media coverage continued in Stuff and we had two of the Ministers of Education (Chris Hipkins and Kelvin Davis) 'applauding' our move. ACT's Chris Baillie said we have strayed from our purpose as a union (showing his lack of understanding of what PPTA is and does).
The Conversation had a great piece written by Canterbury and Auckland academics, NZ's key teacher unions now reject classroom streaming. So what's wrong with grouping kids by perceived ability?
The Spinoff ran a piece, Ineffective, dated and racist: teachers vote to ban streaming in Aotearoa and features Fairfield College Principal Richard Crawford (who presented at the SPANZ conference and PPTA Leadership Summit on Streaming) and Auckland University Professor Christine Rubie-Davies who said "a lot of evidence that shows teacher expectation is lower for Māori and Pasifika students with the same achievement level as Pākehā". The problem is that once you're put into a tier based on your perceived ability, it becomes almost impossible to shift upwards as time goes by – and that has an ongoing impact even beyond school. It means that "these decisions made really early in kids' lives have ongoing impacts for their futures".
Following on from the work being led by Tokona te Raki, a report has been drafted as a 'blueprint' for ending streaming in Aotearoa. The report is due to be launched at parliament in February 2023. The draft copy will be presented to Mātauranga Iwi Leaders Group on 25 October and to Associate Minister Tinetti on 26 October.
View expanded page