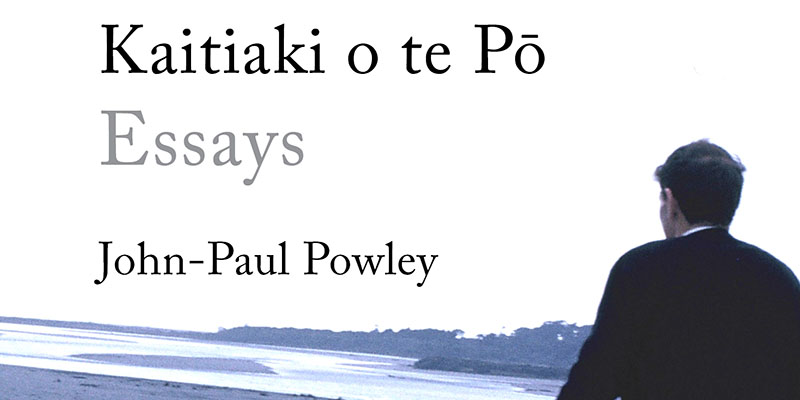 A book that should feel like a stone in your shoe
PPTA member John-Paul Powley speaks with PPTA News about his book of essays Kaitiaki o te Pō.
"Historians, he said, were 'kaitiaki o te pō'. This translates to mean the caretakers of the night …. Suddenly I felt honoured to be a teacher of history; honoured and charged with a great responsibility." – John-Paul Powley, Kaitiaki o te Pō
Writer John-Paul Powley draws deeply on his experiences as a history and social studies teacher, and particularly as a dean, in his collection of essays Kaitiaki o te Pō. He answers some questions for PPTA News.
PPTA News: Tell us about your teaching background
JP: I finally left school when I was 25 with a completely useless English Literature thesis in Theatrical Censorship in Tudor-Stuart England (more interesting than it sounds but not much), and then taught English language in Japan for five years. I started teaching in Aotearoa in 2006. I am yet to be dismissed. I have taught Tikanga-ā-Iwi at two state schools in the Wellington area. At some point in the future I will win a crucial pub quiz round with my thesis knowledge and the $20,000 of debt will have been money well spent.
PPTA News: Your essays draw a lot on your experiences as a history teacher and particularly a dean. What do you hope teacher readers will take away from them?
JP: Mostly when people write about teaching they do it for laughs. The story Pastoral Scene is not for laughs. It draws on five years of teaching that changed everything I think about Aotearoa. Teaching can be punishingly hard emotionally. At the very least you might feel like you're not alone. One review said it wasn't optimistic enough as a book. Some books are for that, but I think this one is supposed to be a stone in your shoe. Teaching is not an easy job. You don't deal with easy things that neatly resolve. How I write about teaching feels true to me, but it might not be everyone's cup of tea.
PPTA News: What inspired you to write Kaitiaki o te Pō?
JP: What made this book happen was a friend saying: "I am a publisher; organise your writing and I will publish it." What inspires me to write in general is a different question. It's free therapy. Although it doesn't really seem to work: the therapeutic outcomes are poor.
PPTA News: What are your thoughts on the debate around teaching New Zealand history in schools (or the lack thereof in some cases?) Do you think it should be compulsory?
JP: I think it would be better to make Te Reo Māori compulsory. You can make subjects compulsory but you can't make content compulsory. You could make history a compulsory subject and create standards that pushed a focus on Aotearoa but you couldn't do more than that with the current model and that could be easily circumvented. ("Let's teach about WWII and chuck in the Māori Battalion"). Teaching Te Reo would serve to bring Māori ideas and ways of thinking into every subject creating a real pressure for curriculum to change. That change would take 12 years but it would profoundly alter our education system for the good.
PPTA News: Your essays share some of New Zealand's history that is not always told, or told mostly from a European perspective. What made you decide this was an important focus to take?
JP: I am in no way speaking for Māori. My stories are from my perspective on the premise that the Pākehā who are fragile around history in this country might listen to a white guy. Think of me as a gateway drug for some of them. Also, a story that makes Māori stories as central as Pākehā stories is truer, and history is supposed to be as close to true as we can get. It might be inconvenient to some Pākehā myths, but it's probably better to be honest I think.
PPTA News: Conferences come up often as a theme in your essays (we sense a love/hate relationship). As an organisation that runs our fair share of conferences, do you have any advice for us?
JP: There's no point in tailoring a conference or PD to me: I'm a niche audience. I think that unless it's about equity and justice in the education system, or about the climate crisis, most conferences are a waste of oxygen. That said, my top tips would be: (1) if the key ideas could be put on a post-it note, just give me a post-it note, and (2) don't show me a TED Talk.
PPTA News: What sort of feedback have you had?
JP: Mostly good. On the other hand, I explicitly asked the publisher to only pass on good feedback because I sulk a lot when rejected.
PPTA News: What do your students think about your writing?
JP: I think that only ex-students have read it. My writing is middle-aged and pretentious which naturally repels the young.
Kaitiaki o te Pō giveaway
Fancy yourself a book reviewer? PPTA News has a copy of Kaitiaki o te Pō – Essays by John-Paul Powley to give away for review. If you are interested email news@ppta.org.nz and let us know why you would like to review the book.