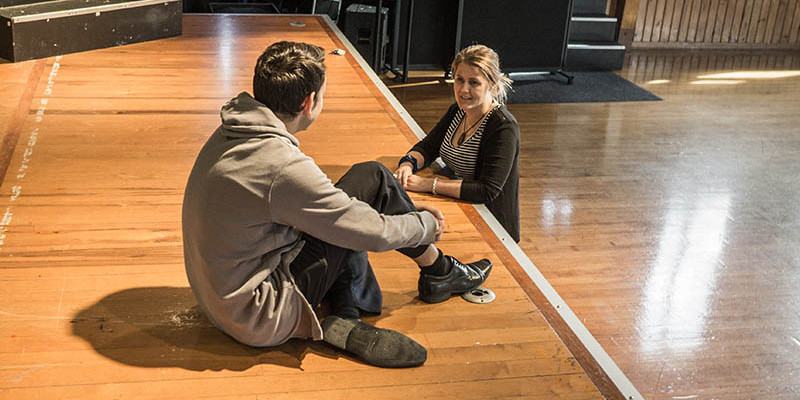 A labour of love – drama teaching and resilience
Macleans College drama and dance head of faculty Dr Jane Luton examines the long hours drama teachers put in to provide students with a school production experience
"For some kids, it is their best experience at school"
One of Jane Luton's first loves is being a drama teacher. "It's about reaching and inspiring students…for some kids it is their best experience in school," she said.
The drama and dance head of faculty recently spent 268 unpaid hours directing her school's production of Miss Saigon and has been giving her time in this way for her whole teaching career. She has directed plays with her baby daughter in her arms, and this year that same daughter, now a drama expert in her own right, co-directed Miss Saigon with her.
"She grew up around drama and took it up herself, not because I forced her, but because she loved it," Jane said.
Drama teachers and musical directors spend many hours after school
Productions that relate to drama assessments or support curriculum studies are considered co-curricular activities and allotted time for during the school day, but a major school production is considered extra-curricular and only allowed one day of school time.
This means drama teachers and musical directors spend many hours after school, in weekends and during term break putting together productions that are increasingly expected to be up to a professional standard.
"Teachers are expected to put together productions at a professional level and they are doing it without professionals," she said.
Why do teachers do it?
So why do teachers do it? What keeps generations coming back and what can be done to support the teachers who put their heart and soul into it?
Jane attempted to answer this through PhD research into drama education and the difficulties drama teachers face, and has recently had an article, "The ugly side of drama teaching": Drama teacher resilience in the face of school productions", published in the New Zealand Journal of Research in Performing Arts and Education: Nga mahi a Rehia no Aotearoa.
"Little research has been done on this…it's such an important subject in schools. People don't always realise how important it is. It's a subject we have to justify in a way that you don't if you are a maths teacher," she said.
Changing students' lives for the better
Jane's research has shown the answer to these questions is largely – the students. A research paper she sites – Lifelong Impact: Adult Perceptions of Their High School Speech and/or Theatre and Participation – gathered long-term statistics on the benefits of arts and drama, and showed the positive impact of drama on a number of aspects of students' lives. "It's really a context for learning. It boosts school attendance and academic performance," she said.
"We love what we get from students doing productions. Seeing them grow in confidence is one of the best parts of teaching. You work with the students to get it right. It's a great place for collaboration. We learn from each other," she said. "I am passionate about giving that experience to students – all drama teachers are. It's why they put the massive hours in, because of the impact on their students' lives."
Guided by PPTA research
Guided by PPTA guidelines for extra-curricular activities, health and safety regulations and academic research Jane's article questions what drives drama teachers to commit themselves to long hours above and beyond their normal teaching load.
Quoting PPTA's 2016 workload survey, Jane talks about the pressure on teachers to undertake extra-curricular activities, which schools see as a competitive necessity. "There is no resourcing provided to schools for extra-curricular activity (either in terms of staffing time or specific funding). The additional hours put into extra-curricular is largely unrecognised and contributes to the overall workload pressures," the survey says.
Schools should promote work-life balance
PPTA has created a set of guidelines designed to encourage schools to establish supportive practices around extra-curricular activities. They suggest as part of best practice, schools should release teachers who undertake extra-curricular activities from doing duty and that they should be recompensed for meals and expenses.
"PPTA suggest that schools which promote a work-life balance for their staff are more likely to recruit and keep staff than those who place undue pressure on them. In these days of teacher shortages it is interesting that schools still expect that extra-curricular activities are carried out," Jane said.
Bringing productions into the curriculum
What Jane would like to see is extra-curricular activities like school productions brought into the co-curricular fold. She hopes the Tomorrow's Schools and NCEA reviews can have a part to play in this.
"They are talking about a focus on project-based learning. There are massive opportunities to bring (productions) in. There can be links to history, English and social studies. They promote creativity and confidence. They are an absolutely valid part of education."
Jane's advice to drama teachers struggling to cope is to focus on finding the joy in the subject. "It doesn't solve the practical problems but it helps." She also advocates looking into the theory behind teaching drama.
"Doing my PHD really helped look at things through fresh eyes. It was good to explore why I do it. To be able to look at research into drama education and the way it changes students' lives, that was huge."
PPTA workload advice (ppta.org.nz)
Extra-curricular activities – PPTA guidelines (ppta.org.nz)