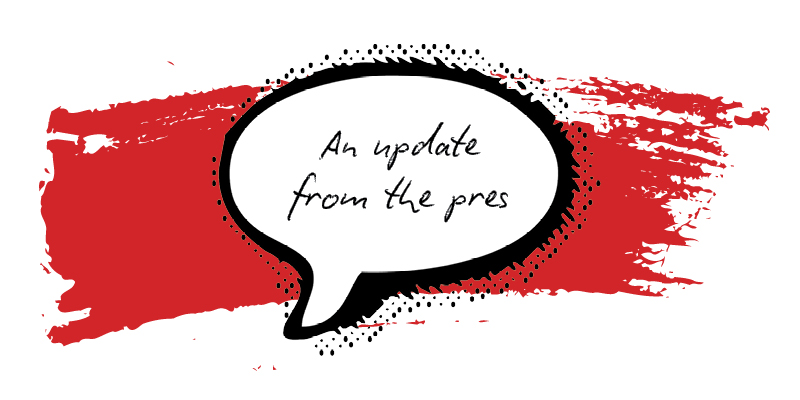 A message from the pres - part three
PPTA's work to make schools safe and inclusive for all is something we should be really proud of. Over the last few days it's been great to feel like we're on the right side of history with our guidelines on gender-neutral schools.
E te whānau, ngā kaiako o Aotearoa, tēnā koutou katoa.
Inclusive greetings.
PPTA's work to make schools safe and inclusive for all is something we should be really proud of. Over the last few days it's been great to feel like we're on the right side of history with our guidelines on gender-neutral schools. Sure there have been a few haters, but let's be frank, they're the same people who opposed homosexual law reform, and would have spluttered into their beards and clutched their pearls about women voting. While all we've done in the last few days is re-issue a set of guidelines that have been around for over a decade, the public response shows that it's an issue that's reaching tipping point. Again, this shows PPTA's role as a thought-leader and critical influence on education issues, and I'm sure that it's a positive one that makes schools better for everyone.
No doubt we will face similar (although perhaps less explicit) levels of opprobrium as we continue to advocate for increased support for students who must overcome barriers of neurodiversity, poverty and physical/emotional/cultural challenge.
But we must persevere – the principles of tolerance, acceptance and safety require of teachers and schools that we meet the needs of all our young people, even when some in our community misapprehend or malign our efforts.
Thank you for all you do to ensure that our schools are safe, supportive and inclusive environments for all our students.
Iti te matakahi pangaia atu ki roto kite totara pakaru rikiriki.
Education Council
The worst kept secret in education slipped out in a public forum last week with the MOE proclaiming that oversight of PLD for teachers would be with the Education Council by 1 January, 2018. While we had seen this coming, the lack of consultation around why PLD needs to move to Education Council, what the challenges might be and what their 'oversight role' might actually entail is somewhat unfortunate. (Not to mention the capacity issues the Council already seem to have and the premise that teachers will be paying more and more for the Council's expanded functions.). Ironically, while the MOE claimed that they had already made this information public they have so far been unable to produce any public statements for the PLD Implementation Group. 
Quite how the Education Council could run the new PLD system without working through MOE regional offices (and thereby losing all pretence of independence from the government) we're not sure at this stage. 
On-going Professional Learning
The design and implementation of a new PLD framework continues to move at a snail's pace, and development of the 'Networks of Expertise' (the only part likely to provide teacher directed, subject specific professional learning) is positively glacial. However, a needs analysis has been completed so perhaps we will see things move more quickly before Education Council takes over as the Ministry's "real estate agent for PLD". 
We will of course be continuing to advocate for accessible, high quality, needs based ongoing learning for teachers whatever shape the PLD model finally takes. The case for all teachers to have access to the professional knowledge they need to shape pedagogy and meet the needs of diverse learners should be absolutely obvious (sadly it doesn't appear to be so for the people holding the purse strings).
Nevertheless, we will continue to keep you informed of any changes and ask you to contribute your views and experiences.
Wellbeing
We have just begun a joint project with the MOE and NZQA to develop resources for schools to reduce over assessment which continues to have implications for both teachers and students in our schools and kura.
While Budget 2017 included much needed funding for mental health support it appears that the current focus for this sort of 'social investment' is not the young people in our secondary schools – despite the worrying rate of anxiety and our youth suicide statistics. Sadly, while one political party has spoken of providing access to mental health services in every New Zealand Secondary School, currently the government won't even increase the pastoral care and guidance staffing in schools, so that a school that has 3,000 students gets no more pastoral care and guidance staffing than a school of 400.   ERO pointed out how crazy that was in December 2013, and told the Ministry they should fix it. Nothing has happened, and under the 'social investment' mantra it won't because they say there isn't enough evidence to prove that spending the money will have the right impact.  (Not that they show any willingness to go looking for that evidence, or see it when it is presented to them.)
Of course, we'll continue to advocate for a wellbeing plan for teachers and students, work to reduce over assessment and make a case for increased investment into our schools – but we will need you to stand with us to have the best chance of success.
Nga mihi nui hoki koutou mahi.
Jack Boyle
President