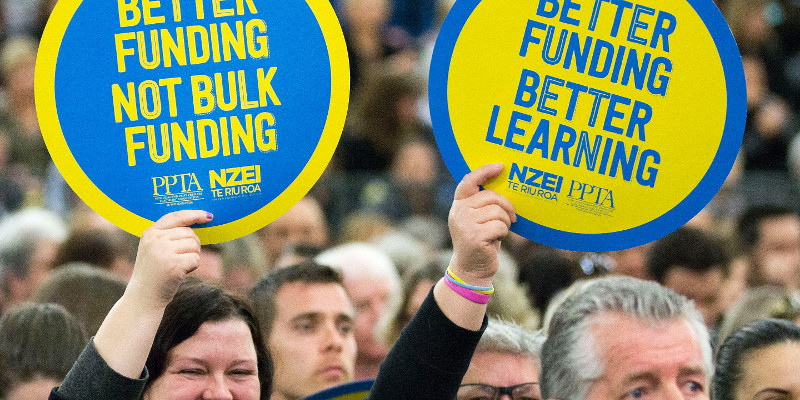 A snapshot of New Zealand's 'Free' education system
Within the Global Community the right to education is not only enshrined in the Universal Declaration of Human Rights but has also been included within the United Nations Sustainable Development Goals (SDGs), which require nations to work towards free public education, sufficient qualified and trained teachers and equity of access for all.
In an Election year I thought it might be useful to see how Aotearoa New Zealand stacks up against these laudable goals. In this, the first of three blogs, I'll take a snapshot of 'free education' in the compulsory schooling years.
A Free Public Education?
The free enrolment and free education requirements in NZ law mean Public Schools (State and State Integrated) are not generally permitted to charge any compulsory fees. However, they can charge for consumables, take-home items, stationery, clothing, and activities that 'enhance' but are not part of the delivery of the curriculum, (providing a parent has freely agreed to incur the charge).
State-integrated schools also charge "attendance dues" to parents to cover the costs of the still privately owned land and buildings, (and to pay off any debts accrued by the school prior to integration). Typical attendance dues range between $240 and $740 per year for Catholic schools, and between $1,150 and $2,300 per year for non-Catholic state-integrated schools.
Public State and State Integrated schools can also seek 'donations'.
Labour Party leader Andrew Little says

Voluntary Donations
Most public schools request that parents or guardians make a (usually annual) contribution to their child's school. In New Zealand these 'donations' are voluntary and tax-deductible for parents. While requests are often 'tagged' for items attractive to parents - e.g. additional teachers/small class sizes, ICT, or other learning resources, schools can use this additional funding at their own discretion.
Although payment is entirely voluntary, some school boards have been known to use terms such as "Fees", "School Levy" or "Parental Contribution" to coerce payment from parents. The Ministry of Education's Fees Circular to school Boards advises that terms to imply that payment is compulsory should not be used, particularly "fee" or "levy". Instead, the term "School Donation" is suggested.
PPTA President Jack Boyle says,




In recent years an increasing number of schools have stated that donations are needed to 'bridge the gap between the costs of delivering quality learning over and above what the Government funds'.
Unfortunately, the distinction between what schools should fund as part of a 'free education' and what should be viewed as 'extras' is not always clear.
Currently, while State and state-integrated schools can charge 'Activity Fees' for items above and beyond the curriculum, payment of donations remains voluntary. However, some commentators suggest that because funding is insufficient fees may have to be considered.
Labour Party leader Andrew Little says,



Secondary Principal Patrick Walsh says,

Plugging the gaps?
Over the past few years donation requests to families have increased.
Ministry of Education figures, released under the Official Information Act, show that in 2015 schools collected $124.9m in donations. That compared with $113m in 2014, and $110m in 2013. A number of school principals suggest that these increases were the result of a shortfall in what resources were required to be able effectively teach children, and what the Government operations grant and funding covered.
However, the Ministry of Education disagrees that increased donations are reflective of parents paying more, citing that the totals collected include community and business donations. Alternatively, the School Trustees Association (which represents Boards of Trustees) suggest that while some of the increased costs were probably a result of school expectations changing - for example for children have to bring their own devices such as tablets and laptops - some schools were having to cut programmes based on their funding.
In 2016 a Sunday Star Times story suggested that increases in the expected 'donations' requested by schools were close to 10 times the rate of inflation. Then Minister of Education, Hekia Parata, disputed that this was connected to underfunding of schools.


Labour Party Education spokesperson Chris Hipkins says,



*The Ministry of Education are currently revising their Guidelines about what schools can charge for.
What does the taxpayer fund?
'Operational funding' covers a school's running costs, including the wages of all non-teaching staff, property maintenance, classroom materials, purchase and depreciation of capital items, leases and rentals and staff professional learning and development.
Operational funding is calculated using school rolls and other factors such as decile (The decile rating of a school is a measure of the socio economic status of a school's local community that is generated using census data. Introduced in 2005, the decile component of a school's operational funding provides additional funding in order to provide for more 'equity' for students from less well-off family backgrounds).
PPTA President Jack Boyle says,




*The National Government are currently exploring the removal of decile funding as part of a Funding Systems Review.
How much are our students getting in 'per student funding'?
The Ministry of Education Website (educationcounts.govt.nz) shows a general trend of increasing 'per student funding' in NZ Public schools from 2002 – 2015 using a 'weighted index' which includes teacher salaries and operational funding.
While this may sound like a good thing, by international standards New Zealand's per student funding remains well below the OECD average for primary school students and only slightly above the average for secondary students (with per student funding 21st and 17th respectively across 31 OECD nations).
At the same time, questions surround whether or not these 'increases' to per student funding translate into increased educational resources for students at all - as they are not inflation adjusted. (In fact, some commentators claim that per student expenditure has actually decreased relative to CPI since 2009).
The OECD also highlight that the 'main source of per student expenditure is teacher salaries'. Teacher salaries in New Zealand are marginally above the OECD average and also show a general trend of annual increases. However, while teacher salaries have increased since 2008 this has only occurred as a result of Collective Bargaining by teacher unions (after the National government abandoned objective CPI-linked increases in New Zealand). Here again, many commentators claim increases have not kept pace with inflation.
PPTA President Jack Boyle says,






*The National Government are currently attempting to establish 'how much it costs to deliver a year's worth of learning' as part of a Funding Systems Review.
Increases to school funding?
In 2017 Public school Operational Funding did not receive an 'across the board' increase as in previous years. Instead, a 'targeted increase' for schools with students meeting a 'risk profile' piloted by the National government was included in the Education Budget.
What this meant was that while some New Zealand schools received increases, some did not.
In 2018 all Public schools will receive a 1.3% increase to their Operational Funding (to offset the 2.2% inflation increase in costs from March 2016-March 2017 and the projected 1.7% increase in inflation from March 2017- March 2018). Targeted increases for some schools will continue in 2018.
The National government is also currently developing an alternative funding model for schools following a Funding Review in 2015/16. One of the key proposals is to move to a per student funding regime with additional funding for students with 'predictive risk factors', and the possible removal of 'base funding' to schools (that is core running costs not directly associated with the number of students in a school).
PPTA President Jack Boyle says,





Labour Party Education spokesperson Chris Hipkins says,







In 2016 an independent survey of parents by Australian Scholarships Group (ASG) suggested that the average cost of 'free education' in New Zealand was $40,000 per child.
ASG Chairperson, John Velegrinis says,

Re-carving the pie
Despite increasing concern from Principals, Boards, teacher unions and parents around the adequacy of funding for schools, former Education Minister Hekia Parata, new Minister Nikki Kaye and Ministry of Education officials argue that education funding has increased more than ever before – the question that hasn't been answered is whether it's enough.
The future of free education in NZ
While we still have a 'free education' in law in Aotearoa, it appears that exactly what that entitles our young people and families to – and how much it costs – has become less clear.
In my second blog in this series I will take a snapshot of how NZ measures up in meeting the United Nations Strategic Development Goal of having sufficient trained and qualified teachers.