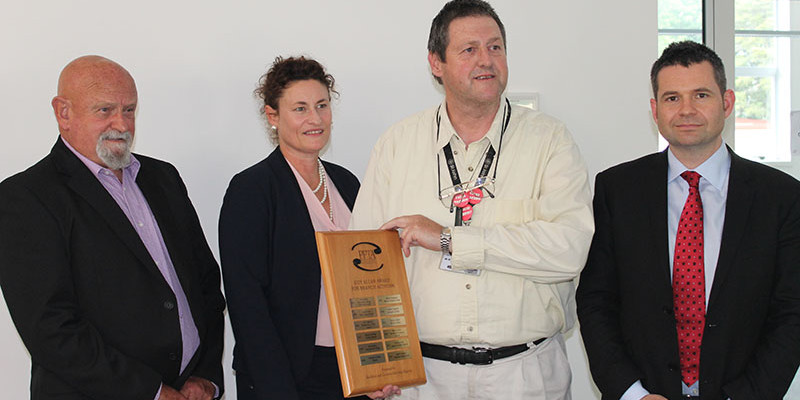 A strong and compassionate unionist
Counties-Manukau member Mark Goddard is recognised with a PPTA service award
PPTA activist and staunch unionist Mark Goddard was presented with a PPTA service award during the Counties-Manukau paid union meeting in June. 
It was a fitting venue for the presentation as Mark often played a big part in organising PUMs in the region. "Nothing was too much for Mark to organise or handle," PPTA Counties-Manukau regional chair Janette Snowden said.
Mark was Pukekohe High School branch chair for 12 years and was known as the go-to person when branch members needed assistance and support. "He fought many battles for members of this branch and was very effective in doing so until he retired," she said.
To recognise his branch activism, Mark was also awarded the Guy Allan Award in 2014.
An early introduction to unionism
Mark's union pedigree stretches back much farther than his time with PPTA, friend and colleague Rodger Barlow explains.  Mark started his working life in 1975 as an apprentice with the Otahuhu Railway workshops.
This was a period when the Naval Dockyards, Ministry of Works, Post office Workshops and the Railways Workshops supplied most of the skilled Tradesmen and Labourers to the New Zealand workforce.
Mark's introduction to unionism was as an apprentice. The twist was that, at age 15, he was considered too young to join a union.  The issue was resolved some months later when the new apprentices found they were not being given the training due to them and were being used as labourers to complete work that was already underway.  "Mark and his colleagues were not happy with this situation so a group of them made the branch chair of NZRTA aware of the issue. One outcome of this was the establishment of the apprentice section of NZTRA," Rodger said.
Apprentices were required to bring a 'sick note' from their parents when they returned from a period of illness, Rodger said. "As Mark said, this was ridiculous as many of the apprentices did not live at home and a 'note from mummy' was not possible.  This was one of the issues that was dealt with by the apprentice section."
Seeing inside the person
When he turned 18 Mark became a full member of the NZRTA. Rogernomics was in place and it was hard to fill positions when tradesmen left the railways in search of better pay and working conditions.
"Mark became the assistant secretary for the Otahuhu Railway Workshops at the ripe old age of 21. This was when he says his real training as a union delegate really started," Rodger said.
"Learning people skills, and representing members with their issues was when he says he really grew up. He says that he needed to be able to see inside the person he was representing as many presented as hard people but, the outward appearance was a cover for their real selves," Rodger said.
He was a long-time member of St Johns and staffed the St Johns centre on a rostered basis which also gave him an insight to how people work.
Disputes and support 
And of course, there were the disputes. During the Air New Zealand Engineers dispute NZRTA walked out for two weeks in support of the engineers, as well as helping with practical day to day support, Rodger said. The Bastion Point occupation also saw the railways  helping with practical and moral support for the protesters.
"1981 and the Springbok tour was a close-run issue within the railways and at a meeting attended by 1500 members a vote was taken. Mark and Jack Mason a member of the NUR were elected by the people at the meeting to count the vote. It was close, Mark thinks the motion was won by less than a dozen votes. The railways went out for a half day and offered moral support to the protesters." 
When health and safety wasn't a thing
Health and Safety was not a major issue in many institutions and Railways was one of them, Rodger said.  "Mark remembers that workers would have to scrape human excrement off the chassis and frames of many carriages, before they were able to commence work on them.  This was because the toilets emptied directly onto the tracks and the bottom of the carriages would become covered by the spray.  Naturally the Union became involved and an allowance and safety equipment was negotiated."
Asbestos was found in the Silver Fern rail car and the workers on that job refused to work until a remedy was put in place, Rodger said. "This was a lengthy dispute and levies were struck to support the people responsible for completing the building of the Silver Fern.  The asbestos handling document drawn up as part of the settlement was the forerunner for the current legislation."
Time for a career change
"Then of course the railways were sold and the rot set in. Work standards were slipping and Mark was not happy," he said.
One day in September 1985, Mark found a newspaper article on the floor of a carriage talking about the shortage of technical teachers and a training course that was available to those who wanted a career change.
"So, Mark thought he would please Mum and apply for a position at training college. When he rang to get more information, he was told that the application time had passed but that there were still vacancies, and the selection panel would be prepared to interview him.  Mark attended the interview and was accepted by the panel before he left the room."

At the end of his training Mark had two offers of employment and was in the process of deciding when he had a phone call from Pukekohe High School, where he had done a section and enjoyed his time. He was employed without an interview.
Our Mark 
Mark had been a student member of PPTA while at training college and joined as a full member when he started at Pukekohe High. He became fully involved when the incumbent branch chair resigned. As chair he began to attend regional meetings and meeting other people from around the region. Stuart King was the executive member at this time and he and Mark were the instigators for the PPTA membership card. 
"In 2014 Mark was the recipient of the Guy Allan Award and in this year, Mark has again been recognised with the PPTA Service Award. To the staff at Pukekohe High Mark is many things. He is the branch chair to many, a person to share issues with to others, a raconteur, poet, Shakespearean actor and all-round good guy to the rest. To those who shared classes and an office with him in the technology block, he is our Mark," Rodger said.
The apple does not fall far from the tree and Mark is extremely proud of one of his sons who is a First Union workplace delegate and has just been on the winning team in an industrial dispute.
What is the food of a leader?
Counties Manukau executive member Pōwhiri Rika-Heke shares a personal tribute:
He aha to kai ō te rangatira?
He kōrero, he korero, he korero.
What is the food of a leader?
It is knowledge, It is communication.
In my capacity as regional officer in Counties-Manukau, I had the pleasure of working alongside Mark for nearly a decade. Pukekohe High School, was fortunate to have such a strong, passionate and compassionate unionist of Mark's calibre. His ability to understand and articulate the essential ideas of various PPTA conference papers was an invaluable asset to our time-poor regional committee.
Though Mark did not hold the position of regional chair, he was, nevertheless, a true leader for Counties-Manukau because of his ability to communicate complex ideas in terms even I could understand.
Mark, though a formidable unionist who would argue tooth and nail for any cause that promoted and supported workers' rights, particularly in order to rectify an unjust and unfair employment practice, was also one of the most gentle, kind and generous gentlemen I have had the privilege of knowing.
Thank you for all that you are and all that you gave to your colleagues and to the PPTA, Mark. He mihi aroha ki a koe, e hoa.