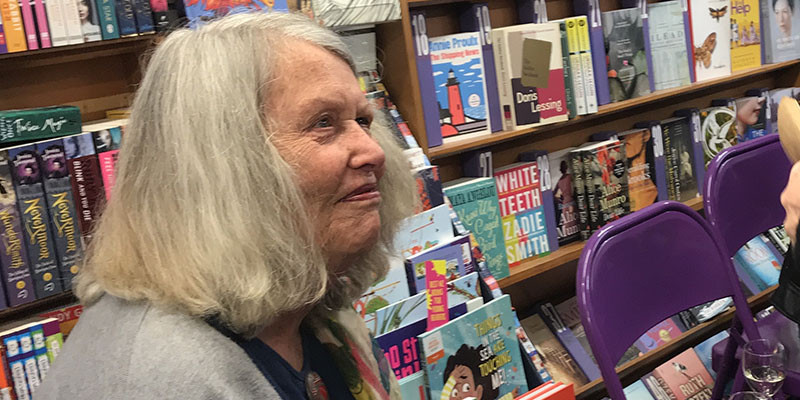 A Teaching Life
PPTA field officer Helen Pearce attended the very PPTA-centric launch of former Selwyn College principal Carol White's memoir – A Teaching Life.
Feature image: Mary McCallum 
On the evening of 25 July, a very heart-warming event took place in the Women's Bookshop in Ponsonby Auckland - the book launch of a memoir, A Teaching Life, written by Carol White.
Co-principal of Selwyn College from 1992 to 2007, Carol was a PPTA member since she began teaching in 1961 at Wellington Technical College (later Wellington High School). This very enjoyable occasion was attended by nearly a hundred of Carol's friends and family members. The Women's Bookshop, an Auckland institution which is celebrating its thirtieth birthday this year, was a warm and appropriate venue for the occasion. Carole Beu, the founder and proprietor of the shop, is a former teacher and PPTA member.
The formal part of the launch was opened by Mary McCallum of The Cuba Press, publisher of the book. She spoke of the pleasure the firm had taken in publishing the book, describing it as a modest memoir which gave a big story of a school leader promoting a tolerant and inclusive teaching philosophy, referring in particular to Selwyn College's work with refugee families. 
The second speaker was Charmaine Pountney, author of the book's foreword, herself a former PPTA executive member and principal. (Charmaine published her own memoir, Learning our Living, A teaching autobiography in 2000). She described Carol as a true educator who always supported colleagues and students, some of whom were present, and said the book was beautifully written.
Carol then spoke, thanking people for coming and reading a short passage from the beginning of the book in which she writes of first realising at the age of four "I was me" and the joy she felt at that realisation. She thanked her husband and people who helped her with the book. Then members of the family spoke, including her daughter, Helen, who praised her mother's genuine interest in other people and kindness, and husband, Peter, who said we were living in "an age of wonderful women" and that he had been pleased to have been able to help with the book.
The whole occasion was extremely enjoyable and uplifting as it celebrated the contribution teachers make to the lives of others and the satisfactions teachers experience themselves from "a teaching life".
 Would you like to review A Teaching Life? 
PPTA News has a copy of Carol White's A Teaching Life available for review. If you are interested drop us at line at news@ppta.org.nz. First in first served!