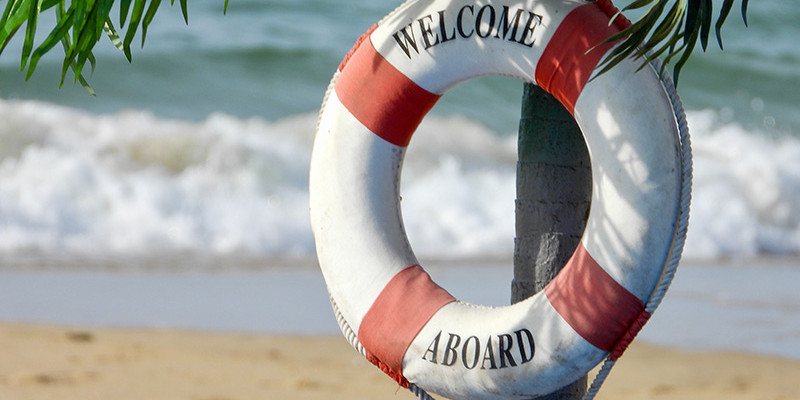 New faces in the field
Introducing PPTA's newest field officers Marie Blackley and Ahmad Osama
Feature image by Nick Fewings on Unsplash
You can't help others unless you put on your own oxygen mask
Architecture, anthropology, selling fish and teaching, Canterbury and Aoraki's newest field officer had a varied career before coming to work for PPTA.
Originally from Dunedin, Marie Blackley has been living in Christchurch for six years.
Before joining the team at PPTA's Christchurch field office she studied at Victoria University School of Architecture and became a project and construction manager, then returned to university (Otago) to complete a Graduate Diploma in Anthropology. After a brief stint as a fishmonger, she worked as a human resources manager and then assistant store manager for Woolworths New Zealand.
After completing her OE (which involved working as a chef, personal assistant and boat crew) she returned to New Zealand to retrain as a teacher, graduating in 2003 from Otago University College of Education.
Marie taught technology and graphics at Kaikorai Valley College in Dunedin, but after a spinal injury she broadened her subject areas to include French and mathematics as teaching in the workshop was no longer doable. Since moving to Christchurch in 2014 she has taught mathematics at Cashmere High School.
Marie has been involved with PPTA since she joined the association as a student teacher. "I have been the branch chair at both of my schools and on the regional committee for both Otago and Canterbury," she said.
In term 2 of 2019 Marie was appointed to a temporary field officer position to provide additional support in the wake of the Christchurch mosque shooting.
It was the passion of teachers that made her decide to apply for the fulltime field officer role. "Teachers are so passionate about the success of their students and frequently make sacrifices because they care so much. I wanted to support teachers and make sure they are getting treated fairly," she said.
Marie is already providing that support. "I have met many very lovely PPTA members around the Aoraki and Canterbury regions and love that I have been able to help a few already."
She sees her biggest challenge as getting teachers to put their own needs first occasionally. "You can't help others unless you've put on your own oxygen mask."
Marie is proud to be a part of PPTA. "Every time I have been to the PPTA annual conference I am blown away by how much we, as an association, care about the education of our ākonga. I am proud to be part of an organisation that has this much passion and purpose," she said.
A new role for PPTA activist
The Central Plateau/Manawatū-Whanganui region's new field officer has a strong background in PPTA activism.
Ahmad Osama has been involved with PPTA from early on in his teaching career. He spent the majority of his time teaching at two schools – Hawera High School and, more recently, Aotea College.
"My first school was a great place to develop as a beginning teacher. At my last school I was a dean and an assistant Head of Department. I thoroughly enjoyed those roles and they gave me a good understanding of the complex issues teachers face," he said.
Ahmad taught science, focussing in biology and environmental science and even did a year teaching a bit of junior maths. "I particularly enjoyed teaching junior science as it was great seeing students develop a passion in this area," he said.
Ahmad took on the roles of PPTA branch chair and Taranaki Network of Establishing Teachers representative during his second year teaching. "Being NETs rep was great. I was part of the Taranaki Regional Committee which had a great bunch of people who were very supportive," he said.
He also spent some time as treasurer for the Taranaki region, which he describes as a more challenging role. "I can still remember spending significant time trying to find where that last 58 cents had gone on the spreadsheet. I found it eventually!"

While teaching at Aotea College Ahmad was shoulder-tapped by Wellington executive member Kevin Greig who advised him of an upcoming regional chair vacancy. "It was a great opportunity to work with a passionate team on the Wellington Regional Committee and we achieved a lot together," he said.
"I have thoroughly enjoyed being involved in a wide range of roles in PPTA where I have been able to represent members and advocate for them. I have appreciated the opportunity to be involved in planning events such as branch officer training and professional development opportunities which many members engaged with. I want to do more of this as a field officer so that I can encourage more members to take up the opportunities that allow them to get involved in their union," he said.
Ahmad started his field officer role just as the country went into lockdown due to Covid-19 so his first experiences in the job were remote. Coming straight from the classroom however meant he had a good idea of what teachers were going through.
"Because I was in the classroom recently it does give me a good understanding of what teachers are facing in the online learning environment and the unique challenges it creates. I am looking forward to the challenge of supporting members in online teaching and the issues they will face as they support their students through this journey."
He was however most looking forward to getting out in the field to visit branches and meet member to support them with the issues they are facing.