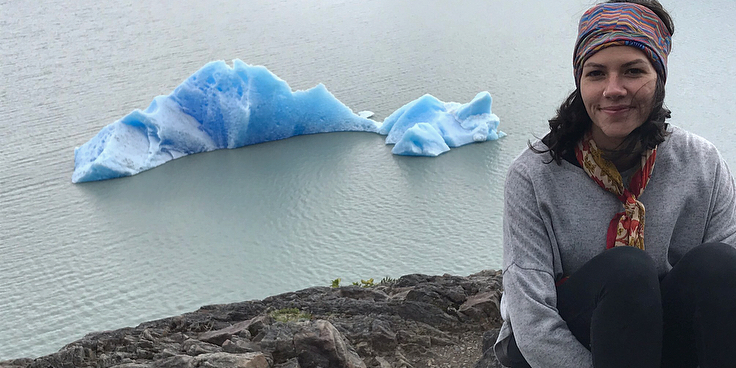 Be kind to yourself – advice from a beginning teacher
Beginning teacher Rebekah Milford shares the ups and downs of being the new kid on the block at school.
English teacher Rebekah Milford has found the holy grail of beginning teachers, a full-time permanent position in a job she loves, with supportive staff around her.
Like all new teachers, she hasn't found it all plain sailing though. She shares her experiences and advice to fellow beginners with PPTA News.
Pleased to have a permanent position
After finishing her teaching qualification in June last year, Rebekah did a number of months relief work before starting her first full-time permanent position teaching level 1 and 2 English to year 9 and 10 students at Waitakere College.
She is very pleased to have a permanent position as she was forewarned that fixed-term contracts were an issue for beginning teachers.
"Wow, someone paid me to do this!"
At the time of writing she had been working at the college for eight weeks. "I'm just a baby," she said. So far she is finding the experience "really, really great."
"I absolutely love it. I don't have times like I used to where I'd wake up and think 'oh God, I have to do that again!' I'm really enjoying it. Sometimes I finish the day and think 'wow, someone paid me to do this!'" she said.
"I'm really lucky being here at Waitakere. My department is really supportive and the rest of the staff share resources and are happy to answer any questions. The students are all really genuine, open and honest kids."
A roundabout route to teaching
"There's something different to do every day and I feel like I'm learning a lot," she said. Rebekah came to teaching in a rather roundabout way. She had always been interested in the idea but was initially encouraged into a different career path by her family.
"My father moved over (to New Zealand) from Samoa when he was 12. He did really well and was really successful but it was really important to him that I did, in his eyes, better than he had done. He steered me towards more traditional professions. I felt in the household I grew up in that I was expected to be a doctor or a lawyer, but I still wasn't sure what I really wanted to do," she said.
Leaving law behind
Rebekah decided to study law but two or three years into her degree realised it wasn't for her. "I don't like quitting things part way through and I still wasn't confident enough to make a decision about what I wanted to do so I stayed and finished it (the law degree) off."
After completing her degree she took a year off to work and during that time decided she would not be happy pursuing law and that what she really wanted to do was teach. "I worked up the courage to tell my father and went back to university. It has been a really long journey but a really satisfying one. I feel I have come home," she said.
Work/life balance and being honest about what you don't know
Rebekah's biggest challenge right now is time management and work/life balance. "It's my first year and I am sure I will get better at it but at the moment it takes me an hour to plan an hour lesson. Then there are the things teacher training doesn't prepare you for. Like answering admin emails."
Rebekah's biggest piece of advice to new teachers would be to be really honest about the things you don't know. "We spend so much time on our own in the classroom that we are not always sure what we are doing is what everyone else is doing. Talk to your colleges. Say 'I'm doing this, I'm struggling to teach something, I had trouble with that,' Often they will say 'I know exactly what you mean. This is what I do in that situation.' Don't be afraid to ask. You will save yourself a lot of time and stress," she said.
"The other thing I would say to other new teachers is, be kind to yourself. Sometimes you will have lessons that are a little bit stink and don't go the way you planned. That's something that happens. Just focus on the learning you can take out of it. It's all part of the process."
Support for beginning teachers
Network of Establishing Teachers - PPTA Network of Establishing Teachers (NETs) is for teachers in their first 10 years of teaching who are establishing themselves in the profession.
The Promise to New Teachers – The Promise to New Teachers was developed as a way for schools to show their commitment to new teachers.
Beginning Teachers' Handbook – The Beginning Teachers' Handbook provides vital information for new teachers. You can ask for a copy from your local field office or download it from the PPTA website
Provisionally certified teachers one day course – focuses on professional and employment issues for teachers new to the profession. See 'Mahi Tika dates 2018 under 'events' at ppta.org.nz
PPTA NETs facebook group – this is a closed group of PPTA members helping PPTA members. If you are a beginning teacher and a PPTA member, just ask to join.
Email us – if you have any queries feel free to email nets@ppta.org.nz