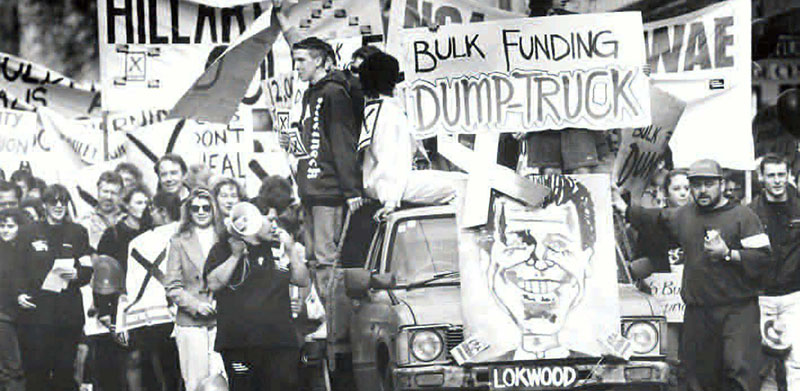 Being on the right side of history
PPTA president Jack Boyle shares how the association has often been ahead of its time.
Our advocacy and strength has been proven right time and time again
As we head into negotiations with the government to agree a new Secondary Teachers' Collective Agreement, it's worthwhile to reflect on how our advocacy and strength have come to be proven right time and time again.
We advocated for Māori to become part of the core curriculum in 1985, and for Te Reo Māori to be universally available in all schools. We enshrined the principles of Te Tiriti O Waitangi in the PPTA constitution. In 1987, we established Te Huarahi Māori Motuhake to support kaiako Māori and endorse tino rangatiratanga in education. PPTA is often ahead of its time.
Making what is right into what is real
The same can be seen in our advocacy against corporal punishment which led, eventually, to a change in legislation and in our support for making schools safe places in terms of gender diversity and bullying.  Our ability to lead the conversation, build and implement policy and lobby the government put us on the right side of history.
Of course, knowing what is right is only one part of it: often the more important factor is knowing how to make what is right into what is real. In that respect it is worth reminding ourselves that the terms and conditions of employment for secondary school teachers were not created in a vacuum – they have been won by PPTA members.
For instance, guaranteed non-contact time for planning and administration was only won the last time Labour was in government… after prolonged industrial action.
Knocking back performance pay and bulk funding
In 1989 PPTA was able to fight off the State Services Commission's attempts to give authority for setting teacher pay and conditions to school boards (e.g Performance Pay) by taking industrial action, launching an intensive publicity campaign and challenging the commission to refute the evidence from Auckland Teachers College principal Rae Munro (and others) that it did not work.
This was significant, not just because site bargaining had seriously dented the ability of unions to guarantee minimum conditions for teachers in the UK and other countries, but also because it would have had catastrophic impacts for teacher collaboration. Teachers would be forced to pit themselves against their colleagues for a share of a finite pot of money in each school. We knew that teaching did not fit the neo liberal tenets of the day; it's a creative and collaborative endeavour. Time has proven us absolutely right.
Collaborating with communities
Our parallel campaign against bulk funding took nearly a decade of industrial action, pickets, staff and student walk outs and extremely costly media campaigns. But we won. And we won again in 2016. We won because we collaborated with communities who shared the same values.
Today teacher salaries have shrunk and administration has ballooned to such a degree such that there aren't enough teachers to staff our schools, and fewer people entering the profession. We once again need the courage of our convictions.
It won't be easy. But by tapping into those intrinsic values that we collectively hold, by feeling the fear and doing it anyway, we can feel confident we will prevail. I'm sure of it, because history tells us there actually is a 'right side of history".