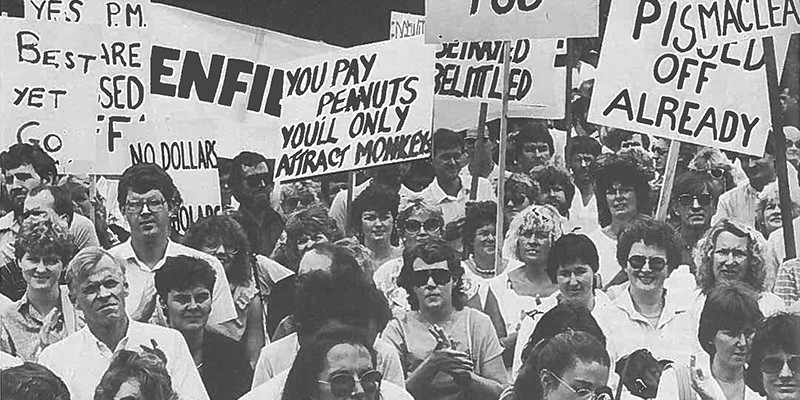 Chalkdust - 1987 through the eyes of the PPTA News
Teachers on the streets, nuclear hype and fighting for the women's officer position.
Teachers hit the streets
Wellington and Hutt Valley teachers marched on Parliament. Branches up and down the country voted to strike for one, two or more days. Telegrams flooded into Parliament and PPTA head office expressing the anger and frustration that teachers felt at having been let down so badly and so unjustly by a Government that had declared its commitment in the 1984 election campaign to improving the quality of public education.
When the PM tells you to PO
Following the Prime Minister's high quality debate with a teacher during which he made the now famous comment about what he thought the teacher should do, a slogan for a bumper sticker/button soon presented itself. The suggestion: "I'm a teacher and I'm already pissed off."
Tribunal on our side
The Public Sector Tribunal decision, which awards secondary teachers' salary increases substantially above those the Government offered in February, vindicates the case the PPTA has been advancing since its claim was lodged in August last year" – PPTA president Peter Allen. "In the winners and losers context, we won and quite handsomely" – PPTA assistant general secretary and salary claim advocate Kevin Bunker
 Our women's networks did not come easily
"While considerable progress has been made towards the establishment of women's networks in PPTA, it had not been done without some hostility from some male teachers…the hostility of some members was evidenced by the reluctance of some branches to appoint a women's contact while a few had appointed a man…This is unacceptable. It is a negation of conference's intention that women should be actively encouraged to become involved in PPTA", president Peter Allen said.
Unexpected hazard (or bonus) of new women's officer position
An unexpected hazard has been uncovered in the women's officer job. Every time she goes to a women's meeting everybody turns up with huge quantities of delicious food. In consequence the women's officer is expanding in her role in a manner she didn't expect.
(Our current women's officer would like to make it known she would not object to this situation at all!)
Telling them by telegram
The conference instructed the president to send a telegram to the Ministry of Education expressing strong disappointment at the package of proposals produced by the State Services Co-ordinating Committee to meet the needs of areas experiencing chronic staffing difficulties.
Drama llamas
On hearing for the first time of the NZ Association for Drama in Education, a cynic was moved to remark: "I thought that's what the PPTA was for."
What day is it again?
From a staffroom noticeboard: "For various reasons it will not be possible to follow a Monday timetable on Thursday. Therefore only Tuesday will be treated as a Monday."
Laughing at impending doom
An advertisement for a show opening at Wellington's Depot Theatre:
"NANCY, NANCY, GET MY CLUBS" – An Anti-Nuclear Cabaret
As fall-out approaches, what better way to postpone the inevitable than with a few cheap swipes at nuclear hype and a little razzamatazz.
Minister-speak, some things never change
Great moments in linguo-calligraphic interpersonal communications No. 1: The Minister recently sent a letter to a regional secretary containing the following piece of deathless prose:
"For this reason I am sympathetic to a current proposal from the department seeking the resources to commence the work required to bring into being a system which has comprehensive enhancements."
Reframing par excellence
The NSW Assistant Minister of Education provided one of the great reframes when he was asked in Parliament why a certain school had a shortage of books in its library. "It is not a shortage of books, it is an excess of shelves."
Abolishing corporal punishment
The Government Caucus has determined that the abolition of corporal punishment should be handled by legislation, either by amendment to the Crimes Act or by some special education legislation. Whichever method is chosen however, it is unlikely to be enacted until next year…Asked if anything could be done in the time before the legislation could be enacted the Minister of Education said his "wildest hope" was that education authorities would ban it, although such a move in Auckland had recently be defeated.