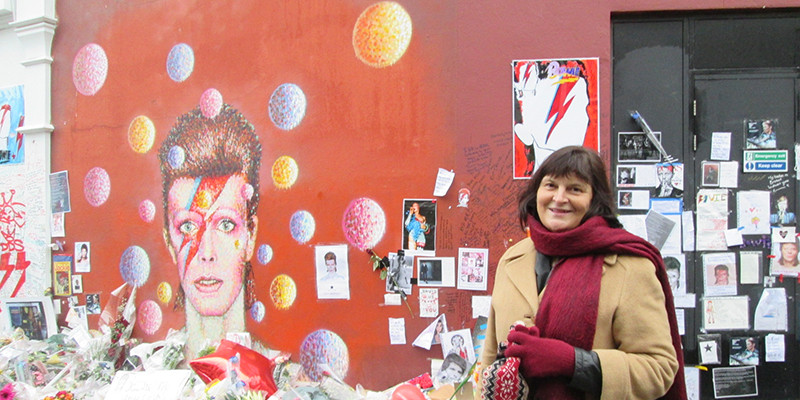 Clause of the month - service increment
Fabric technology and graphics teacher Barbara Joseph talks about the service/qualification increment - a $2000 payment many teachers may not be aware they are eligible for.
Valuing subject specialists
Barbara Joseph has been teaching fabric technology and graphics at Western Springs College since 2004. She loves working with and inspiring young people but, like many teachers,is often too busy to stop and smell the roses.
She did get the chance to do that however, with the help of a clause in the PPTA collective agreement. Teachers in secondary schools who do not have a permanent unit and have been at their salary maximum for three years are eligible for the $2000 service/qualification increment (clause 4.9 in the Secondary Teachers' Collective Agreement). Teachers in area schools who hold no more than three units and who have been at their salary maximum for three years will also be eligible (clause 3.18 in the Area School Teachers' Collective Agreement). There is a wide range of qualifications that fit the criteria.
The payment has to be applielied for and Barbara only became aware of it through an article in the PPTA News. She wants to make sure more teachers out there know about it so those who are eligible can apply.
"The impact of the increment of course is not about money. This pay increment affirms that teachers who are specialists in their subject and just want to teach are valued," she said.
Surviving the UK's 'School of Shame'
If anyone deserves to be recognised for her contributions to arts and education, it's Barbara – though her road into teaching had a somewhat rocky start.
"Growing up, I was taught how to make clothes and crafts by my mother and aunties. I have always loved to draw and paint and 'make stuff'," she said.
She gained a Master of Fine Arts degree in painting and printmaking from the Elam School of Fine Arts in Auckland, followed by a teaching diploma at what was then the Auckland Teachers College. Following that she moved to the UK in the 1980s to work at a high school in North West London.
"It had been labelled "School of Shame" by the Sun newspaper as a teacher had been killed by a pupil there a few years before. I stuck it out for two tough years before leaving and swearing that I would never teach again ," she said.
Community art leads to Western Springs
Barbara lived in the UK for another 16 years working in community based arts projects and facilitating collaborative projects such as murals, banners and installations. After returning to New Zealand she continued to work in that field, working on arts projects with groups such as mental health consumers and homeless families.
"I saw the light and decided to give teaching another go when I applied for a Technology job at Western Springs. I thought my skills and experience would be a good fit for the role," she said.
Little known clause a pleasant surprise
Many years later, Barbara learned about the service increment through reading a PPTA News article written by junior vice president, and Western Springs College teacher, Melanie Webber.
"In it she was talking about what she had found out about little known clauses in the secondary teachers'collective. I had never heard of this particular increment but realised that I was eligible to receive it. I talked to Melanie about it and she encouraged me to apply."
Application process simple
Barbara described the process of applying as simple.
"I dug out my degree certificates and paperwork that I had used in applying for my job, filled out a downloadable form and our school finance officer processed my application. The increment is $2000 extra each year and I also received three years of it back paid," she said.
Go for it, you deserve it!
Barbara used some of this money to stop and smell the roses in the UK, travelling over there for Christmas in 2015 with her partner Danny and visiting her daughter who lives in London.
"Danny is Glaswegian and between us we have very strong emotional bonds with friends and family in the UK," she said. Barbara encourages any member who thinks they might be eligible for the service increment to apply.
"Go for it, you deserve it!," she says.
Service/qualification increment advice and application information (PPTA website)