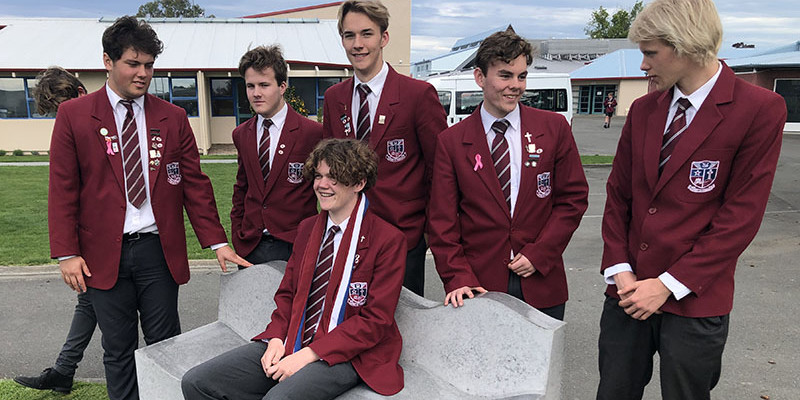 Community based projects with a global focus
Hastings' St John's College Social Enterprise scheme has students working with community and commercial partners on projects to improve our world
A solar powered steriliser for medical equipment, concrete made with recycled plastics, and seeds that require less irrigation are just some of the contributions Hastings' St John's College students are making to the world.
The projects are part of the school's Social Enterprise scheme, which is an independent, community based project with a focus on the marginalised and the environment. St John's College staff and local commercial partners work closely with the students to make their ideas a reality.
From sun and steam to germ-killing heat
St John's College physics teacher Michael Pohlenz said the most fulfilling part of the project was working with students on real world problems.
Michael worked with a group of student directors to develop KEAR, a solar and steam powered sterilisation system for medical equipment designed to operate in locations where electricity – or fuel of any kind – is hard to obtain. The system converts as much as 80% of the energy in sunlight into germ-killing heat.
"In typical physics classes, we mostly work on theoretical problems centred around a certain topic.  The classroom topics are not integrated together as they would be in the real world.  Trying to get them to see and work out the combination of requirements (electrical, thermal…) was rewarding," he said.
The students were inspired by a significant sterilisation crisis at their local DHB where a number of citizens were infected by the use of unsterilised instruments.
"We thought – if such a situation could occur in a first world environment, what could occur in a less resourced country?" they said.
"KEAR technology isn't glamourous, but it's a matter of life and death for people – KEAR is technology that can be completely off-grid, that functions relatively quickly, is easy to handle and doesn't have dangerous components," director Mark Day (year 13) said.
Supported by Royston Hospital in Hastings and with a fledging relationship with Red Cross the KEAR directors see a primary benefit in the South Pacific and testing is planned in two sites in Samoa.
To make a programme like this successful, students must pick topics they are passionate about, Michael said. "Otherwise it will go nowhere. Guidance is necessary, you can suggest topics, but they must really want to work on them," he said. "Create checkpoints and schedules they have to work to.  Include other teachers to get multiple perspectives and inputs," he said.
Environmentally friendly concrete
4000 plastic water bottles form part of St John's College's latest piece of outdoor furniture. Commissioned by another group of Social Enterprise directors the plastic-concrete mix has been branded Environ-Crete.
The recycled materials included in Environ-Crete are plastic from drink bottles for the New Zealand market and a combination of recycled plastic and coconut husk for the Pacific market.
"Environ-Crete is cheaper, sustainable and more durable than other products available in the marketplace. It locks in Co2 emitting materials and is a fit for purpose response to global change with a recent decision of China not to accept any further material for recycling," the student directors said.
The students have already developed, produced and sold outdoor furniture for the domestic market and are currently developing a more highly designed range for specialist markets. They have received community support from Worley Parsons, Lattey Group, Bridgeman Concrete, Alto Packaging Ltd and Hawkes Bay Machinery Movers.
External business mentor Mike Finlayson said engaging with the students and trying to get them to learn in a real, commercial sense was the most fulfilling part of the project. "Who is going to do this for you? How much will it cost? Do you have the funding? Would someone actually buy that? Their enthusiasm was contagious," he said.
Protecting the food chain with a Māori world view
Te Tuitui Mātauranga is an enterprise that has researched and developed a process to reduce irrigation requirements in pea and bean seeds, producing promising results for agricultural industry in climactically challenging environments.
"We are concerned with our environment, natural resources, climate change, food chain integrity and maximising the return from the land in a sustainable way using innovative technology."
Working with Plant and Food and Wrightson Seeds, the students began their journey by embracing Te Ao Maori worldview of Kiatiakitanga (guardianship) of the natural freshwater resources of Aotearoa.
"Wai (water) is the essence of all life and the world's most precious resource. It's of high importance to Māori, and it is the life giver of all things, a precious taonga (treasure), part of our whakapapa (genealogy), part of our identity," the directors said.
Horticulture teacher Belinda Raskin supported the students through the project said the confidence they developed collaborating with others outside the school environment was particularly fulfilling.
"Seeing the immediate benefits of students enthusiastically engaged in learning relatively complex biological and chemistry concepts quickly, so that they could apply the concept for product development and then communicate the outcomes confidently. As a teacher it is always exciting to see students enthusiastically engaged in their learning journeys and particularly more so when they achieve successful outcomes," she said.
"Of particular delight from a teacher's point of view was witnessing the students all engaging with the public at the trade fair confidently articulating the concepts of their product. The students stall drew in such a large public interest ranging from commercial growers, home gardeners and even the local Mayor of Hastings because of the drought tolerance characteristic and public awareness of natural water resources," she said.
Positive impact on other subject areas
Social Enterprise director, St John's College head of commerce David Ivory said the interest and excitement generated through the social enterprise projects had a strong positive impact on other curricular subject areas.
"Teaching integrated students across various curricular is the way to go, it maintains the positive flow throughout the entire academic year," he said. 
Having clear and expressed institutional values was important to make projects like this work, he said.
"For us it is community engagement, sustainably, and the environment and any student proposed product must fit within these settings."
Challenges and support
The Social Enterprise work takes place outside of the school curriculum, which means work happens in students own time with staff across the curriculum supporting them in their efforts.
The work was conducted primarily during lunch time meetings and there were some engagement challenges, David said. "Forty percent of the student population live in Napier and many others are from rural communities around the Hawkes Bay. A fleet of buses arrives at the start of the school day and at 3pm – it certainly makes meetings more focused," he said.
Technology had also provided opportunities for connectivity between students and their commercial/community partners, he said.
Michael said working outside the normal curriculum was no problem when it came to supporting the development of KEAR. "The context (heat transfer) is an area that I have a good deal of experience with so it was easy for me. Making the additional after school time was the biggest challenge. I coach the athletics team three times per week after school so extra time is at a premium," he said.
Belinda found a lot of personal time was invested as the students involved in the Te Tuitui Mātauranga enterprise communicated mostly via email at night, in the weekends and whenever they needed advice or support. "We also had to organise transport at times to get them to different locations outside of school time. Helping students resource materials where we could because of financial constraints was sometimes time consuming as well," she said.
David would like to see government support for this model of learning. "Research from abroad shoes high level project work will define education and differentiate schools in the future. Inter-aged and across curricular areas; if you like, a replication of current workplace environments. However our current hierarchical and structured school environments reflect a different age of Victorian industrial era," he said.
"My view is that government should support new ways and processes to deliver the existing rich curriculum but pivoted towards quality project work."