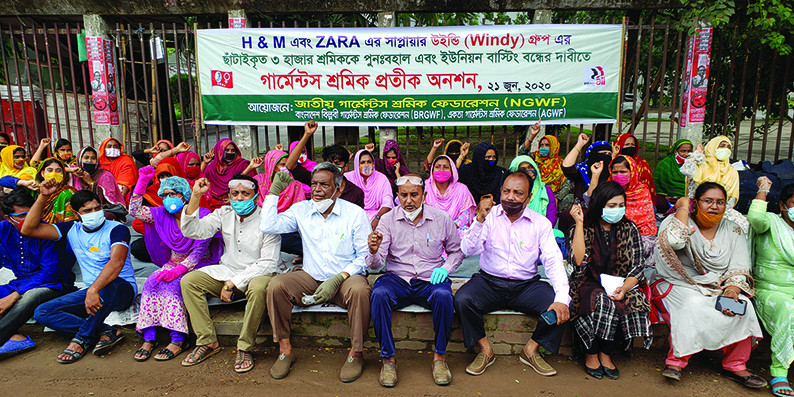 Crisis support for Bangladeshi garment workers' union
UnionAID support the National Garment Workers Federation of Bangladesh as the industry is devastated by Covid-19
Feature image: NGWF members stage a sit-in protest outside the Windy Group factory ground after being targeted for redundancy during Covid-19.

Covid-19 has devastated the garment industry in Bangladesh. With no universal social security and few savings, the workers and their families are facing long-term hardship. Some 200,000 workers have still not been compensated for work already completed and an estimated 30,000 workers have had their employment terminated illegally.
Until the pandemic hit, the National Garment Workers Federation (NGWF) of Bangladesh, had been increasing union membership and strengthening collective organising. With UnionAID's support over 50 delegates were trained and nearly 5000 new members recruited in 2019. Now the union needs help to sustain its organisation and defend garment workers' rights, as membership revenue drops and workers face long-term hardship.
By supporting UnionAID you can support the world's most vulnerable workers
With a return to pre-pandemic employment levels expected to take months or years, the sustainability of the NGWF is at risk. Its membership revenue dropped to zero in May as members faced serious hardship. Yet NGWF's 11 full-time staff are working harder than ever to follow up grievances and campaign for justice.
UnionAID will be supporting the union to retain its organisers so they can respond to the needs of garment workers, research and address labour rights violations, and run small local pressure campaigns to push garment factories and the government to better support the workers. By supporting UnionAID you can support NGWF and some of the world's most vulnerable workers.
PPTA supports the work of UnionAID as a financial contributor for the work they do for our union comrades in Asia Pacific. To find out more about them visit unionaid.org.nz
In the struggle for democracy, teachers are essential
PPTA pays tribute to teacher Samuel Paty, the victim of a terrorist attack in France
PPTA expresses and solidarity and support with those in France gathering to pay tribute to history and geography teacher Samuel Paty.
The association condemns, in the strongest possible terms, the terrorist attack near his school which took his life. Paty was decapitated following in internet campaign against the use in his class of a caricature of Mohammed as part of a course on freedom of expression. It was one of the images published by satirical magazine Charlie Hebdo, promoting an attack in 2015 where 12 people were killed at 11 injured.
In a letter to its French member organisations, Education International (PPTA's global peak body) general secretary, David Edwards, expressed the solidarity and support of the world's educators and trade unions and affirmed those values Samual Paty died defending.
"Freedom of conscience and freedom of speech have been hard won. In the struggle do defend democracy, the role of teachers is essential to deter the forces that would destroy it. In this fight, trade union organisations are, more than ever, on the front line," he said.