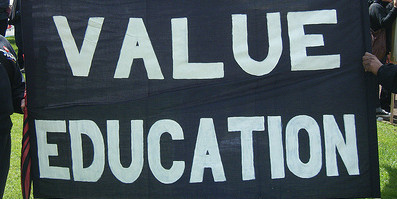 Defending public education
Guest writer University of Waikato professor Martin Thrupp on the importance of protecting public education during an election year.
Recently I was asked in an interview what I thought about the state of the New Zealand education system after nine years of the National-led government. 'Grim', I said. 'Dire', I said. 'Going to hell in a handbasket', I said - just in case a little humour was needed.
The reason I take this view is because the public education system is continuing to be hollowed out at every level. Teacher education, resources for teachers, professional development, leadership preparation, special education, educational research, curriculum coverage: you name it, its been falling back.
It's about funding patterns in education and moves towards privatisation. Where education is not in decline it is often because educators are working against the grain of policy rather than being supported by it.
Education is increasingly becoming a private good that families and individuals have to pay for. In an unequal society many obviously won't be able to afford it and over time successive generations will lose the life-chances they could have otherwise had. Schools serving poorer communities will become increasingly cash-strapped. The potential for companies and corporations to make money off the education system is a further problem. Authenticity declines as the profit motive increases.
Of course the government highlights supposed reforms or investments but they are never uncomplicated. Take the building of new schools, surely something to celebrate. In fact that's often just keeping up with rampant population growth, the government sometimes wants to use public-private partnerships (with concerns about transparency) and has a faddish attachment to Innovative Learning Spaces (which is another opportunity for profit-making).
The government trumpets improved achievement against targets or improved rankings but you would be naïve to believe much of it. Consider instead how easily the numbers can be manipulated and how headline statistics mask a multitude of problems.
It's concerning when evidence that casts doubt on policy has been ignored or dismissed or has not been sought in the first place. In 2009 Bill English said in the House:
"This government has the capacity to make its own distinctions between good advice and bad advice. Advice we disagree with is bad advice; advice we agree with is good advice".

It was tongue-in-cheek but these days seems a true word spoken in jest.
It certainly is dispiriting to see what's happening to public education and teachers don't have a lot of spare time. But there are a few things we can all do:
Vote for public education - Personally I've never joined or endorsed any political party. But I'll vote against a National-led government in the next election because of their policies. Imagine a fourth term: public education will be more on the ropes than ever.
Look out for GERM - Realise the Global Education Reform Movement (GERM) might exist not just in the abstract but right under your nose. Do you have a principal or board of trustee members that basically regard your school as a business? Does your school contract in private providers? Are there dodgy business sponsorships or philanthropic involvements?
Defend public education - Use opportunities as they arise and whatever skills you feel comfortable with in the battle for public education. Talking, persuading, writing, protest art. Be supportive of like-minded colleagues and those who put their heads above the parapet.
Be a bit difficult - Teachers have always achieved a lot through quiet resistance and responses to bad policy.
Support the PPTA - Teacher unions and professional organisations are much of the reason public education can still be feasible in this country. The New Zealand public owes these organisations an enormous debt of gratitude even if many people don't realise it.
Know your history - If you are a young teacher find out some of the history of teaching and neo-liberal reform In New Zealand. What was bulk-funding and why did teachers resist it?
Keep up the fight - If you are an older teacher try not to disengage in a nostalgic way because the battles we lose now will affect our children's' children and so on. Also please don't use the skills you have honed in public education to help private providers make money out of the public system.
Finally teachers certainly support public education by working on the day-to-day quality of teaching and learning in schools. But this shouldn't stop us pushing back against the scapegoating of teachers and schools for wider socio-economic problems.
Prof. Thrupp's new book: 'The Search for Better Educational Standards: A Cautionary Tale' will be published by Springer in September.