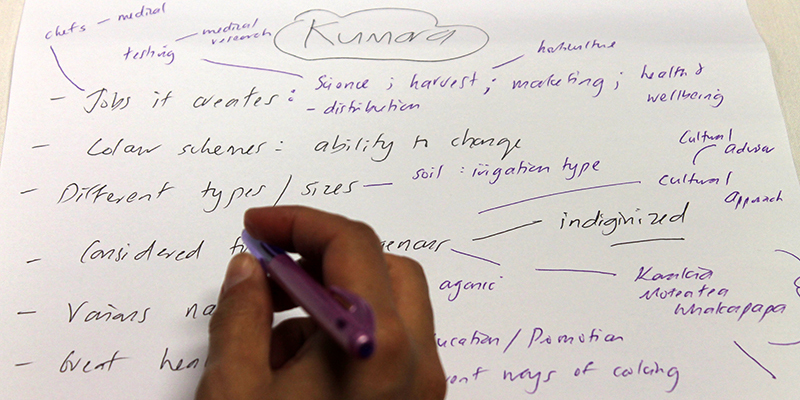 Each new word is a treasure - Desiree Mulligan's journey with te reo
When PPTA News put a call out for teachers learning te reo we were overwhelmed by the response. There was far too much for just one article so we are breaking it down into the 'My journey with te reo' series. This is Hutt Valley regional chair Desiree Mulligan's journey.
All New Zealanders should be learning Māori
I have always had an interest in Māori, as I did a paper at university in Māori religion, literature and art that sparked my interest. I also teach at a school that has a third of its students who are Māori, and I wanted to improve my pronunciation of names. This has developed into a belief that all New Zealanders should be learning Māori. I know of an Irish person learning Māori in Ireland with a similar belief.
Learning as children
As a small child I learned such works as puku and potai, and my children at pre-school brought home songs. My school was also using some Maori to speak about the values of our school also.
Oral learning
I am part of Te Ataarangi at Korounui Marae. This is a Māori language education system that is delivered to communities around New Zealand, usually marae based. It is a system of oral learning developed in Fiji, and has spread to Australia, Japan and Rapanui. In New Zealand,  Ngoi  Pewhairangi  was the chief organizer of the classes in the 1980s at a time of Māori language renaissance. This history is very interesting to me. We learn Waiata, games and language. Through visits to other marae we learn Tikanga and practice more Māori among other learners from New Zealand.
 School support
Our school has allowed us to attend the Hui Atu, the national language Hui held once a year when all the regions of Te Ataarangi get together to learn Maori and meet each other. The school has supported my including te reo Māori week in our house competition where students and teachers reward each other for speaking Māori.
 Each new word is a treasure
I am still a learner; I can understand more Māori than I can speak. Each new word is a treasure, but conversation is very slow developing. I sometimes find that Māori words emerge before English however and the classes are fun and I enjoy being part of a community who are all struggling to learn te reo.
Learning the values of a culture through language
Memorizing words and grammatical structures are the biggest challenges.  Actually using Te Reo and being happy to make mistakes is a skill I need to develop more. I love learning te reo, the language is very beautiful, and the Waiata are a great way to learn pronunciation. Learning the values of the culture through the language is also interesting.
 A national challenge
I think there is a national challenge to preserve and sustain te reo. I have been taken aback by so many Māori learning their own language, I think this is a national tragedy that the number of native speakers is at risk. Te Ataarangi is trying to promote language in homes for children to learn Māori as their first language. Through visiting historic sites with Māori learners of te reo, I have learned about some tribal history and importantly how people feel about the loss of land. I have loved tales by some classmates about their experiences in the 1970s when they moved to towns. I have become more aware or the life experiences of Māori. This has supported my teaching and deepened my understanding of Māori history topics.
 Supporting teaching and deepening understanding
This has supported my teaching and deepened my understanding of Māori history topics. I feel more connected to Māori, and as a history teacher have a greater sensitivity to issues facing Māori. I encourage young Māori to select Māori history research topics to reinforce their knowledge of their culture.
I find I am aware of different pronunciation from different regions and some students help me engage in te reo conversation so I can learn more. It's good for them to see I am learning too. It also makes me appreciate how hard it is to learn a language . I use some te reo in the classroom and label parts of my classroom to help me learn.
We need to find the time
Time is an issue for many staff, as they are face with marking and workload issues to do with moderation. It really should be built into PD allowing teachers to develop basic skills.
 An expression of our heritage
If we do not engage in learning te reo, how will it survive? It is the expression of a culture, and our heritage. I believe it should be built into the PD of every school. I understand some government agencies are doing more of this than schools are. Surely schools should be in the vanguard of this movement as we are in the intersections with young Māori learning and developing.