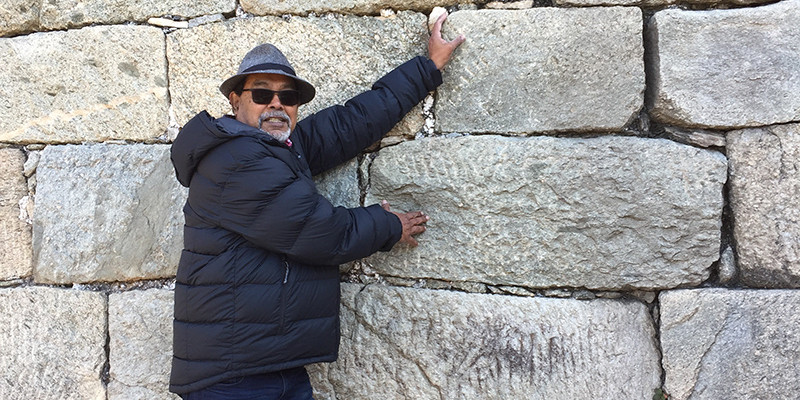 Every member is like a link in the chain
Vijeshwar Prasad shares his story as part of our series on honorary members
"United we stand. Every member is like a link in the chain. We should have a long chain and for that we need a link. That is why I joined the union."
Honorary PPTA member Vijeshwar Prasad has a union background that spans two countries. Originally from Fiji, he began teaching in 1972 and was involved with the union since then.
"I was vice principal of a large secondary school in Fiji, Indian College (now known as Jai Narayan College). I migrated to New Zealand on 1 April 1989. Now my eldest daughter is a senior nurse at Wellington Hospital and my youngest daughter is the senior financial advisor at Government Super. My wife Pushpa was a tutor but she is retired now," he said.
25 years of teaching and unionism in New Zealand
Vijeshwar initially wanted to be a lawyer, but life had other plans for him. "I came from a very poor family and I wanted to become a lawyer, but I received the scholarship to go to university to become a high school teacher," he said.
After teaching in Fiji he was approached by Waiopehu College in Levin, which was the beginning of 25 years of teaching in New Zealand. "I was teaching accounting, economics and maths there in 1989 and 1990 and economics, computing and maths at Nga Tawa School in Marton – 1991 to 1994. I was HOD commerce at Waiopehu College – 1995-1996, HOD commerce and computing at Rangitikei College in Marton from 1996 to 2013 and HOD commerce at Waiopehu College in 2014."
Vjeshwar was involved with the union while teaching in Fiji and continued that involvement by joining PPTA when he moved to New Zealand. He also joined the association's Komiti Pasifika and was on the Komiti's executive for many years. He was also a PPTA regional treasurer for more than 20 years. He has continued on as an honorary PPTA member to keep in touch with union matters.
Love and kindness in the face of discrimination
During his teaching career Vijeshwar has seen both the good and bad sides of New Zealand and found a way to guide students towards the good.
"When I migrated my principal from Waiopehu College and some teachers became very close to me. They are like family members," he said. Sadly at first not everyone was so accommodating. "We have discrimination in this country and my children and I have discovered that," he said.
A novel response to a derogatory comment about the colour of his skin and an understanding of the support some of his students lacked helped diffuse a difficult situation at the college. "One student said black to me. I called him and said 'thank you, please go home and tell your dad that 'I have said black to Mr Prasad' and my pay will go up. Please come and say the same thing tomorrow and again my pay will go up. He became a very good student. My students lack love and care and we teachers must teach and at the same time provide this love and care," he said.
Creating strong bonds in the multicultural community
Now he has retired from teaching Vijeshwar spends his time helping those in the same position he was when he first moved to New Zealand. He works in the community helping settle new migrants into the Whanganui region. "My wife and I help new migrants and anyone new to Whanganui and try to create strong bonds in the multicultural community."
Vijeshwar is a licenced immigration advisor and director of Rivercity Immigration and Tax Consultant Ltd. He is also a Justice of the Peace (ministerial and judicial) and does court duties three to six times a month.
Vijeshwar and Pushpa also make sure they take well-earned time for themselves and both particularly love traveling. "We go out and visit three new countries a year and have seen all seven wonders of the world." Vijeshwar also plays golf, swims and enjoys a whisky on Fridays.
Vijeshwar's retirement tips
"The day you decide that you do not feel like going to school is the day you had better look for another job or think of retiring," Vijeshwar says. "Today's teachers are teaching less but doing a lot more paperwork."
For those thinking of retiring Vijeshwar's advice is to always budget and pay your mortgage, then plan your life accordingly. "Become a member of an organisation and get involved."
For those still teaching his advice is to always aim high. "Teaching is a good profession; please take a leadership role in the union. Try to save for your retirement. I was lucky to join the Government Super Fund. Enjoy whatever you are doing."