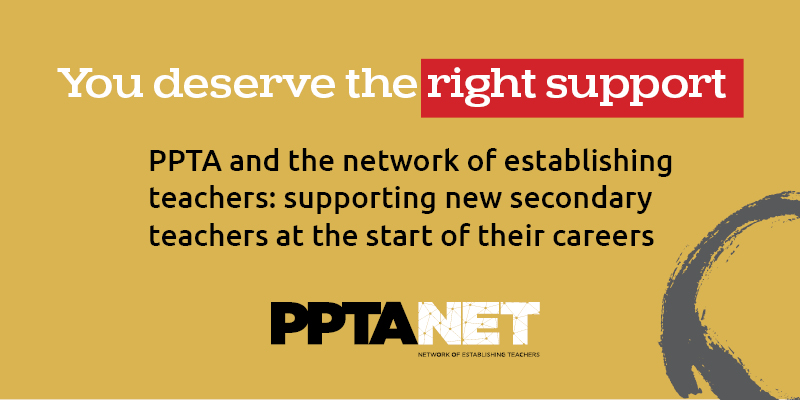 Fixed-term positions – time to review
Fixed-term positions drive secondary teachers from the classroom and are often illegal. Now is the time to review them.
Starting employment in fixed-term roles (including as relievers) has been a common experience for beginning teachers
The 2016 Working Group on Secondary Teacher Supply Report (from the PPTA, the Ministry of Education, the School Trustees Association and the (then) Education Council) states that:
'Most new appointments are of experienced teachers rather than new teachers, and new secondary teaching graduates are more likely to be employed in fixed-term or relieving roles than in permanent full-time positions. This contributes to high attrition rates of new teachers…Recruitment practices and the processes used by individual schools to induct new teachers into the profession have an impact on the supply of new teachers who come into the sector as a whole."
Nearly 80% of beginning secondary teachers enter workforce fixed-term
The report highlighted that between 2010 and 2015 about 80% of beginning secondary teachers entered the teaching workforce in fixed-term positions, which had implications for their ability to access the induction and mentoring expected to support them to achieve the standards of practice required for full teacher certification.
Principals confirmed they often employed beginning teachers in fixed-term positions and identified a range of reasons, most of which were about reducing financial risks to the school. And it is not just beginning teachers that find themselves in rolling fixed- term appointments.
Driving teachers away and breaking the law
There are three problems with this approach. Firstly, local employment practices impact cumulatively at the national level. Repeated appointment to fixed-term positions is linked to migration out of the profession.  There is a high likelihood that a teacher appointed to a third fixed-term positon will leave the system. Individual school decisions therefore impact on the total pool of teachers available to all schools nationally.
Secondly, the effect of these practices is to transfer employment risks from the employer to the employees and, almost by definition, to the most vulnerable employees.
Thirdly, the practice is against the law – the ERA establishes permanence as the default position when making appointments and requires the exception to be proven against a limited range of valid reasons.
Employer Court decision questions fixed-term validity
Subsequent efforts to work with School Trustees Association and the Ministry of Education to provide greater enforcement of ERA requirements and prevent the misuse of fixed-term agreements, have been met with limited support.
A new factor to bring focus to the status of current fixed-term positions is recent Employment Court decision (Morgan v Tranzit Coachlines Wairarapa Ltd [2019]). This has confirmed that:
"Financial uncertainty is something all businesses face to a greater or lesser degree. There mere fact of financial uncertainty cannot, of itself, suffice in terms of the requirements of s 66 (2) (a), especially when there are redundancy provisions in the collective agreement to deal with such circumstances."
This will raise questions about all current (and future) fixed-term appointments which are made because the employer has identified uncertainty of resourcing (whether operations grant, foreign student fees or future school rolls).
Current fixed-term positions should be reviewed
Positions which are currently identified as fixed-term should be reviewed. Those which are not legitimately fixed-term should be formally regraded as permanent positions. PPTA field officers can provide further advice.
PPTA has prepared advice on what does and does not constitute genuine reason for fixed-term appointment and clarified for principals and teachers the circumstances in which the association is likely to enforce permanence of appointment. This advice applies to all teachers who are offered fixed-term positions, not just new teachers.
Principals and teaching members who are in fixed-term positions can review this guidance to confirm whether any fixed-term position is consistent with the requirements of the act.
The advice can be found on the 'Appointments to teaching positions in secondary schools' page of the PPTA website.
Promise to New Teachers
In addition to providing advice and industrial support to ensure fixed-term appointments are used correctly the association has also worked to support members in this area through ongoing support from field officers for individual members and the Promise to New Teachers campaign. The Promise to New Teachers is a way for schools to commit to end the use of temporary contracts and many boards have already signed up.
If your board is not yet a signatory, the current secondary teacher shortage makes this an opportune time to discuss with them the advantage of being able to show prospective staff that your school is committed to being a teacher-friendly place to work.
More information on the promise can be found here.