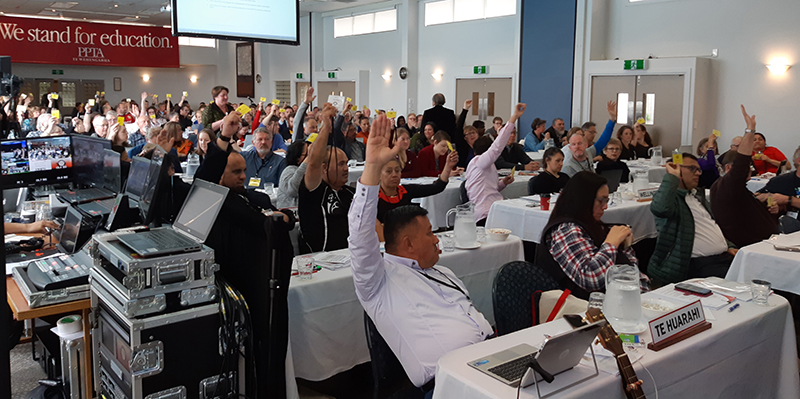 Government's STCA offer rejected by conference
Nationwide union meetings held to vote on second offer and possible industrial action
Updated: For the latest on this story see Secondary teachers vote to reject government offer
Last month, PPTA annual conference delegates, representing more than 17,000 secondary teachers, rejected the government's first Secondary Teachers' Collective Agreement (STCA) offer.
They called on the government to come back with an offer that genuinely addressed teacher shortages and excessive workload, before paid union meetings began on 7 November – once senior students had left for exam leave.
"We can't accept this offer."
"Secondary schools are facing an unprecedented shortage of the trained, expert, quality teachers that our young people need," PPTA president Jack Boyle told the conference. 
"We can't accept this offer: it would leave secondary teaching on the downward trajectory that it's been on for the last decade, with the attractiveness and sustainability of this great profession being eroded further."
Second offer received just before PUMs began
PPTA members made a claim for significant improvements to pay and conditions in August this year.  "The government's offer doesn't touch the sides of addressing the problem," Jack said.
The second offer from the government was received just before PUMs began. It was taken out to members with a recommendation from the negotiating team and the executive that it be rejected. Members were also asked to vote to authorise strike action for the first term of 2019, and a plan for further action beyond that.
At the time of publishing the union meetings were just winding up.
Support urgently needed to bring out the best in young people
 "We strongly support the government's intentions to make sure all learners in New Zealand have high quality and personalised learning opportunities to set them on a path for a great life beyond school. It is deeply disappointing that the challenges facing secondary schools are going to undermine this work. Support for our teaching workforce is urgently needed to bring out the best in our young people."
PPTA will continue to negotiate with the government in good faith.