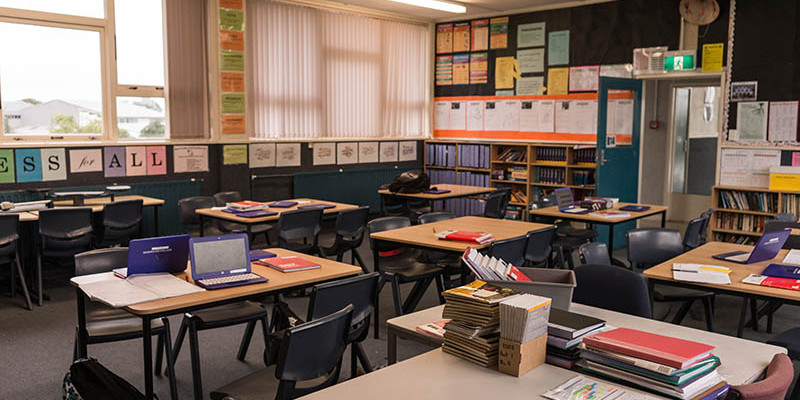 I am far happier teaching in NZ than I was in a UK classroom
As part of our series focussing on beginning teachers we talk with West Coast Maths teacher Kate Halls about moving from the UK to teach in New Zealand.
Tell us a bit about yourself 
My name is Kate Halls. I was born and raised in Wales, lived in the North of England for 17 years, then moved to New Zealand to live, with my husband Jon. I trained to teach English, I also taught maths and ICT in the UK, and now I teach maths to high school students (Y9-13).
Why did you decide to go into teaching?
I trained as a teacher in the UK in 2007, but didn't go straight into high school teaching afterward I finished by PGCE (Post Graduate Certificate in Education). For several years I worked as an adult education teacher, helping people to pass the maths, English and ICT aspects of their adult apprenticeships if they had not achieved their grades at school. My entire cohort, for eight years, was made up of people who failed their maths and English exams at mainstream school.
I realised that a lot of people who struggled at school were not incapable of passing their subjects, but they had been taught by people who had written them off at a young age because they weren't capable of reaching C grade standard by the age of 16. I decided to go back into teaching in order to help teenagers who were struggling at school, to show them that they should not give up and should keep striving for success.
As well as teaching mainstream maths, I now work with students who are enrolled on non-mainstream programmes, such as the Services Academy, or the Trades Academy - students for whom a traditional academic classroom has not necessarily provided a route to success. I am a strong believer in finding a different way, rather than giving up.
What have been the biggest challenges?
The culture change between the UK and NZ has been a massive challenge. Everything in the UK is so high pressure, schools and education organisations are fearful of OFSTED (Office for Standards in Education, Children's Services and Skills), the national curriculum, exam boards, league tables, results... everything feels life-or-death all the time. In New Zealand, things are more relaxed. Yes, results are important and success is valued, but so is the wellbeing of the students! It took me a while to 'unwind', to learn to value my students as people as well as classroom participants and realise that I could be more flexible with my teaching of the curriculum.
What have been the best moments?
Seeing students who were really struggling go on to achieve success at Level 1 this year. This was exactly why I went into the job - to not give up on people, to encourage and support them and to believe in the capability of my students.

Expectations vs reality – is being in a classroom what you thought it would be like? Better/worse?
It's just ... different... When you train in the UK, you are told that any minute which is not focused on the national curriculum or the exam syllabus is wasted. I never believed that at the time, and I'm now teaching in an environment which acknowledges that students need to develop their key competencies, and that it sometimes more important than accessing the curriculum for the specialist subject that we teach.
There are always challenges working with teenagers. But I do feel like I have more freedom to address them here, rather than soldiering on regardless against what my students actually need.
I am far happier teaching in NZ than I was in a UK classroom, I will say that much.
How has being involved with PPTA been for you?
I've really enjoyed it!
What sort of level of involvement have you had?
I got involved in the regional committee on the West Coast, which has allowed me to meet teachers from other school as well as my own school - some of whom come from very different backgrounds to me. It's been great to meet a much greater range of people from a wider cross section of West Coast society.
I marched with the PPTA when we were on strike, and I got up to speak in front of the meeting on strike day in Greymouth. That really improved my confidence in terms of public speaking.
I went to the national conference this year as an observer for the West Coast, and spoke for the first time at conference, which was an amazing experience. And now I've become the secretary of the regional committee for the West Coast.
What sort of support to you think is most important for first year teachers? What would you like to see more of?
I have been a teacher in the UK adult education sector since 2010, but coming to teach in a New Zealand high school was like going back to the very beginning again! I spoke at conference about the need for more support for international teachers, especially those who are new to teaching as well. In particular, support to become familiar with Māori customs and Te Reo Māori is absolutely vital, and should not be overlooked.
My school has had a fantastic programme in place for PCTs, with regular meetings, mentoring, support, observations and a good emphasis on making social connections too! Our principal and senior leadership team understand the importance of teachers having a support network outside of school when they are new to the area, as well as receiving support in the classroom.
What advice do you have for beginning teachers?
If you have a student whose behaviour is not meeting your expectations, your first question should always be 'what's going on, is everything alright?' You will be surprised how many times you get an honest answer of 'No, I'm dealing with...'
Try to be the person who asks rather than the person who, in their eyes, doesn't care. Behaviour is communication.
Do you think you will continue teaching?
Absolutely. This is the right career path for me and I look forward to it being a long and happy one.