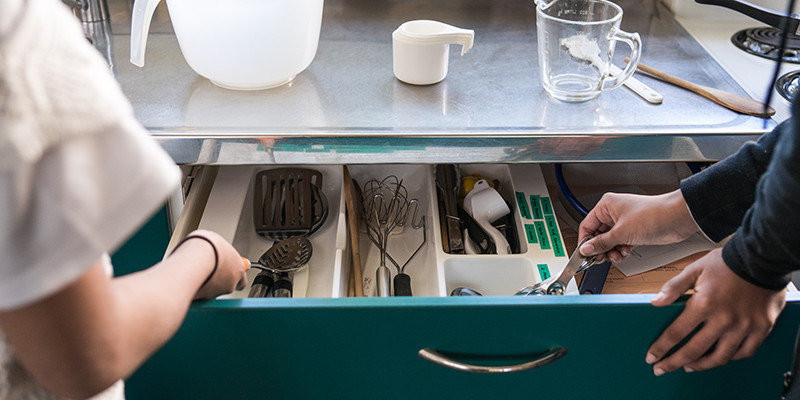 I feel like I have taught nearly everyone in Christchurch
Honorary PPTA member Rachel Kearns shares her experiences after 45 years of technology teaching
PPTA has around 750 honorary members. People who are no longer teaching but still support the association. Many have retired after long and distinguished careers and doing great things in their communities. In our new series they share their stories with the PPTA News. 
"Are you Mrs Kearns? You taught me!" 
From her first teaching job at the Gore Manual Training Centre in 1970, Rachel Kearns spent 46 years teaching in the technology area.
She has taught the grandchildren of former students and has often been stopped in the street over the years by people who remembered her teaching them.
From Gore to Casebrook
Rachel trained at the Christchurch College of Education in Home Economics in 1969 and before that worked as a Karitane nurse. After two years teaching in Gore she applied for and won a position at the New Brighton Manual Training Centre in Christchurch.
She loved her job there but unfortunately the Ministry of Education at the time had some big ideas about the provision of the new technology curriculum and the centre closed very suddenly, leaving Rachel jobless.
"I took a supernumerary position the following year at Casebrook Intermediate School. This was a huge change from working in a two teacher centre and I loved it!" she said. The interaction with so many staff and students and feeling part of the whole school was something she really appreciated.
Rising to the challenge at the largest technology provider in NZ  
At the end of her supernumerary year Rachel did a part time stint at Christchurch East School before finally gaining a permanent position at Phillipstown School Technology Centre where she spent the last 19 years of her teaching career before retiring in 2016.
Phillipstown Technology Centre was the largest technology provider in New Zealand with approximately 1250 students bussed in from 32 client schools.

"Some days I feel like I have taught nearly everyone in Christchurch," Rachel said.
Rachel particularly enjoyed working with challenging students. "I loved teaching special needs and lower ability students, they have certainly been my favourites, and I have enjoyed rising to the challenge of more difficult behaviours," she said.
A PPTA member all the way through 
Rachel has been involved with PPTA since the beginning of her teaching career and has been on the committee of the Canterbury Combined Manual Teachers Network (CCMTN) since its beginning – still serving as its treasurer.
"I am a background worker. I still attend the PUMs (paid union meetings) etc to take the rolls and process the required paperwork. I love catching up with colleagues and keeping my teacher's hat on," she said.
"I am still a member of HETTANZ (Home Economic and Technology Teachers Association of New Zealand) and I attend the in-service workshops etc. I like to keep up to date."
Honorary membership a chance to stay involved 
Being an honorary member of PPTA gives Rachel the chance to still be involved with the issues that teachers currently face. She also appreciates the benefits of Unimed (formerly EBS) and other membership discounts.
"Since my retirement I have been busy with my family history and tree. I have loved learning new skills and transferring my teacher style organisation into this project. You can find me at the Christchurch Public Library most week days."
Specialist training vital 
Rachel's greatest fear is the lack of specialist trained teacher in the field of home economics (food and nutrition). "I see so many teachers being put into these specialist rooms with no training or support. This is a terrible state of affairs and is very sad as the students are the losers in the end," she said.
"I strongly support the union, and am glad that manual training clause in the STCA enables year 7 and 8 technology teachers to remain with the NZPPTA. I am proud to be an honorary member."
A truly kind and wonderful woman 
Food and nutrition teacher Martin James says Rachel has been "a tower of strength" to him as CCMTN chair.  "Her organising and catering for branch and committee events is legendary. She has really kept the network together with all of the mail-outs, phone calls and behind the scenes stuff that makes PPTA work," he said.
Rachel also did a lot of home visits to students, which was unusual for teacher in the technology area of the curriculum – simply because they didn't have the same connections with families, Martin said. 
 "I can remember Rachel privately paying for a student to continue having music lessons because their family was struggling (and loads of baking going home to those families).
"Rachel always had gifts of food, baking and home grown produce for everyone, especially for beginning teachers that were struggling or in need – even providing bedding or discretely providing cash in an envelope if she thought that might help," he said.
"This fills in the picture of the truly kind and wonderful woman that Rachel is."