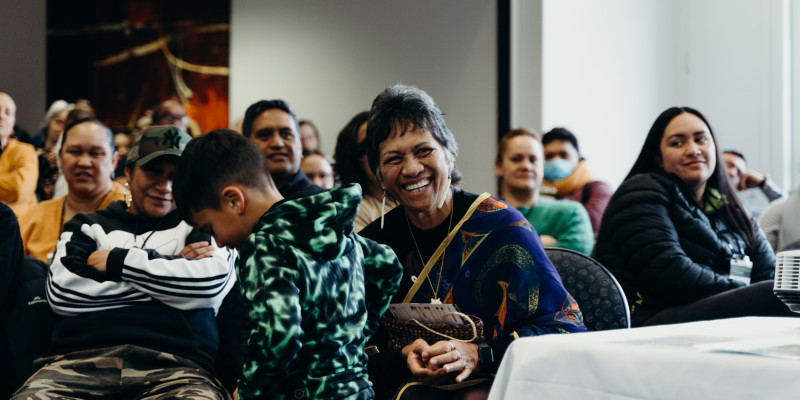 Introducing Miriama Barton
Kaihautū Māori Miriama Barton, centre, plunged into organising the 2021 Māori Teachers Conference when she took up her new role in June.
Every day Miriama Barton, PPTA Te Wehengarua Kaihautū Māori, sets out her work plan and every day it never works out that way.
Miriama (Te Whānau o Ruataupare, Te Aowirirangi nga hapū, Ngāti Porou rāua ko Ngati Tara Tokanui ngā iwi, Te Uri-o-Hikihiki te hapū, Ngātiwai te iwi), who took up the role in June, says she is loving the job and the challenges it brings. "The thing that attracted me most to this role was the challenge of a new road for me. I've always been involved in Māori education and this is a new journey which will enable me to add more to my basket of knowledge."
First task, Māori Teachers' Conference
When she arrived, Miriama plunged into organising the Māori Teachers' Conference, attended by almost 200 teaching and support staff around the motu. Inevitably, there were last-minute issues, including a couple of speakers falling ill so Miriama was very appreciative when others she approached stepped up at short notice.
At the time of writing, Miriama's current challenge was assisting with the Ngā Manu Kōrero competitions, regarded as the most significant event on the Māori education calendar for nurturing the oratory skills and providing the stage for young people to express their views and to lay down their challenges to a critical audience of peers, parents, whānau and judges. The finals were due to be held in Manawatū at the end of September but because of the COVID-19 outbreak, they will take place online. "So the crème de la crème of Māori speakers will be able to be seen and heard online. What it will look like, we don't know, but we're going to try our best."
Contingency planning for an online event has been going on since the start of the year as organisers did not want to cancel the competitions like they were forced to last year due to COVID-19.
Teaching where the need is greatest
Before she started working for PPTA, Miriama was a member of PPTA and actively involved in the union for 20 years. "I'm a primary trained teacher and originally taught in total immersion schools as that was where I thought the highest need for our Māori children was. However, I gradually realised that there were bigger challenges for our Māori students in non-immersion schools. So for the last 21 years, I have taught at Hamilton Boys' High School. I loved it. There are almost 2,500 boys there now. When I first started there about six percent of students were Māori, now there are about 30 percent."
Outside of work Miriama enjoys spending time with her whānau, and is busy working on a feather cloak that she needs to finish in time for Christmas.
She has also been excitedly watching the progress being made on a new home that her two youngest sons have just built. "One is in a wheelchair and the other is 6ft 4 so that made things very interesting.
"Having time with family is the main thing for me - I loved the lockdown walks."