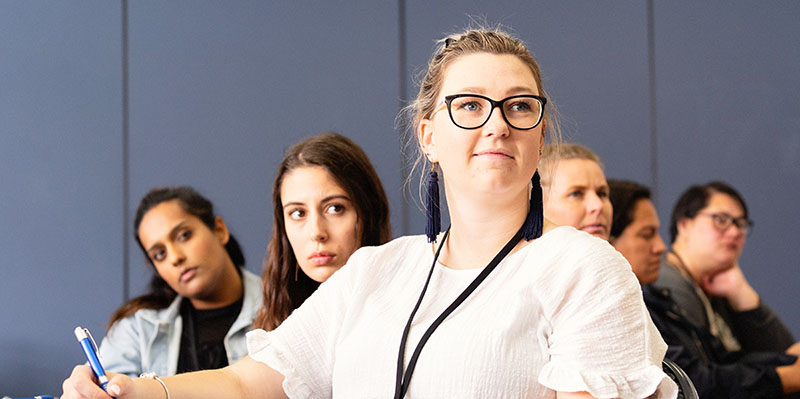 It stopped me from leaving the profession
In our series on New and Establishing Teachers (NETs) members Cam Stewart and Erin Macdonald discuss the new collective agreement.
Stratford High School teacher Erin Macdonald says the recently settled Secondary Teachers Collective Agreement (STCA) has kept her in the classroom.
"I am (only) 34 and the claim did work for me. It stopped me leaving the profession and gave me the motivation to consider middle management. I still have 30+ years of working (teaching) to go," she said.
Wellington Girls' College teacher Cam Stewart agreed, saying that what the new agreement did for all new teachers was give them a chance at a career that was properly remunerated. 
"We know that generally teachers will start on a similar, if not slightly higher, salary than other similarly qualified graduates. It is after a few years that the differences really start to mount. The new top steps, increases in values of units and allowances, plus the general increase in salaries mean that we are closer to those top salaries that teachers and principals think we should be at," he said.
A big win for provisionally certificated teachers in hard to staff areas
It was however not unfair to say that the new STCA had little direct change for new teachers, he said. "Our salaries will remain at around their current rate (plus inflation), there is no change to contact hours or mentorship provisions and the government won't tackle the thorny issue of rental prices on an industry-specific basis."
A big win for NETs in some rural centres was making the High Priority Teacher Supply Allowance (HPSTA) consistent, he said. "This was a branch claim that was accepted by the membership as a whole. Before the new agreement there was significant discrepancy in the amounts offered to provisionally certificated teachers (PCTs) and fully registered teachers. The Ministry of Education agreed early on in the process that offering different amounts was unfair and agreed to remove that discrepancy."
Real wins in the accord
Cam believes the real wins for NETs come as part of the tripartite accord between PPTA, NZEI and the ministry that forms part of the settlement. "We know that a lot of the NETs-specific issues are to do with workload and generally school-specific issues.
The clarity of requirements around appraisal will make a significant difference for a lot of young teachers. We have already seen action on this with the memo from the Teaching Council of Aotearoa New Zealand last month, which made a lot of schools take stock of their current practices and look to change them," he said.
"The accord will be able to generate discussion and work towards a lot of the bigger issues like housing issues for new teachers."
Teaching a more attractive career option
"All of these things mean that we will have more people seeing teaching as an attractive option as a career, which will lead to those bigger gains for us; smaller class sizes and looking seriously at that extra hour of non-contact time," he said.
Erin said the collective negotiations had kept her in the profession and therefore met PPTA's goal of teacher retention. "I have a science degree and could easily go back to lab work or nutrition consults to earn the same or more money," she said.