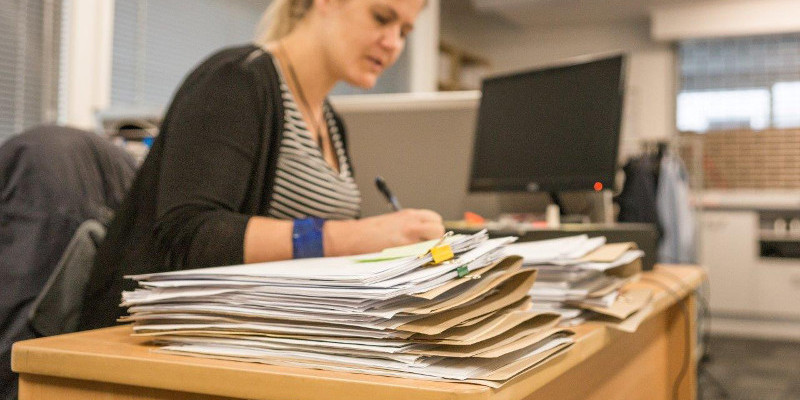 Joint taskforce investigates secondary workload issues
PPTA, the Ministry of Education and other stakeholders have released a report into excessive secondary teacher workload.
NCEA, excessive administration and a lack of resources and people 
Through the second half of 2016 PPTA, the MoE and a number of education agencies formed a taskforce to investigate workload issues for secondary teachers. The Secondary Teacher Workload Working Group report has now been made public by the new Minister of Education.

It identifies NCEA, school management, compliance and administration, performance management, appraisal and certification and new initiatives as drivers of excessive workload. It also recognises a lack of resourcing and people, particularly and kaiako Māori and Pasifika teachers.
"Workload can impact on teacher satisfaction, retention and wellbeing with a flow-on effect to student learning and wellbeing. If workload is high, teachers are more likely to be dissatisfied with their job, consider leaving the profession and have a poor work-life balance. This issue particularly impacts on teachers and middle managers," the report says.
Workload investigation grew from the STCA
The group arose as part of the settlement of the 2015 Secondary Teachers Collective Agreement. The earlier Supply Working Group had already identified workload as an important component of secondary teacher supply problems. This group used PPTA's 2016 report on workload as a basis for some of its work.
Representatives of the working group visited five schools to talk to teachers and school leaders to help develop their recommendations. Many of the solutions proposed by those interviewed suggest additional resources to meet the challenges schools are currently dealing with. Those suggestions included the reduction in; class size, contact time, staffing ratios, professional development, and extracurricular activities.
Joint recommendations:
There were a number of shared recommendations and a number of recommendations from PPTA that the ministry would not sign up to because they would cost money or did not match current government policies. However, within their limited mandate the ministry, Education Council and NZQA, along with NZSTA have committed to working through the joint recommendations.
Addressing unsustainable NCEA workload - There is an effort being made to address workload drivers that are part of the NCEA system, the associated resources and information available to members, and the over-engineering that drives the unsustainable workloads of many teachers.
Improving school management practices - PPTA, the MoE and STA are committed to improving school management practices generally, providing better support and PLD for those wishing to make a career in school leadership and those already in those careers. There is also a commitment to eliminating bullying work environments.

Supporting Māori and Pasifika teachers  - The joint recommendations for Maori and Pasifika involve looking for better ways to support those teachers.
Minimising compliance obligations  - The parties agreed that it is important to clarify and minimise compliance obligations on schools and encourage as much as possible to be done by support staff rather than teachers. However, the government funded agencies would not agree to support a recommendation for more resourcing to allow schools to employ more support staff. We did recognise a lot of compliance is driven by individual schools rather than actually being required by agencies. Eliminating that unnecessary complexity will assist in lightening the burden in some schools.

Supporting middle leaders - The organisations also agreed schools often simply expect too much from teachers and middle leaders in terms of appraisal and performance management. This could be reduced considerably in many schools without undermining the value of a robust performance management system. Education Council is to look at its requirements and see where these can be made less arduous.
Managing new initiatives - There is a joint commitment to try to find better processes for managing new initiatives, and to developing better change management skills within leadership PLD.
The sticking points
On the issue of 'people and resourcing' PPTA couldn't get agreement from any of the other agencies. We have called for additional staffing to recognise the changes and growth in complexity of the practices and expectations around teaching and learning. They are needed also to provide additional time allowances for middle leadership) to address the class size problems in large schools, and to resource community liaison roles in schools with large Maori and Pasifika communities.
There is currently a work plan for making the recommended improvements but it is likely that essential steps (like additional staffing) will require a collective agreement claim. In the meantime, PPTA will keep members updated on what progress is made on the agreed recommendations.