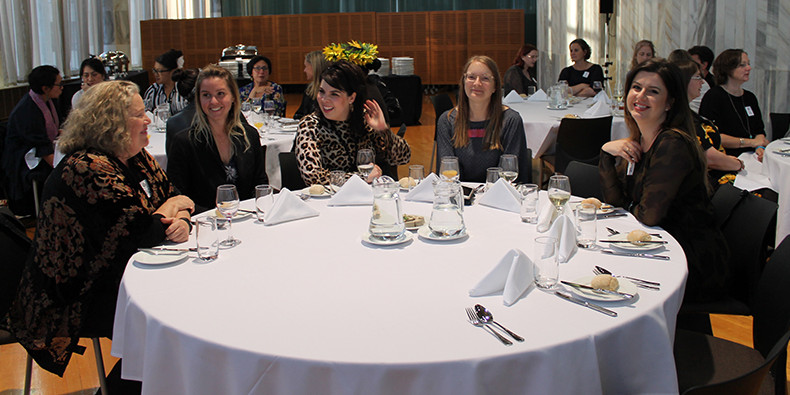 Me aro ki te hā o Hine-ahu-one. Pay heed to the mana of women.
Dispatches from PPTA's Women in Leadership Summit
Women in educational leadership met to break down barriers last term at PPTA's first Women in Leadership Summit.
Funded through the union-led PLD fund, negotiated as part of the Secondary Teachers' Collective Agreement, the summit's theme was Me aro ki te hā o Hine-ahu-one. Pay heed to the mana of women.
Incoming PPTA president Melanie Webber described the summit as "a unique part of the global movement of women breaking down barriers," during her opening address.
"Over the next two days we will set the direction for women's leadership in the education sector. What we do here will shape what happens in schools over the next years and decades… your involvement is critical if we are to reach our aspiration of equity, equality and an education system that works for every teacher and every child," she said.
Challenging workshops and speakers
Around 70 women leaders met at Wellington's Rydges Hotel from 8-9 October, taking part in workshops on supporting each other, a leadership culture that works for women, recognising women's skills and abilities and system change.
"The various workshops challenged us about our understanding and preconceived ideas about what a leader might look like and what leadership really is," participant Debra Eno said.
Keynote speakers and facilitators included activist, educator and writer Catherine Delahunty, New Zealand Council for Educational Research (NZCER) senior researcher Jo MacDonald, Equal Employment Opportunities commissioner Saunoamaali'I Dr Karaninia Sumeo, former Green Party co-leader Metiria Turei, community organiser Kassie Hartendorp, Waiheke Island Auckland Council Youth Advisory Panel member Matariki Roche, NZCER chief researcher Cathy Wylie and Minister for Women Julie Anne Genter.
Barriers, supports and enablers
In the lead up to the summit PPTA commissioned NZCER to conduct research into the literature on barriers and supports for women to succeed in secondary school leadership. This research will help shape the association's future work to address gender-based inequities.
The overview questions were:
The current state—What do we know about women in secondary school leadership and their pathways to and through positional leadership roles?
Barriers—What are the barriers to women being in positional leadership roles in secondary schools? Why are women 63% of the secondary teaching workforce, but only 37% of secondary school principals?
Supports and enablers—What policies and practices have been identified to better support women's pathways into and through positional leadership roles in secondary schools?
"This research is important because is shows that gender inequity in school leadership has been slow to change, and it identifies key ways we can achieve greater equity," NZCER's Jo MacDonald said.
Chief researcher Cathy Wylie said the research highlighted the lack of good information about how many women are in leadership roles in secondary schools. "Other gaps in our knowledge are the experience of wāhine Māori and Pacific women. It's really good to hear that the PPTA is planning more work in this area.
"We'd like to see this research picked up by the education agencies, to galvanise action to improve gender equity in secondary school leadership," she said.
The Women becoming secondary school leaders: Barriers, supports, and enablers report is available on the NZCER website.
Capable, powerful women
Summit attendee Rosa Hughes-Currie left the conference feeling confident women will be able to change the systems holding them back.
"It was such an amazing experience to be in a room full of capable, powerful women working in education," she said.
"I really appreciated how we tackled the structural problems that prevent women from having as much power in education as men. We have a lot to do to ensure women have equal opportunities to become school leaders, and the disappointing fact we don't even have any research into Māori and Pasifika women leaders in schools shows how important it is to do this work in supporting each other to demand equality in gender, culture and everything else!" she said.
Another issue that came up was the supporting trans and gender non-binary teachers to thrive and lead in schools, she said. "The conference was such a well-run, warm and agentic environment that I feel confident we will change the systems that are holding us back."
High time for systemic change.
Attendee Bernie Lee said the summit enabled a wonderfully diverse group of women to address the important issues of cultivating and embracing female leadership, recognising the benefits women bring into the school system.
"When responsibilities are divided by strength and not gender, effective change can occur. Our discussions highlighted the importance of the need for effective mentorship and support, both within and outside the workplace," she said.
"We felt gender inequities have minimized the integrity, respect, and the general excellence of women."
Group discussions tackled issues such as unconscious gender bias, particularly in schools that have not previously included female leadership. Lifting the veil on 'imposter syndrome' brought about heightened debate and ideas. "We felt it was high time to recognize and acknowledge our skills and abilities with the intent of making systemic change."
A conference I will never forget
Debra Eno described the summit as a conference she would never forget. "For me it started when I arrived, with a note inside a card, with a quote from Kristine Bartlett, 'No matter what you do or what you want, you stand up for your rights, cos in the end you can win it!' Then during the conference there were the little, confidence boosting post-it notes we would send to each other in our various workshops. On the last day, before I left, I found a note on my bag, 'I am supposed to be here!' Wonderful. thoughtful touches that enhanced the whole experience," she said.
Highlights for Debra were the presentation of the NZCER research and the challenging workshops.
"Catherine Delahunty spoke about what attitudes/beliefs exist in the sector that work against women. Metiria Turei asked us how we shift to more inclusive, power-and-load sharing models of leadership."