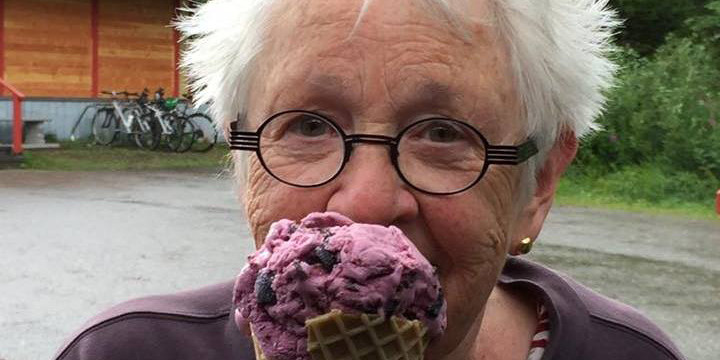 Life after teaching - Ann Tait
PPTA's honorary members share their teaching memories and adventures outside of the classroom
PPTA has around 750 honorary members, who are (mostly) no longer teaching but still support the association. They come from all walks of life and, as part of a new series, are sharing their stories with PPTA News.
Honorary member Ann Tait shares her memories of 50 years of teaching, from hat and glove wearing inspectors to sneaking a horse into a hostel
"Forty years on, when afar and asunder…."
…are the words of a school song sung at Feilding Agricultural High School in the 1960s – and looking back at my teaching career the words encapsulate my teaching life in many ways (though it is 50 years of teaching – mainly maths).
I worked at Feilding Agricultural High twice, Otematata District High, two schools in Canada, Twizel High, Fraser High, Palmerston North Girls' High, Queen Elizabeth and Cathedral Colleges.
Looking back teaching has been very rewarding and I have met past pupils who have told me what a great influence I was on their lives and often how they wished they had worked harder at school.
Making a difference
Memorable times were in Hamilton when a very 'mathematically challenged' year 11 boy suddenly, just before School Certificate, found everything fell into place. The day the results came out he came to see me to proudly show me his marks. Another was a wonderful night in Madrid with four of my ex-students who happened to be there the same day I was (we kept in touch on Facebook).
A third, also through Facebook, was from a girl whose friend had been murdered in Palmerston North, she said I was the only teacher who asked how she was (maybe the others were too timid to ask?)
The longer you stay, the more rewarding it gets
Young teachers in my last school were often amazed I had stuck at it for so long – my advice, the longer you stay, the easier and more rewarding it becomes.
Teachers are a huge influence on our young lives. I can remember most of them – the good, the bad, the mad and the indifferent. Principals (the good, the bad, the mad and the indifferent) can also be a huge influence in a school and on teachers.
In the 1980s Mike O'Connor at Queen Elizabeth College encouraged me to apply for a salary increase under the PPTA grandfathering clause for non-degree teachers. He also nagged me to get a degree through Massey so I had chances of promotion. After a few years of extra-mural study I was able to obtain a year's study leave and finish a degree.
Times have changed
Teaching has changed a lot since I first set foot in a classroom to be the person of authority - class sizes (40 plus students in some classes), segregated boys and girls classes (often home economics/commercial for girls, tech for boys)
Inspectors sitting in the back watching you teach and giving you a grade (in one case a woman wearing her hat and gloves!) one page schemes of work (term 1, pages 1 to 100, term 2, pages 101 to 200 etc), no professional development.

Staff meetings where young teachers never dared speak, calling the principal 'sir', blackboards and chalk, boys being caned and even worse in the early 1980s being dragged into the principal's office to witness a caning - and of course no computers or calculators.
Dress code, school masses and PPTA field officers
I have found the PPTA field officers to be very supportive over difficulties like dress code (unless clause is there when you are employed there isn't one - within reason), and whether, as an Agnostic, I should be forced to attend masses in a Catholic school (employment clause again).
In the end the dress code became a fun battle between the principal and me with the union backing me. I took to wearing Hawaiian shirts and jeans. On my last day the kids arranged for everyone (including the principal) to ear Hawaiian shirts and jeans – and they kept it a secret from me.
Biology from the waist up, knees down
After a two year maths/science course at Christchurch Teachers' College I was thrown out into the teaching profession.
In 1963, my probationary year at Feilding Agricultural High School, I was supposed to sit in the back of classes and watch HODs teach for 50% of the time. One of the staff got meningitis and I got his classes, all low ability boys. I was terrified of them, they were all bigger than me and there were 40 of them.
I taught them human biology (lots of bits to dissect from the local freezing works) and lots of notes to copy (kept them quiet). My curriculum was from the waist up, knees down – no interesting bits in-between. As they turned 15 they left school, by the end of the year the class was down to single figures.
Horsing around
From there I moved on to Otematata District High School. I was only there one year before I was asked to leave the hostel because I took my horse inside one day. The story went round the village that 1) I was keeping the horse in the hostel and 2) I rode the horse naked into the hostel. Unfortunately he had his head out the lounge window when the project engineer, who did not have a sense of humour, drove past.
He was beautiful, a big dapple grey like a merry-go-round horse. Because I was kicked out of the hostel I had to sell him. The master of the Timaru Hunt bought him.
I might have been kicked out anyway. I had to teach art – the only equipment was newsprint and black crayons, music – no equipment so I took a portable record player and we listened to the Beatles and social studies – I had taken Latin at school so I did a lot on the ancient Romans. I was 19 years old and had only been trained to teach maths and science.
New maths and NCEA
I went back to Feilding Agricultural High for a year and then overseas for seven years to Canada, where the curriculum was 'new maths' – transformation geometry. As long as I was a page ahead of the students I was fine. Eventually I returned to New Zealand in 1971.
I loved teaching, especially as I got older and most of the 'discipline' issues disappeared. I was not so enthusiastic about being an HOD, especially once NCEA assessment arrived and all the paperwork. So 50 years of teaching suddenly arrived and I left!
Regrets – I've had a few
I wish I had worked harder at school. I would have liked to become a vet. Young women now are so fortunate that there are so many career options available – school leavers in the late 1950s/ early 1960s had the options of teaching, nursing, office, factory or shop work.
Retirement – shame it's so badly paid. I fill in my time by sleeping late, playing golf and Bridge and walking the dog.