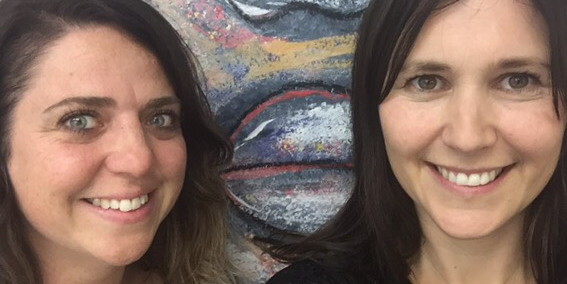 Mental health teaching resources to receive a much-needed upgrade
Lynfield College teacher Kat Wells and Auckland University researcher Katie Fitzpatrick discuss their work bringing mental health education into the 21st century.
New mental health teaching resource in the works
School mental health education resources are in for a much-needed upgrade thanks to a Lynfield College teacher and an Auckland University researcher.
Lynfield College health and physical education head of faculty Kat Wells and University of Auckland associate professor Katie Fitzpatrick are collaborating on a mental health teaching resource for year 7-13 students, with the aid of a Beeby Fellowship grant.
Things have changed since 1994
This innovation in mental health education has been a long time coming, with existing resources last updated back in 1994. Despite its age the current resource (Taking Action – Life skills in health education) is still in high demand, Kat says. "People always want a copy but there's not enough, and it is in desperate need of an update."
Kat has led curriculum change in health education at her school, is a member of the national executive of the New Zealand Health Educators' Association and teaches health education from years 9-13.
The 'go-to' resource
The aim for the new resource – with a working title of Mental health education and Hauora: a resource for teaching about resilience, interpersonal skills and wellbeing – is to be the 'go to resource' for teachers wanting to teach about resilience, mental health, interpersonal skills and wellbeing, she said.
The mental health resources will be part of a wider investigation into health education in schools by Katie, who is an internationally recognised authority in health education. She has a teaching background and has done extensive school-based research into low decile New Zealand schools.
The Beeby Fellowship
The Beeby fellowship means Katie can partner with Kat to translate the findings of the mental health part of the research into practice as a teacher handbook. "The issues students face, particularly in terms of mental health, have changed since then (1994). We want to give teachers the tools to talk about things that all students deal with, like stress and social media. It's quite a different world that it was and the current resources don't really translate," Katie said. The fellowship money was the equivalent of a university grant and allowed Kat teaching release time to work on the resource.
The Beeby Fellowship put the researchers in the best position to be able to collaborate and take action, Kat said.
"It's a great opportunity for us to collaborate and produce something really wonderful for teachers and schools," Katie said.
Good teaching materials vital for under-resourced mental health education
The researchers say the area of mental health education is currently under-resourced in New Zealand schools.
"While there is ample resources in other health-related areas (such as sexuality education), few resources currently available support teachers to address mental health, interpersonal skills and resilience," they said. Mental health is a key area of learning in the Health and Physical Education area of the New Zealand curriculum and recent youth health research also suggests such learning is urgently needed, they say.
"While it is not the express purpose of schools alone to address these societal health issues, learning in health education…can help young people to develop the skills and knowledge to support themselves and others in developing positive emotional and mental wellbeing. Good teaching resources that align with the New Zealand Curriculum and the National Certificate of Educational Achievement are vital."
Promoting positive coping strategies
The resource would aim to help students identify mental health issues, manage stress, provide positive strategies and advice on where to get help, she said.
"It may also help students communicate effectively and develop anti-bullying strategies. It's pre-emptive. Looking at things that people, schools and communities can do to promote positive mental health and showing how we can be responsive…which is really needed in this space. It needs to be a lot better," she said. There would be notes in the front of the resources to help teachers address the difficult issues - how to work through emotional issues and manage questions around suicide.
Larger focus needed on health education
Katie believes a larger focus on mental health in the health curriculum could combat the stigma around mental health issues. She would also like to see a larger focus on health education. "It should be timetabled into the school day the way it needs to be."
"The scope of the book is limited to mental health, but there are so many other issues that could be addressed through the health curriculum – sexuality education is one of the others. I would like to see schools give health education as much timetable space as other subjects," she said.
Understanding different cultural perspectives of mental health
The new resource will also help youth understand different cultural perspectives and approaches to mental health, the researchers say.
Development will include input, consultation and trialling with teachers working with Pasifika, Maori, Asian and Pakeha New Zealand youth, along with those of other ethnicities. "As a result of this process, the resource will engage with the burgeoning diversity of youth cultures in schools."
Schools sharing ideas
The researchers will ask teachers and schools to share ideas, which would be credited to them in the materials, and trial material with their classes for feedback. They are working with student teachers at the University of Auckland too.
 "Through conversations around schools about what's available and what isn't available in health education, we hope to create a beacon of light for the future. If there are examples of schools with really good processes, we want to share that," Katie said.
Accessing the new resources
Mental health education and Hauora: a resource for teaching about resilience will be published through the New Zealand Council for Educational Research (NZCER). It will be released for sale as a book and made available as a digital resource on their website.
Kat and Katie expect the book to be available mid next year and hope to be able to launch it at a health and physical education conference in July 2018.
Youth2000 - The numbers
In the latest version of the Youth2000 survey series (a youth health survey of more than 8500 New Zealanders aged 13-18) mental health was a key concern.
-        9% of boys and 16% of girls showed signs of depression
-        18% of boys and 29% of girls engaged in deliberate self-harm
-        10% of boys and 21% of girls admitted to having suicidal thoughts
The Youth2000 research team stated their findings identified that "bullying…(and) significant depressive symptoms…(are) significant problems for New Zealand youth."
The Youth2000 survey series