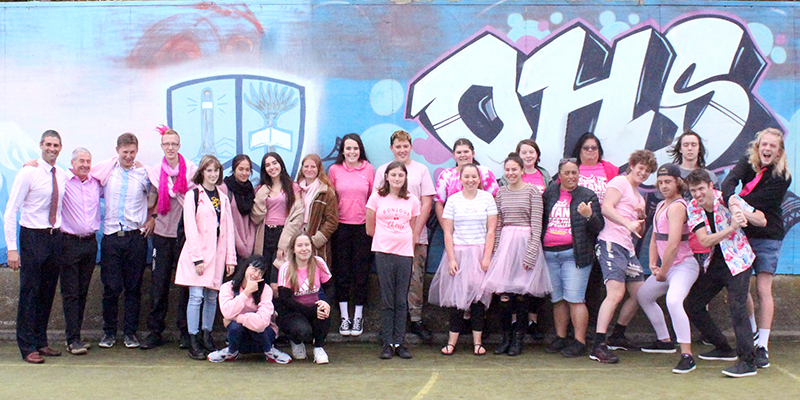 More schools standing together to stop bullying
Opunake High School was part of the 80% increase in schools taking part in Pink Shirt Day this year. PPTA member Andy Bedford tells us how it went.

Pink shirt day was massive this year with an 80% increase in secondary schools signing up to stand together to stop bullying.
Celebrated annually around the globe, Pink Shirt Day began in Canada in 2007 when two students took a stand against homophobic bullying after a peer was bullied for wearing a pink shirt. In Aotearoa Pink Shirt Day aims to create schools, workplaces and communities where all people feel safe, valued and respected.
The campaign was coordinated by the Mental Health Foundation (MHF), supported by an advisory group that PPTA has a position on.
Opunake High takes a personalised approach 
One of the new starters this year was Opunake High School. Last year staff wore pink shirts and ties to work but this year was the first time they had made a concerted whole-school effort.
PPTA member Andy Bedford said the school ran its own internal anti-bullying campaign with posters sporting slogans like "be a mate, not a mug" and "be a buddy, not a bully" featuring images of their students in the lead up to the Pink Shirt mufti day.
"The idea being if we personalised the message to our school, demonstrated the ideals we want our rangatahi to live by and had our students on posters, the overall anti-bullying idea might work better for us," he said.
Student-led success 
The day and posters were organised by the school's DREAM Committee – a student group organised to "rally the troops" around causes such as this, he said. "DREAM is our school values, Diligence, Respect, Exceeding Expectations, Aroha and Mana."
Andy said close to half the student population of around 345 got on board. "Not bad for our first concerted effort."
For those that got involved he thinks the day went down well. "I'd say if we carried it on we could get an increase in overall participation. We are lucky that our senior students and our student DREAM committee tend to drive these things, so having that example to younger students is pretty handy."
Give it a go 
His advice to others is to "give it a go." 
"We ran our campaign for about a week prior on our social media (@opunakehigh on Instagram and Facebook) and of course these live on post-event too. Clearly there is room to expand what we do in the future - have a shared kai maybe with a pink theme.
"I think knowing your student population and what would work for them is probably one of the keys to success and a 'no-shame' staff buy-in," he said.
80% increase in Pink Shirt Day participation 
The increase in Pink Shirt Day participants was measured through registrations and there are also many people who participate without registering officially. There was an 80% increase in secondary school registrations, some of which may have come from a new partnership with clothing retailer Cotton On. Through selling Pink Shirt Day t-shirts Cotton On generated $300,000 for the MHF to spend on its work in this area. 
This year also saw significant Māori and Pasifika Pink Shirt Day events, the Pink Shirt Day Whānau Festival at Manurewa Marae and the Pasifika Pink Shirt Day held in Mangere Auckland. These helped raise awareness of the campaign and the issues of bullying in communities it has previously struggled to reach.
Raising awareness 
One of the objectives of the campaign was "to raise awareness and understanding of the prevalence and impact of bullying on young people's mental health and wellbeing, particularly in relation to young people who are Māori/Pasifika and/or identify as Lesbian, Gay, Bisexual, Transgender, Queer, Intersex, Asexual, Plus (LGBTQIA+)".
The MHF found that 67% of workplace and school respondents had increased awareness and 42% had increased understanding of the above. 56% of all workplace and school respondents had increased awareness and 36% increased understanding of bullying of people who identify as LGBTQIA+.
Pink Shirt Day information and resources (pinkshirtday.org.nz)