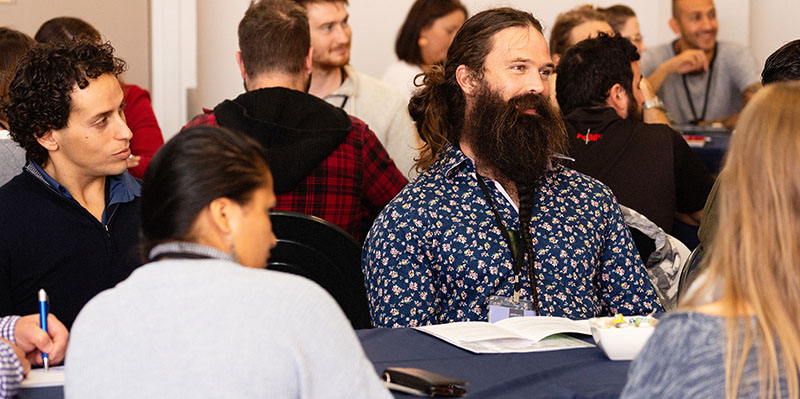 NET-working, learning and activism
Inside the national PPTA Network of Establishing Teachers conference
Around 80 new and establishing teachers gathered in Wellington during term break to talk wellbeing, workload, activism and social justice at the 2019 NETs (Network of Establishing Teachers) conference.
"As we fight for things like teacher wellbeing and workload and hear stories of burnout in young teachers, a conference in the holidays could go either way. But it was energising," attendee Nikki Weston said.
"We are always told to listen to the veteran teachers, but it was so inspiring to hear from each other for a change and see other NETs confident in their abilities and passion for teaching."
An incredible and warming experience
Fellow conference-goer Shannon-Mae Daer said it was an "incredible and warming experience" to network with and learn from other beginning teachers from across the nation. "Having a large focus on activism during the hui gives me confidence to lead my school in future industrial action. Kia kaha Te Wehengarua!," she said.
Attendees took part in workshops and listened to a range of speakers including Onehunga High School teacher Sofia Kaur on bringing community culture into your classroom, Former Kapiti College student Sophie Handford on leading the School Strike 4 Climate and union and social justice organiser Simon Oosterman on making activism visual.
Hitting the streets a highlight
Simon's session include a rally on the streets of Kilbirnie, which was a highlight for many attendees.
"I LOVED being a part of the practice rally in Kilbirnie. So many toots for teachers!, Hanna Noeline said. "For many of us it was our first street rally so this was a great chance to experience it before we do the 'real thing' We all got awesome training from Simon Oosterman so we are now ready and equipped to get out there!"
Fourth year teacher Samara Doole (see opposite page for profile) said, with the upcoming strike action about to unfold, the conference sessions were a great way to start thinking about why teachers are in this profession, why they are striking and whey it might be seemingly unattractive to be a teacher at the moment.
We are striking for our students
"Ultimately we are striking for our students. If we can't be at our best then how can our students get the best learning opportunities? As teachers new to this profession we have a huge role to play in emphasising how important education is, while also showing how much of a rewarding, exciting and purposeful career choice teaching can be," she said.
Samara also had the opportunity to present at the conference, sharing the digital tools that are currently having a huge impact in her classroom in terms of collaborative critique.
Unifying through unconference
This presentation was part of the 'unconference' portion of the programme. The most loosely structured of the sessions, the unconference was about encouraging member participation and member-led workshops and discussions around the issues that mattered to them.
Participants took to this section with gusto, running sessions senior social studies and social action, mentoring vs form time, cultural responsiveness in class, critical theory in the classroom, cross-curricular teaching, mindfulness and wellbeing, creating memes and many more.
"Having this time to connect with others who are also starting out or teach the same subject as you, as well as being able to gain useful insight, advice and inspiration has been incredibly motivating. I have always left a conference, be it NETs or annual, with new networks of people and a USB full of resources from other teachers," Samara said.
Read Samara's PPTA News profile here: