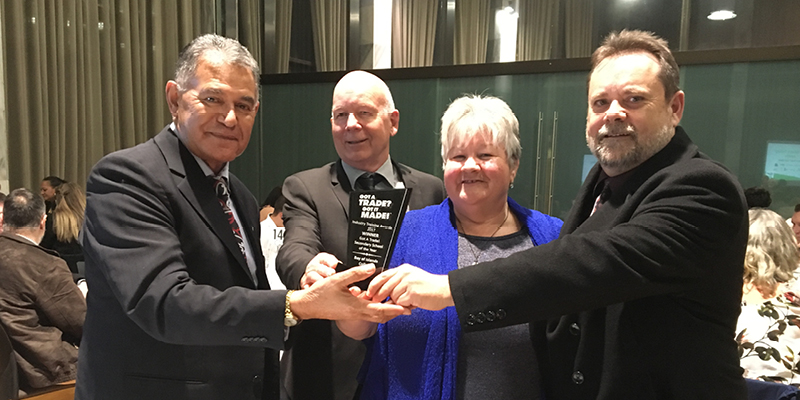 Bay of Islands College's 'got it made' with trade award
A small Northland college has taken on the big schools to win the Got a Trade? Got it made! school of the year award
Commitment to transitioning students from school to the workforce
Every morning a van leaves Bay of Islands College taking its students from Kawakawa all around the bay to help them transition from school to the workforce. They travel to Kerikeri, Waitangi, Paihia and as far as Whangarei to gain experience with tourism operators, farms, hairdressers and bakeries.
It is this commitment to supporting students through job opportunities that has netted the small Northland school the inaugural 'Got a Trade' School of the Year award.
"Not bad for a little school like us"
Principal John Paitai was "blown away" by the recognition.
"It's such good news for our school. It shows the transformative nature of what we are doing and our students achieving good things," he said. With a roll of 343 students the school beat 23 shortlisted secondary schools to receive the top award.
"Not bad for a little school like us. To take it out like that was really fabulous," he said.
Early adopter of workplace learning
Bay of Islands College was one of the earliest adopters of the Gateway workplace learning programme, back in 2001. It is also involved with farming and automotive trade academies and helps guide students with the NCEA course choices so they reflect the career pathways they are interested in.
"Almost half our students don't go to university, often because families can't afford it. This is why we have such a strong focus on our Gateway and trades academy pathways," John said.
Excellent relationship with local businesses
The theme for the award was Got a Trade? Got it Made! and part of that was recognising the schools that were helping to raise the profile of vocational options, John said.
One of the college's winning traits was its involvement with local businesses, which were happy to take on, and often employ, their students.
"We have an excellent relationship with our business community all around the bay," he said.
"If there's a willing employer we'll find a way to get them there"
The school has sent some students further afield with one, who wanted to be a pilot, put on a placement at Hamilton airport. The student made such an impact there he was offered a job. He also made quite an impression on his peers during a flight for a school trip when he was called up over the intercom to join the pilots in the cockpit.
"If there's a willing employer we will find a way to get them there," John said.
Being small can be an asset
John was particularly rapt with the school's result as it was competing with all the other schools in the country that had a Gateway programme.
John felt being smaller and closer to the community was an asset for the school. It also meant they could provide close attention to individual students.
"It helps being smaller because we can hunt the students down and stalk them to make sure they get the course work done. We never give up on kids, even if it means making sure they get out of bed some days," he said.
Proud of students and staff
"The judges looked at our efforts and the proportion of students who have achieved through Gateway, the trades academies, vocational pathways and NCEA. They looked back at our last five years of results and talked to our local businesses and trades academies."
John was so proud of his students and the staff that made it all possible. He even managed to wrangle some extra invitations to the awards dinner in Wellington so he could bring more members of staff.
"We're just buzzing," he said.