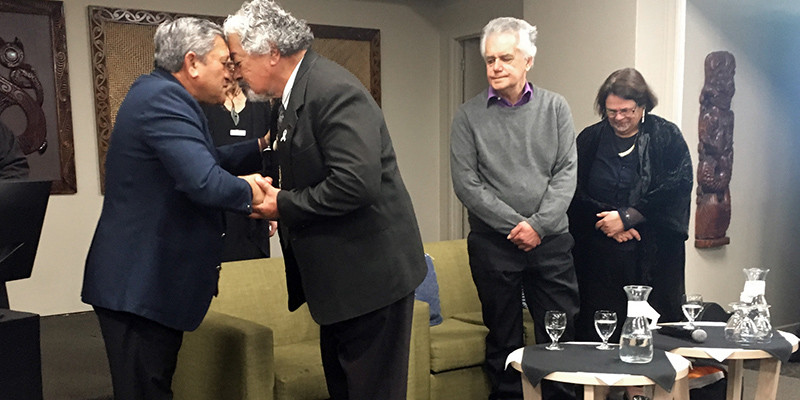 New kaumātua for PPTA Te Wehengarua
Te Huarahi member Hēnare Hūtana was recognised as PPTA's kaumātua during a ceremony at PPTA's 25th Māori Teachers' Conference.
The 25th Māori Teachers' Conference took place in Rotorua on the 7th and 8th of July. As always the energy was high and delegates looked to be enjoying the range of excellent speakers and workshops.
The highlight of the conference was the ceremony conferring the title and role of kaumātua to our beloved Te Huarahi colleague, Hēnare Hūtana.
Our second ever kaumātua Te Wharekōtua Turuwhenua has given many years of service to PPTA Te Wehengarua but has in recent years has rightly prioritised his whānau, hapū and iwi.
Te Huarahi stalwart stepping up 
In te ao Māori, if there is a job to do or a role to fill, someone must step up. Over the last five years Te Huarahi stalwart and executive member Hēnare Hūtana has done just that. His role has evolved and changed in an organic and tika way. Matua Hēnare has represented us so well during that time at executive, Te Huarahi, Kapa Haka, conferences, Ngā Manu Kōrero and more.
Te Huarahi made the decision last year that Matua Hēnare should formally take the position of kaumātua and endeavoured to find an opportunity for Te Whare to hand over the mantle. Unfortunately, that wasn't possible. In his absence and with Te Whare's full approval and blessing senior Te Huarahi member Moeke Paaka undertook to bless Hēnare in his new role at this years' 25th Māori Teachers' Conference.
Blessings from iwi and union family 
The taonga that was presented to Matua Hēnare was a gift from the members of PPTA, commissioned by Te Huarahi and made with aroha by Matua's iwi Ngāti Kahungunu.
Many of the speakers at the conference were Ngāti Kahungunu and it was a lovely that so many of Matua Hēnare's people were able to be there with him as he was blessed. It was also appropriate that the ceremony was held at the PPTA Māori Teachers Conference, as it was an opportunity for the broad family that is PPTA Te Wehengarua to add their blessings too.
Responsibility sits well on broad shoulders 
During the simple and moving ceremony matua Hēnare was blessed with the pure essence of life; water and foliage. Kaumātua Hūtana appeared almost overwhelmed but as always carried himself with modesty and aroha.
The depth of his new responsibility was placed upon him and it sat well on his broad shoulders. The ease of the transition bodes well for the future.
Matua Hēnare will give his full time and energy to the role.
The 25th NZPPTA Māori Teachers' Conference in pictures