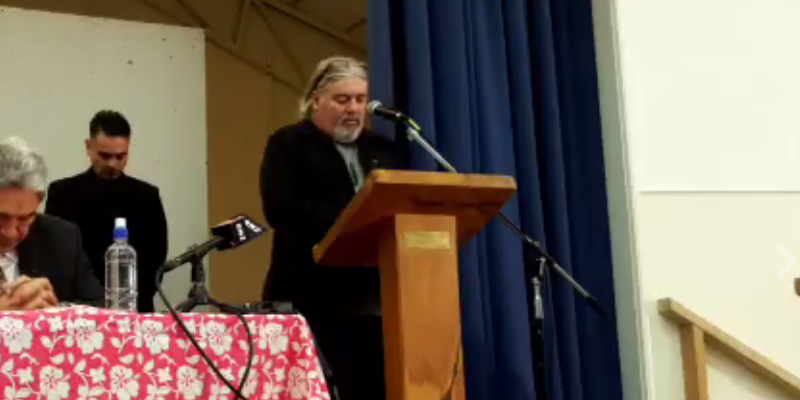 One night out thinking
PPTA executive member Terry Robson reports on the Upper Northland political panel held on the 24th August in Kaikohe.
On a chilly night in Kaikohe, Northland, a political event took place. It was organised by intrepid regional committee members of the Northland Upper Region of the PPTA; Brian Dunckley, Graham Sharp, Sarah Morgan, Diana Henderson, Ester Van Dyke (and husband Andrew) and Terry Robson. PPTA President Jack Boyle and comms advisor Liz Robinson were in helpful attendance also.
Well in excess of a hundred attended this event. The politicians they came to listen to were the Rt Hon. Winston Peters, NZ First; Willow Jean Prime, Labour; Hone Harawera, Mana; Catherine Delahunty, Green; and Matt King, National. Apologies were received from Labour deputy leader Kelvin Davis. Each politician was given 10 minutes to introduce themselves and their political party's messages. This report will mainly concentrate on those issues concerning parents, educators and students within New Zealand education.
Hone Harawera
Hone Harawera spoke at length about how the rugby league competition was helping youth in the Far North. He questioned why young students in tertiary education had to pay such a high cost for their education over and above the rising cost of accommodation in the big centres like Auckland. He reminded us that the cost of an education was more reasonable in the past. He blamed Labour and National for selling off assets in the past, making things worse for the youth of today.
Catherine Delahunty
Catherine Delahunty spoke about the quality of public education and the politics of education in reference to the dawning realities of the issues facing a quality public education system. She contended that all cultures need to be respected more, along with improved conflict resolution. She wants adult New Zealanders to realise about global climate change issues and she voiced concerns about unrealistic NCEA targets, expressing sorrow for the predicament teachers have found themselves in over this. She stated concern about a lack of government spending in education and how we have suffered under the experiment of 20 years of the neo-liberal model and a need for an inspirational education system that is less focused on assessment and more focused on the needs of the student. The Green Party supports universal te reo Māori in schools.
Matt King
Matt King spoke at length about the infrastructure benefits to Northlanders that have occurred under a National-led government. He reiterated his government's commitment to infrastructure in Northland where money is needed to be spent on roads and bridges. He spoke about growing up as a Northlander and that he believes the quality of people's lives are improving but he suggested that he had been into 'Once Were Warriors' homes around Northland and although he was not poor himself, he had observed people's hardship in face to face visits to people's homes. Matt apologised for having little to discuss about education because it was not his thing.
Willow-Jean Prime
Willow-Jean Prime informed us that Labour has many useful policies. She was very passionately concerned about the increasing number of people living in poverty and homeless in Northland, claiming that this has become much worse in the last three years and that the food bank hasn't enough food to feed the impoverished. Things are getting worse, she claims and people are not getting the best education, housing, and health support. She stated parts of NZ and particularly Northland have the highest unemployment and fastest growing level of crime. She suggested rental homes should require a 'warrant of fitness' to get rental housing up to livable levels for low income tenants. She admonished the government for the continued sale of state housing and claimed that a well-funded education system was the key to an improved future.
Winston Peters
The Rt. Hon. Winston Peters spoke about how this election was the prime time for Northland to reassert itself as a powerhouse primary producer and government game changer, discussing forestry in particular. He argued that much of the profits are being collected south of Northland and that much more money needs to be invested in education, infrastructure, roads and bridges.
Questions from the audience
What followed was a Q and A session with the issues of private forests, poor wireless networks and the future of local regional development in the Kaikohe area being raised. The final question raised was by the youngest of the audience, an Okaihau College senior student and it was poignant in that it concerned teen suicide prevention. The panel communicated their contention that one of the reasons for such a high teen suicide rate was the pressure of too much assessment in schools and students continually being faced with an assessment system geared for failure. Everyone who attended agreed this event proved to be well worth the effort.
Well done the Northland Upper Region!