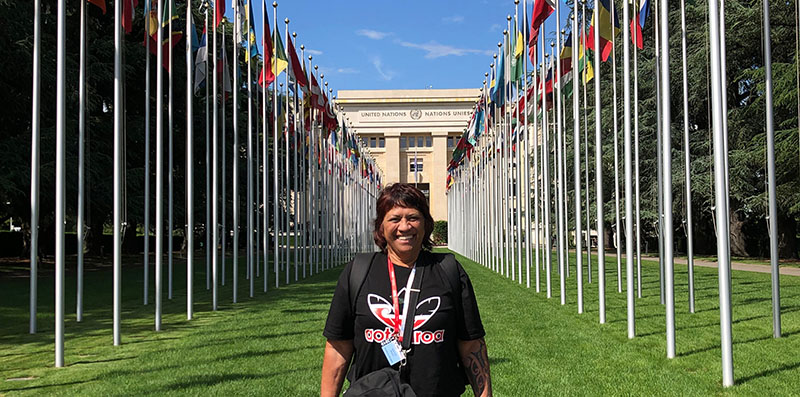 Only we know our story
PPTA Te Huarahi Māori Motuhake member Miriama Barton represented New Zealand at the centenary session of the International Labour Organisation conference in Geneva.
Te Huarahi Māori Motuhake member Miriama Barton had the opportunity to represent New Zealand Māori on the world stage in June.
She was the delegate for the Council of Trade Unions (CTU) Rūnanga to the centenary session of the International Labour Organisation (ILO) conference at the United Nations in Geneva. "I got to go and represent New Zealand, Māori and workers as a whole, it was an incredible experience," she said.
Workers, employers and governments together
The ILO has operated since 1919, bringing workers, employers and governments together to set labour standards and develop policies and programmes to promote decent work for all.
It is the only tripartite UN agency and has 187 member states. This year more than 7000 delegates and observers from those states attended.
"There were 7500 people there. It was huge. South Africa alone brought 100 delegates," Miriama said.
New Zealand well ahead, but still a lot of work to do
One thing that stood out for Miriama was that New Zealand was well ahead as a country compared to many others. "There is still the wage gap for women and we need to be more inclusive of people with disabilities and build that into the workplace.
There is definitely more work to do in terms of our treaty relationships but we are absolutely farther ahead than countries where people are being assaulted for who they are. We are a lot more advanced in terms of our treaty, but there is still work to be done," she said. 
Miriama is a passionate advocate for accessibility for those with disabilities in the workplace and spoke up for their rights as well as the rights of indigenous people. "It's not just about our treaty partnership - it's where we sit in the economic system of the workforce and speaking up for the rights of our people."
Eye-opening experiences and a country to look up to
After observing other countries' practices, Miriama felt the Swiss model would be a good one for New Zealand to aspire to. "Education is at the top of their list, they have equal opportunities for women and equal pay for them. In an ideal world that is what we would be reaching for," she said.
It was a tumultuous time to be in Geneva and Miriama experienced this while exploring outside of the conference. "There were workers strikes and protests about children being jailed at the Mexican border. People shared what they were going through and it was tragic – a sister being separated from her one year old brother who was in another cell. At the time I was there six children had died in jail," she said
Preventing violence and harassment in the workplace
A big highlight for Miriama was seeing the convention on violence and harassment in the workplace pass (see opposite page for PPTA deputy general secretary Yvonne Oldfield's role in this).
It was the first time in 15 years a new convention had been set by the organisation. When the ILO initially formed it met regularly to set up conventions around anti-slavery and child labour, but now the major conventions are set new ones are far less common.
"It was amazing that we were part of this and to see it passed by all the countries of the world was wonderful. I had to pinch myself and say 'am I really here?'"
Centenary declaration for the future of work 
100 years since the ILOs founding, the Centenary Declaration for the Future of Work was adopted this year. The declaration had a 'human-centred approach' focussing on three areas of action; increasing investment in people's capabilities, increasing investment in the institutions of work and increasing investment in decent and sustainable work.
It issues a call to action for all member states to, ensure all people benefit from the changing world of work, ensure the continued relevance of the employment relationship, ensure adequate protection for all workers and promote sustained, inclusive and sustainable economic growth, full employment and decent work.
Time for the CTU Rūnanga to shine
Miriama would like to see more CTU Rūnanga representation in forums like this. 
 "Someone asked me whether I would go again and I said 'yes, in a heartbeat.' If we are going to get good value from the CTU Rūnanga then we need to be around the table to represent our people.
Only we know our story," she said.