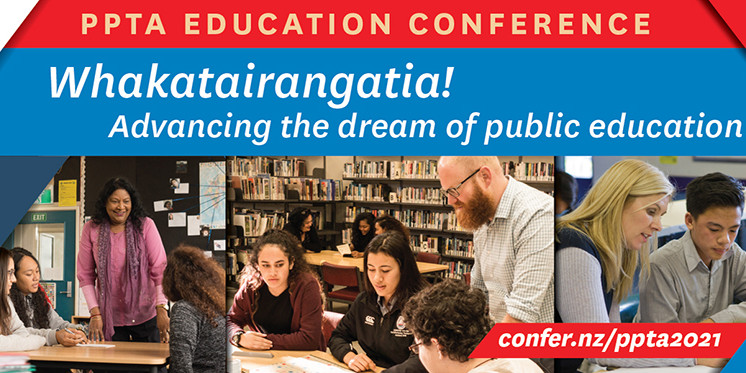 PPTA Education Conference 2021
Whakatairangatia – Advancing the dream of public education
When: Monday 19 April – Wednesday 21 April 2021 (finishing about midday)
Where: InterContinental Hotel, Wellington.
During his annual conference opening speech, president Jack Boyle announced the relaunch of the PPTA Education Conference: Whakatairangatia – Advancing the dream of public education.
The conference was postponed this year due to the Covid-19 pandemic, but has now been rescheduled for the 2021 April school holidays.
"It was disappointing that we had to postpone the conference this year, as almost 300 people had signed up to attend. However members are telling up that they feel comfortable coming together again and that they are still interested in the programme we have developed," he said.
All the keynotes are back
All the keynote speakers will be back including Rawiri Toia from Victoria University, Pasi Sahlburg on the Global education Reform Movement and Travina Kang talking about teacher professional development in Singapore.
There will be 21 workshops run by teachers who will share their knowledge, expertise and insights and 14 researchers will present papers on effective teaching and learning in the classroom.
The conference is funded through the PPTA PLD fund which covers registration and catering, and support towards travel and accommodation for those coming from outside of Wellington will be available.
Those who signed up for this year's conference will be contacted first to see if they are still interested.
"We've got a great venue and a challenging programme of speaker and workshops, but places are limited. So join us in Wellington next April to debate public education," Jack said.
Registrations are open now
Registrations for the conference are open now. For registration forms and and information on keynote speakers, visit the conference website:

Whakatairangatia! Advancing the dream of public education
There will be workshops run by teachers, sharing ideas for use in the classroom and researchers sharing their latest findings. If you would like to run a workshop or present a research paper, please register your interest below.
Submission deadline is December 9, 2020