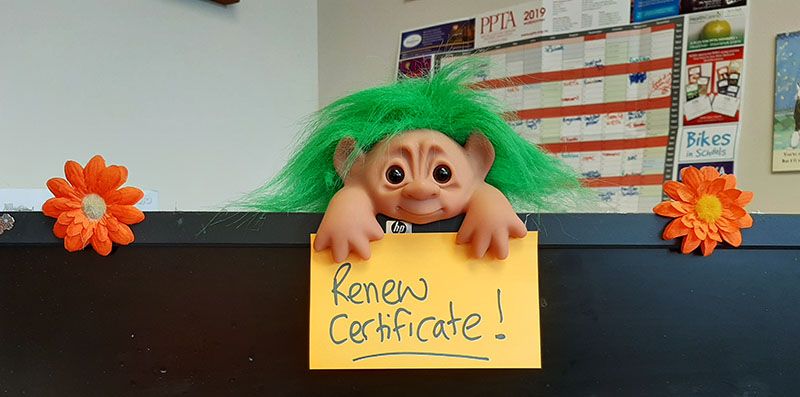 Practising certificate renewal – don't forget!
Advice from PPTA's intrepid field officers on the importance of keeping your practising certificate up to date.
Jim recently contacted PPTA because he had not been paid the Māori Immersion Teacher Allowance (MITA). The non-payment had been for over one term, a total of $1000 in missed salary.
This particular allowance is payable to teachers whose role includes use of Te Reo Māori as the medium of instruction. Under STCA 4.18 and ASTCA 3.14, all teachers required to use Te Reo for at least six hours per week in an approved Māori immersion programme shall receive an allowance equivalent in value to one unit (currently $4000). One requirement for the payment though is that the teacher has a current practising certificate. No certificate, no money. Unfortunately Jim had forgotten to renew his certificate, so PPTA was not able to secure payment.
Renewal first and foremost a teacher's responsibility 
Renewal of a practising certificate is first and foremost the responsibility of the individual teacher. Members will have noted that the provision for the Ministry of Education to pay the renewal fee expired with the previous STCA and ASTCA. It is easy to forget something that only happens once every three years, and it is a very good idea for each school to have someone check on certificates and remind teachers when their renewal is due. That did not happen here.
It is worth noting that the ministry will also only fund transfer and removal expenses where a teacher has a current practising certificate.
Consequences of not renewing can be severe 
The consequences of not renewing can be much more severe. In this case Jim lost $1000. However, he could have lost his job.
It is illegal for a school to employ a teacher for more than 20 half-days in any one year if that person does not have a current practising certificate. There are fines of up to $2000 for both teacher and school in such situations. Because of the unlawful nature of such employment a school can place the member on
leave without pay, or even dismiss the teacher.
Renewal may save you money, and your job 
If you find yourself in a similar situation, you should immediately ask your school to apply for an extension of the practising certificate while you complete the renewal process.
Members will have a variety of views on the value of practising certificates, and the need to renew every three years. However for over 40 years PPTA has supported having a trained and qualified secondary teaching profession. There does need to be some system of certification to support that. Currently this is through the Teaching Council of Aotearoa New Zealand. Renewal on time may save you money, and your job.
Contact your local PPTA field office (ppta.org.nz)