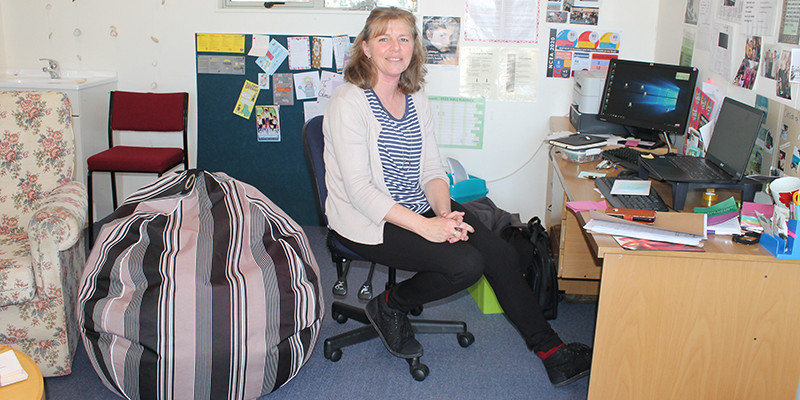 Putting school at the heart of the community
PPTA News visits Waiopehu College – a school with a community hub model we would like to see emulated round the country
Just across the road from Levin's Waiopehu College sits an unassuming house. It looks like any other on the street, but inside is bustling support service - and at times lifeline - for the college's students.
Blake House was donated to the school by Helen and Collis Blake, a local couple who had a strong affinity with the community. It offers guidance counselling, drug, alcohol and smoking counselling, and access to health nurses and a social worker.
It is a working embodiment of PPTA's policy of putting schools at the heart of the community, so PPTA News went to investigate.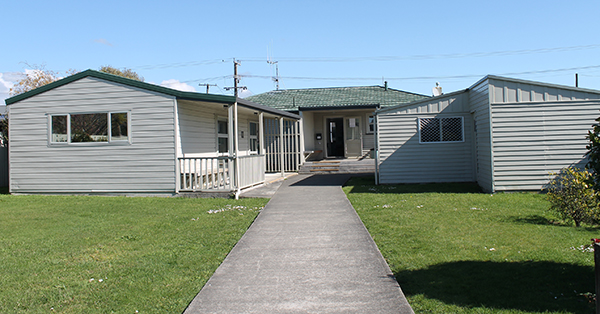 Blake House
Schools at the heart
What happens outside of the school affects what happens in the classroom, which is why PPTA wants secondary schools to become community hubs, president Jack Boyle said.
"We want to make it easier for kids, families and the community to access all the services they need in one place. Immigration, Inland Revenue, your GP or nurse, Work and Income New Zealand, mental health services, the community pantry – when social services can be accessed at school, people get what they need and are linked more deeply into the fabric of the community," he said.
The needs of young people are more complex
Blake House's donors, Helen and Collis Blake, had an affinity with the school and a passion for helping young people. They wanted to create a space for students where guidance and alcohol and drug counselling were accessible on a day-to-day basis, Waiopehu College principal Mark Robinson said.
The fact Blake House was separate from the school was hugely important for young people, Mark said.
"It's confidential, you can have counselling sessions without your mates seeing. Kids are more likely to go somewhere like that, than an office in the middle of the school.
"The needs of our young people are becoming more and more complex. It feels like the whole world's shifted on its axis a little and our kids are feeling that. We want to make it as easy as possible for them to access the services they so desperately need," he said.
Waiopehu College has a teen parent unit on site that uses services from Blake House as well. "It is a way of providing education and life skills to yet another group of young people who will in turn make a difference to the next generation."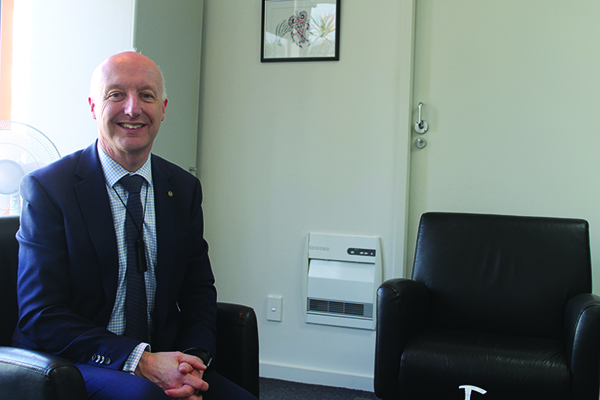 Waiopehu College principal Mark Robinson
Early intervention
Since it opened in March 2011, Blake House has provided a wraparound service, beginning at year 9. When they start at the school students undergo a HEADS (Home, Education, Drugs, Sexuality and Safety) assessment at the facility.
This is a vital early intervention tool, with students having access to all the services they need in the same place and the ability to move from one to the other with ease, Mark said.
"If any red flags are raised with our guidance counsellor for example, they can head across to the nurse or social worker. As simple question like 'have you eaten today?' can open up a lot of things, and then all they need to do is go down the hall."
The outcome of many of these health assessments was an ongoing relationship with the staff at Blake House, where necessary, and issues dealt with in a timely manner. "They get early experience of a place where they will be listened to and respected. They know they have a place they can go for help and they will get it."
Each time you see a student you build a bigger picture
School health nurse Sue Burton has been with Blake House since the beginning. Since then an increase in students has funded a team of three nurses, with a clinic held four days a week.
The nurses saw every year 9 student with parental consent, she said. "Each time you see a student you build a bigger picture," she said.
When Blake House first started up it was a drop-in situation but, the more students they saw, the more likely it was they would turn up at the same time, she said. "So we needed to develop a system that respected the students' privacy."
Now when a student wants to come over to the clinic they set up an appointment time that suits them. They also use a student runner system so if they are doing something in class it is not a nurse that is pulling them out. "It makes it easier and is more respectful of the students," she said.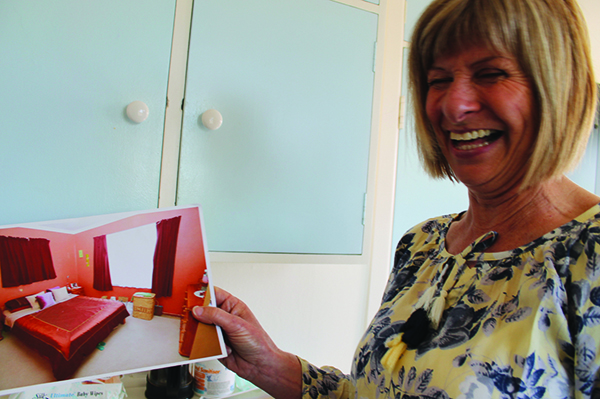 Sue Barton shows us the striking decor in what is now the nurses office
An essential service
The result of this is less time spent out of school to attend medical visits, Mark says.
"we have noticed a decrease generally in time spent away from school due to health issues. Early intervention means a student is more likely to succeed. This is holistic. It could be a physical or mental issue that is reflecting on their wellbeing at school. With education and understanding we have accomplished a lot."
"It is definitely an essential service. We are seeing more presentations of anxiety and within that other mental health issues such as depression and suicidal ideation. When it gets to that point, we need a service in a safe and trusted environment that can access when they need it. That is what the house is," he said.
Cross-agency support
Levin is part of the Social Sector Trials (SSTs) a community-based approach aimed at improving the way government plans, funds and delivers social services.
Being involved with this has meant the only staffing cost to the school from Blake House has been their guidance counsellor. The property itself was sold to the Ministry of Education for $100,000 and the school pays a peppercorn rent of $2 a year.
The school also has support from other community-based organisations and agencies and has fortnightly meetings to work with the students in the top 3%, in terms of need. These meetings include Oranga Tamariki, the police, young people, and their families.
"It stops kids from falling through the gaps. We are all on the same page with what the young person needs. We have a great relationship with the local community and we can use those connections to get the most out of the local services," Mark said.
"Lower decile schools trigger more services, but the difference for us is how we are integrated. The fortnightly meetups and the support from the DHB and Ministry of Education."
Assistant principal Alison Spencer provides the link between the senior leadership team and these agencies. "We have found out about young people we may not know about, who have things going on that we might need to know," she said.
"It is highly confidential, we are dealing with sensitive information. We get to have a really good discussion about who are the best people to take the lead with the student. We are learning new things all the time."
A few steps from smiling face to smiling face
Glenice Hoskins is involved with Blake House through her work at Life to the Max Horowhenua, a youth service organisation in the area. Supported by the Ministry of Social Development and the Ministry of Health she acts in a youth coordination role.
Young people might access her for one reason and with the team so close together she can act as a bridge to the other services. "Kids have a lot going on, we're an umbrella service," she said.
Glenice is connected with organisations such as the Horowhenua Abuse Liaison Team. "We always look in on young people in the college if the police have been called to an incident. We also have an activities programme that focuses on self-esteem and general health and fitness.
"We do practical things, working with young people and their families. We always work with whanau when we can. We are an incredibly collaborative organisation – the nurses, me, the counsellors. It's only a few steps from smiling face to smiling face. There are no pieces of paper. You don't have to wait. It's confidential. It takes the pressure off the family space and young people don't have to be taken to appointments," she said.
Student seal of approval
Waiopehu College head girl Carla Maclean and head boy George Edwards both really appreciate the services available.
"I think it's really cool that we've got a facility onsite, that's so accessible. We're super fortunate," Carla said.
"It's a really cool facility. Every kid has the opportunity to access these services. They are so private and easy for students to access in sensitive situations," George said.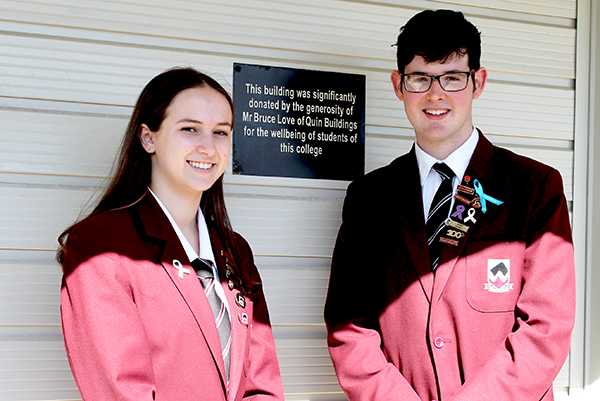 Carla Maclean and George Edwards
Couldn't stay away
Belinda Allatt is the school's newest public health nurse, having started this June. "I'm fresh in and learning the ropes," she said.
The school itself isn't unfamiliar, however. "I was a student here back in 2010 and as a student nurse I can to work here and loved it so much I came back.
"It's great seeing the students come over here and have access to people straight away, rather than get a piece of paper and be sent elsewhere. As a previous practice nurse, I know how hard it can be to get into a GP.
We can tell them about our resources and make them comfortable with the idea of seeking help so they aren't resistant to it when they're older," she said.
Pandemic changes
The Covid-19 pandemic forced Blake House to adapt, but students didn't go without its services, Alison said.
During level four lockdown they went completely digital, working with students using Messenger and their own devices.
"The school was phenomenal. What they put in place, ensuring students had devices. Our team would talk at least once a day, every day. There were lots of texts," she said.
The centre itself continued to operate in a fashion during lockdown with nurses available and safety precautions in place. "It was our own sort of isolation, so treatment could continue."
The wish list
Even with a really good operation there is always more that can be done, and Blake House is no exception.
Previously they had a doctor on site for a couple of hours in the morning, who could do things nurses aren't qualified to do. Mark would love to see that happen again.
"Having a doctor on site meant that young people attended appointments they may not have been able to get to outside of school with their parents working etc. Though currently our nurses do drive students to doctors appointments if needed," he said.
There was a cost barrier with accessing doctors outside of school too, and if a patient had an outstanding bill the child wouldn't be seen until it had been paid. "We want to have as few barriers to getting assistance as possible."
"We would love another guidance counsellor too. At the moment the high needs students get in first and the not so urgent ones have to wait a bit because we only have one to go around. We end up triaging a bit. In a perfect world we would have enough resources not to have to do that," he said.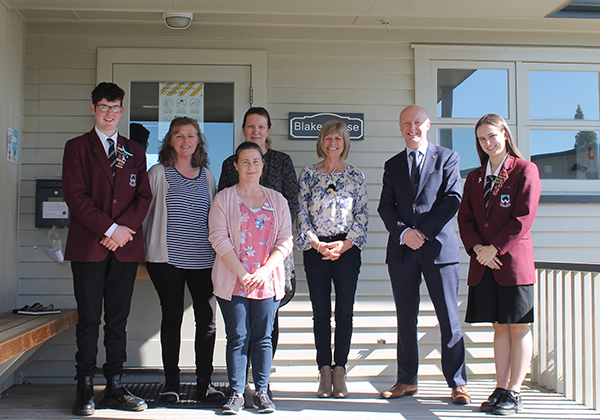 For more information on PPTA's schools as hubs campaign read: