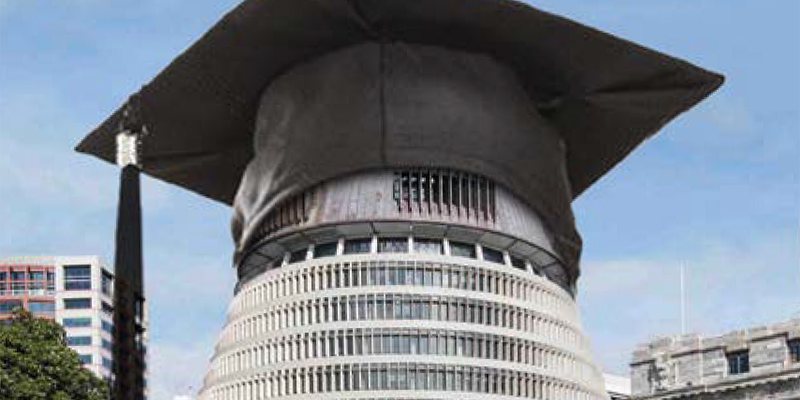 Retraining to teach
Guest columnist Dave Armstrong proposes a novel way of addressing teacher shortages after this September.
With many schools experiencing teacher shortages, it is important that talented people in other professions are given every opportunity to consider teaching as a career. Given the volatile nature of New Zealand's job market, a number of talented individuals may find themselves without a job after this September. Yet with just a little training, many of these people described below could make excellent teachers. I hope they will be given every consideration by schools. To protect their identity from their present employers, only first names have been used.
Bill – a competent manager who would be good with school finances. Could do worse if you needed an economics HOD in a conservative Southland school. Tends to get his ideas from other teachers and then claim them as his own. Usually good with deadlines, though when asked to complete a simple task he sometimes replies with comments like 'yep, will have that done by 2030, or maybe 2070.'
Andrew – also competent though a little boring. Possibly good in a 2MU role that does not require too much vision. Might do better as principal if he teamed up with a charismatic and popular deputy.     
Jacinda – strengths in English and History and has been known to DJ on occasions. Great potential, and could prove very popular with students and other teachers, but has not really been tested in the cut and thrust of a challenging classroom environment.
Metiria and James – couple available for small rural school. If you need an ebuillient, fun, slightly wacky Art or Drama teacher Metiria fits the bill. James is more staid, but could be ideal in a commerce or economics role. Both seeking simple rural accommodation but not fussy as long as it has compostable toilet, complete insulation, rainwater collection hubs, medicinal marijuana patch and off-grid solar generation.
Gerry – Te Reo Māori and woodwork. Probably not the best teacher for scholarship students but a real enthusiast. Might suit a South Island school, though he can get a bit tetchy when talking about Christchurch. Tends to dislike red tape (see: security, airport) which could make adminstering NCEA assessment difficult.
David – young and intelligent with impeccable dress sense. Could fill shortages in Latin, Economics or Mathematics. Would prefer somewhere like Epsom, with a high-decile boys school being ideal, or even charter school considered. Probably not a good fit at a lower decile school as he tends to blame students, parents and other teachers for their 'failing'.
Hekia – intelligent, charming, organised and fluent in Te Reo, Hekia is a principal's dream. Even better, she believes kids learn more in big classes than smaller ones! An enterprising school administration could pile 40 or 50 kids into her classes, allowing other teachers to reduce their class numbers and increase their effectiveness. Has a slightly patronising manner with students and other teachers.  
Winston – highly experienced with major interest in extra-curricular activites. Could fill many roles, though probably not Dean of Overseas Students. Interested in outdoor education, especially fishing, and would be great fun on a school trip.
Colin – charismatic and strong in religious studies. Has also expressed a desire to contribute poetry to the school newspaper. Has had some tricky legal disputes in the path so BoTs should tread over contractual matters carefully.
Steven – excellent administrator with high workrate but tends to want to run everything. Every school needs a Steven, but only one.