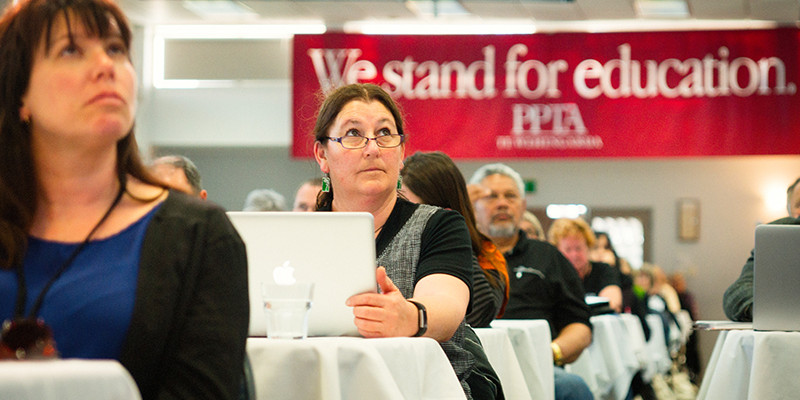 Shortage solutions and surprise support
Delegates at PPTA annual conference debate the association's industrial strategy and a surprise amendment is made
Secondary shortage solutions high on conference agenda
Solutions to the secondary teacher shortage affecting young people's education were high on the agenda at PPTA's annual conference last month.
Nearly 160 delegates met for three days during the school holidays to discuss and vote on the big issues for secondary teachers. The conference is the association's democratic decision-making body and decisions made there dictate PPTA's policy for the coming year.
Nation-wide teacher shortage means students miss out
By far one of the biggest issues was the growing nation-wide teacher shortages and their negative consequences for students. This was addressed in the conference's 2018 industrial strategy paper.
PPTA executive member Austen Pageau said we were already in a situation where students were missing out.
"Teachers are being forced to teach outside their subject areas, courses are being cancelled, class sizes are increasing and schools can't even get relieving teachers," he said.
Triple whammy eroding teacher recruitment
Austen spoke of the triple whammy seriously eroding teacher recruitment and retention.
"A large proportion of 'baby boomer' teachers will leave the teaching workforce in the next 10 years, more teachers are leaving teaching to take up more financially rewarding careers and fewer people are being attracted into teaching. 40 percent of new teachers leave the profession within their first five years and we're not even training enough new teachers to keep up with the demand now, let alone for the roll growth we're expecting over the next 10 years."
Two reports but still no movement on pay
Despite the recommendations in two 2016 reports the government had taken no steps to improve pay, which has fallen far behind what is needed to recruit and retain teachers, Austen said.
There had also been no meaningful steps taken to reduce teachers' excessive and bureaucratic workload, which was the second major factor contributing to teacher shortages, he said.
"We know, parents know and school principals all know what is happening – we just can't understand why the government has not taken steps to address the recruitment and retention problems. Our conference will figure out how to get the action we need to address this crisis before it gets any worse."
Teachers speak out
"Teachers and principals hate being in this position. We become teachers to help children reach their potential and we do our absolute best but things have got to a point where teachers are burning out and leaving. We have to speak out."
And speak out they did – after robust debate overwhelmingly supporting the strategy, with a few amendments, set out in the paper.
Surprise support from principals
Call for immediate 5 percent pay rise
During the debate on the industrial paper Naenae College principal John Russell made a surprise amendment to the paper that teachers receive an immediate 5 percent pay rise as an interim measure to relieve teacher shortages.
Russel, a principal for 29 years and member of the New Zealand Secondary Principals Council (NZSPC), said the shortage was the price we were paying for letting teachers' pay drop relative to the average wage.
Principals having to compromise on appointments
"In a recent survey 80 percent of principals said they were having to compromise on appointments because teacher shortages are so dire. In my 29 years as a principal I have seen the tide coming in and going out. I can tell you that the tide is moving further and further out," he said.
"Now is the time to inject some energy and reality into this situation," he said "This is a fundamental first step towards dealing to this crisis. We need to get on with the job."
Voting for answers
Delegates present agreed, voting to accept the additional recommendation as part of a strategy they hoped would provide some serious answers to the teacher shortage.

Information on teacher supply issues (PPTA website)
PPTA industrial strategy for 2018 and beyond - 2017 annual conference paper (PDF)