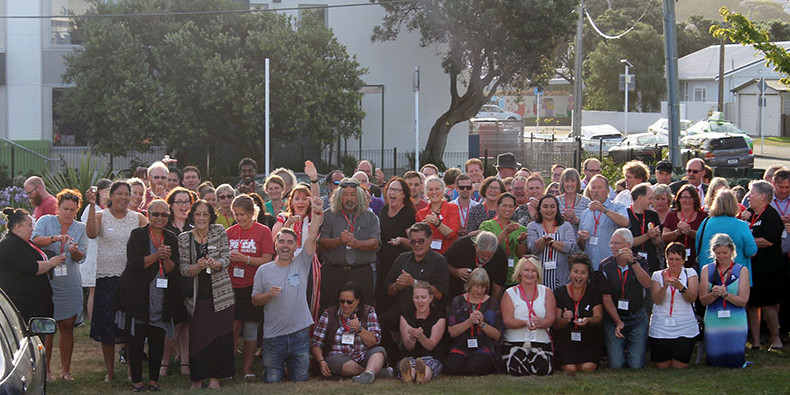 Stability and support for victims of domestic violence
Advice from PPTA's intrepid field officers on domestic violence leave
Feature image: Members at PPTA's 2017 Issues and Organising conference created a 'pathway to safety' to draw attention to the Domestic Violence Victims' Protection Bill
Domestic violence is an insidious and often hidden reality for many New Zealanders. There are many barriers that make it difficult for people experiencing violence to make changes to their situations, which make it difficult to safeguard themselves or their children.
Since April 1 2019 New Zealand has legal provisions to help employees dealing with the effects of domestic violence. The purpose of this legislation is to make it easier for people experiencing violence to continue their employment while dealing with things such as counselling, making police statements, doctor's visits and being out of home. It does not matter if it is the employee themselves who is the victim or if they are supporting a dependant in their care – the law guides employers to respond appropriately to provide stability and support.
It does not matter when the domestic violence occurred, it may predate the employee's current employment – however entitlement to the provisions does require the employee to have worked for at least six months with their current employer.
Under the Domestic Violence – Victims' Protection Act 2018 employees have a right to:
Take at least 10 days of paid domestic violence leave (this is separate from annual leave, sick leave and bereavement leave)
Ask for up to two months of flexible working arrangements
Not be treated adversely in the workplace because they might have experienced domestic violence.
Domestic violence leave is an annual entitlement and is not able to be carried over into a new year, or accrued
Employees seeking to access leave or flexible working hours need to let their employer know on or before they are meant to work that they want to take domestic violence leave. They may be expected to provide some proof of domestic violence - but PPTA encourages employers to take a person's word - victim support agencies and the police will be able to provide this discretely if required.
This legislation applies to all employees in New Zealand, not just teachers. You can help by spreading the word in our wider community that this legislation is available to support victims of domestic violence.
Ask your field officer if you would like further information.
Contact your local PPTA field office (ppta.org.nz)