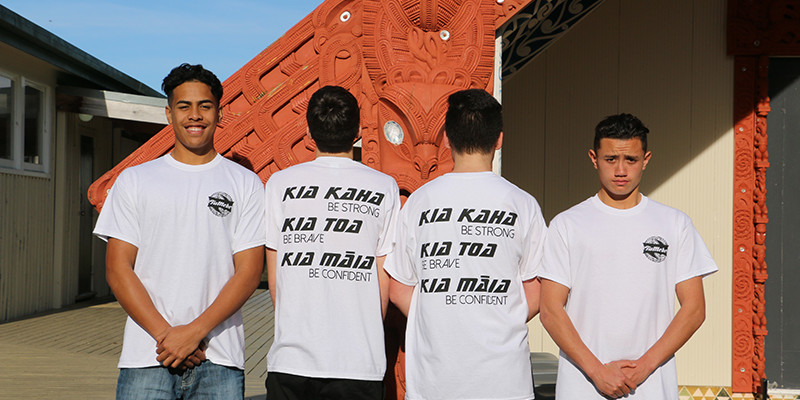 Students make reo visible through clothing
PPTA News talks with Tokoroa High School student Jay McLaren-Harris the CEO of Tumeke Clothing

Reaching people through their wardrobes
A group of talented Tokoroa High School students is putting te reo Māori in the public eye through people's wardrobes.
Tokoroa High School year 13 student Jay McLaren-Harris is the CEO of Tumeke Clothing, a clothing brand with aim of increasing the visibility and use of New Zealand's native language through simple, easy to learn, te reo phrases.
Winston wind-up leads to inspiration
Hailing from "the great iwi Ngapuhi" Jay is passionate about te reo. He says the idea for the clothing company grew out of a political situation where New Zealand First leader Winston Peters criticised Minister for Māori Development Te Ururoa Flavell, for speaking te reo in parliament.
Jay realised that unfortunately Winston had a point. If only a small percentage of the country understood te reo, how could the rest understand the debates being held in parliament?
In an ideal world te reo should be able to be spoken everywhere and people should be able to understand it. The problem that needed to be solved was the lack of visibility of te reo in people's everyday lives, he said.
Young Enterprise Scheme
Through the Young Enterprise Scheme (YES) Jay joined forces with three of his Tokoroa High classmates, Jordan Taylor (production director), Casey Clark (communications director) and Lachlan Poko (marketing/sales director) to help come up with a solution.
"We needed something different. We thought, what's something that people use every day? That people affiliate with every day? Clothing."
The YES programme works with schools, using a combination of teachers and members of the business community to give students experience in the business world.
A product with a purpose
The group set about creating a product with a purpose and, after weeks of consultation with cultural and business advisors and iwi leaders, Tumeke Clothing was born. "There is a lot of support, but it is challenging. Once we were able to settle on a product and a story we were able to find supportive mentors and advisors," Jay said.
Every detail of the clothing was meticulously thought out. The Tumeke logo was placed in the upper left chest area, to symbolise that language was at the heart of the project, and simple te reo phrases were on the back, emphasising the fact that language is the backbone of our culture.
"What we are creating is a story rather than a product. That's our approach. We share our story and if people agree with it they buy a shirt," Jay said.
Multicultural team
The Tumeke Clothing team is as multicultural as they come. "Only two of us are Māori, one is a Cook Islander and one is European. Within our board we are quite diverse, but it is the exact same message from all of us. In New Zealand te reo Māori, our native language, is not as visible as it should be."
"Massive" reaction
The reaction to Tumeke was "massive" and garnered fans from across the political spectrum, including the man that started it all, the right honourable Winston Peters. The brand was officially launched by Te Ururoa Flavell and the group was mentored by new associate minister of education Kelvin Davis. The brand was endorsed by a number of politicians, including the Māori and National parties, which made a lot of people want to jump on board.
"We even made a sale to David Seymour of the ACT Party," Jay said.
"It shows that, regardless of your political values, we can all play a role in protecting our native language," he said.
Future plans
The future of Tumeke clothing may have a different form as board members go their separate ways after school. One of the board members has been offered a league contract in Australia, while others are headed overseas.
"Whatever we do we want to keep the kaupapa of the business the same, whether we do clothing or something different," Jay said.
Branching out
The group is already branching out, launching the "I stand with Tumeke" social media campaign to promote te reo and even holding their own conference.
The Let's Have a Korero forum was held at Tokoroa High School. Its kaupapa was to increase the visibility of te reo and incorporate core Māori values into homes, schools and workplaces. Around 60 to 70 people attended, including new Labour MP Tamati Coffey and Ngā Manu Kōrero secondary school speech competition prize winner Tuimaleali'ifano Fiso, who travelled from Lower Hutt's Sacred Heart College to be there.
Ngā Manu Kōrero
Jay himself has been involved in Ngā Manu Kōrero, which is sponsored by PPTA, for the past four years, this year coming third in senior English and winning senior English impromptu.
"Ngā Manu Kōrero sets a precedent. It says we have some great orators in our country in terms of our youth, in both te reo and English. It shows how we can celebrate both without excluding one or the other," he said.
Update: Since this article has gone to print Tumeke Clothing has won two Young Enterprise Scheme national excellence awards, the only company out of 840 teams to do so. 
Lets Have a Korero Forum Welcome (video)