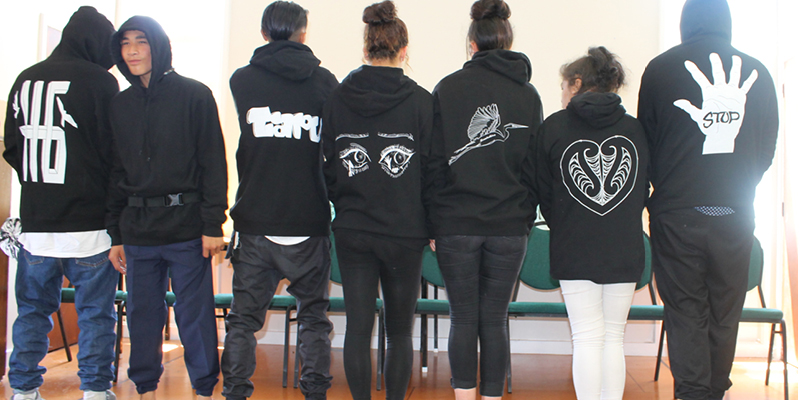 Students to show community it's okay to ask for help
Alternative education students use their second chance to promote non-violence in their community
Wainuiomata's Rangatahi Learning Centre provides young people with a second chance and now those students are using that chance to promote non-violence in their community.
Trish Morgan, the teacher in charge of the alternative education programme, said last year's students became involved in their version of the 'It's not okay' campaign around non-violence in their community.
"We changed it up a bit to 'it's okay to ask for help'," she said.
Community creation leads to NCEA credits
"We decided to get our kids involved by creating a mural for our community, to remind them about our young people."
The students came up with non-violence themed designs, based around the white ribbon anti-violence campaign. There were ribbons, doves and koru themed designs and the process of creating them led to credits of NCEA level 1 digital design.
As part of their graduation celebrations at the end of last year the students were presented with hoodies with their designs printed on them.
Everybody wins
Trish said these designs will form the basis of a mural which the young people will be working on this year with the aid of local artist Ranga Tuhi.

Ranga has worked with the centre's students before, helping them create a mural on a once graffiti plagued wall for children with motor disorders at the Conductive Education Trust.
"It's something that gives these kids pride. A place that was tagged is now a mural, these kids get NCEA, everybody wins – the community especially…If you don't motivate them they will end up in gangs or doing crime and going to prison. This gives them hope and an opportunity to better themselves," he said.
Making great progress and giving back to the community
This year's project will be much bigger, pride of place on Queen Street, Wainuiomata's main street. It will also be part of the town's anti-graffiti programme. "It's about giving back to the community," Trish said.
Trish was proud of her graduates and said they were making great progress.
"Some have gone into trades and some have gone back into mainstream schooling. It's really, really nice."
Those that have moved on and won't be able to help with the painting will still have their designs up on the wall, she said.
A really great year 
The students keep in touch when they leave the centre or return to mainstream schooling, Trish said. If they had any difficulties in the mainstream they also still had the option to go back to the centre for the day to calm down.
"It was a really great year last year. It is great getting them back into the community and doing things for the community," she said.