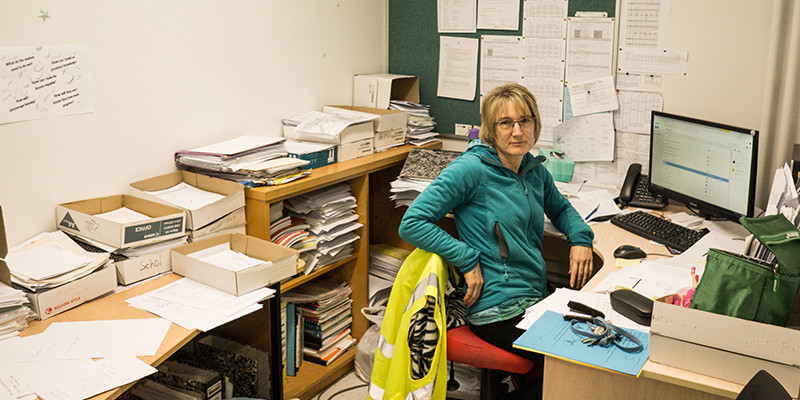 Supporting teaching and learning by reducing compliance and admin
An update on the work of the joint taskforce for reducing compliance and administration burden on schools and kura.
The voice of the education sector has made it loud and clear that compliance and administration activities are increasingly taking teachers and principals away from their core roles of teaching and learning.
In response to this a joint taskforce for reducing compliance and administration was established in March 2018. Chaired by New Zealand Council for Educational Research chief executive Graham Cosslett, it is composed of principals who represent a broad range of education sector groups and PPTA and is supported by two dedicated Ministry of Education personnel.
PPTA involvement
In 2015 PPTA produced a report on Secondary Teacher Workload which formed the basis of our submission to the 2016 Workload Working Group and its subsequent report. Some of the key workload factors identified in these two reports were NCEA, appraisal and the burden of unnecessary compliance.
As part of a work programme to address issues raised in the Workload Working Group report a work programme was established, one component of which was the creation of a group to look at ways to reduce unnecessary compliance pressures in schools.
A midway point
The taskforce work is at a midway point. It has been working with several education agencies to find opportunities for reducing system level compliance and administration. Now, it's about to broaden the focus and start working with schools and kura to help identify ways to reduce the burden at the school, kura and board level.
The taskforce has created an A3 document (attached and below) which illustrates the approach, opportunities and work with schools, kura and boards, soon to be underway.
Regional input
The taskforce's approach has involved regional workshops with schools which helped identify the 14 most impactful opportunities for reducing compliance and administration at the system level, which they have termed Tier 1.
The agencies and business owners now have plans in place to reduce the burdens identified. Some of the improvement plans have been initiated by the agencies or business owners, and some have been co-constructed by working alongside taskforce members and the Ministry of Education using a lean, waste reduction approach. Using this approach, the taskforce has been able to identify, quantify and establish a baseline of time saving opportunities which if fully implemented has the potential to save up to 2200 FTE's.
Success and delays
Some examples to date of collective success include savings in areas of property administration, efficiencies in a new online registration and certification process for teachers and professional leaders, clarification about the documentation and requirements for teacher appraisal, improved EOTC planning templates and more. The taskforce plans to create a central repository to share more detail about this information, and future improvements.
The taskforce will be making contact with schools to seek interest in supporting the initial role based workshops as part of its Tier 2 work. This will help it identify common areas of compliance and administration that can sometimes be generated at the school, kura and board level.
Originally the Taskforce planned to have this completed half way through 2020 so that schools and kura could utilise the resources and methodology to start making changes to unnecessary and otherwise wasteful work in their own sites. Unfortunately a recent Ministry budgeting decision means that the rollout will not happen until the second half of 2020 which means that individual schools will be unlikely to be able to take advantage of the resource until the beginning of 2021.
Joint Taskforce on Reducing Compliance
Christine Allen - NZ Secondary Principals' Council
Graeme Cosslett (chair) - New Zealand Council for Educational Research
Helen Varney - Auckland Primary Principals' Association
James Thomas - Secondary Principals' Association of NZ
Karl Vasau - NZ Pasifika Principals' Association
Kevin Shore - Association of Proprietors of Integrated Schools, Catholic Education Office
Malcolm Milner - New Zealand Principals' Federation
Meralyn Te Hira - Te Akatea Principals' Association Rawiri Wright Te Runanga Nui o Ngā Kura Kaupapa Māori o Aotearoa
Rob Willetts - NZ Post Primary Teachers' Association / Te Wehengarua
Stephanie Madden - NZ Educational Institute Te Riu Roa
Joint taskforce - who we are, what's we're working on and what's next? (A3 PDF)