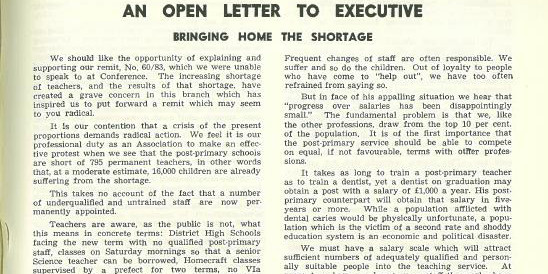 Teacher shortages – who said history never repeats?
Chalkdust - A series looking at education through the eyes of the PPTA Journal. This month we head back to 1960 when PPTA's Kapiti College branch had a distressingly familiar message about teacher shortages.
An open letter to the executive – bringing home the shortage
The increasing shortage of teachers, and the results of that shortage, have created a grave concern in this branch which has inspired us to put forward a remit which may seem to you radical.
It is our contention that a crisis of the present proportions demands radical action. We feel it is our professional duty as an association to make an effective protest when we see that the post-primary schools are short of 795 permanent teachers, in other words that, at a moderate estimate, 16,000 children are already suffering from the shortage. 
This takes no account of the fact that a number of underqualified and untrained staff are now permanently appointed.
Prefects teaching and Saturday classes
Teachers are aware, as the public is not, what this means in concrete terms: District High Schools facing the new term with no qualified post-primary staff, classes on Saturday morning so that a senior Science teacher can be borrowed, Homecraft classes supervised by a prefect for two terms…to give just a few instances that come to mind. Out of situations like these arises our remit.
…We face the task of trying to bring up to the standard of School Certificate and University Entrance classes which, through no fault of their own, have been poorly taught and badly disciplined. Frequent changes of staff are often responsible. We suffer and so do the children.
We must have a salary scale which will attract sufficient numbers of adequately qualified and personally suitable people into the teaching service.
Shipping in overseas teachers
We are always told that there is insufficient money available to provide us with the salaries to attract the sort of people we need. But money can be found for expensive palliatives and political measures, such as the payment of air and shipping fares for overseas teachers under bond for only three years and experiments in television.
We do not quarrel with the desperate remedy of employing overseas teachers but we wish to point out that if money can be spent on impermanent recruits, short term remedies and palliatives, it is nonsense to say that money cannot be found to recruit and keep permanent staff.
The time for making a fuss has come
Our association has tried holding meetings with members of parliament and gaining publicity through the prize giving speeches of principals, but hard words break no bones…accordingly we suggest "Executive should suggest to principals that if adequately qualified staff are not available, principals should limit enrolment or send home those children for whom adequate tuition is not available".
This branch is convinced that the time for making a fuss has come and the time for "making do" has long since passed…It has not been brought home to the public that the need in our schools is urgent, and their future, and that of the children in them, gravely endangered. Our branch recommends to executive the adoption of our remit and the immediate organisation of this scheme of protest in order to rouse effective public concern over the crisis in the post-primary service.
- Kapiti College branch (abridged.)