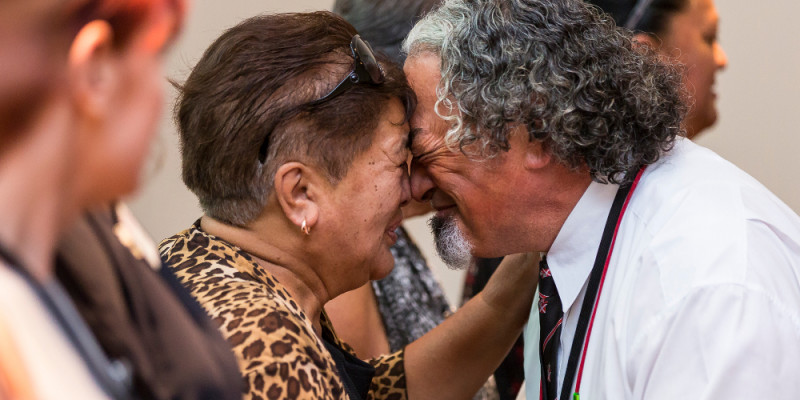 Teachers and te reo
PPTA members share their experiences of learning te reo Māori following a PPTA survey on secondary teachers' ability, attitudes and involvement with the language.
Te reo knowledge benefits teachers and students
There are well-documented benefits for students of having teachers with skills and understanding of te reo and tikanga Māori. PPTA is one of many groups and organisations committed to improving access for students to learn te reo, but one of the major barriers to this is a shortage of teachers with the skills to teach it.
Understanding the shortage of te reo teachers
To understand and help find solutions to the issues, PPTA conducted a survey of members of secondary school members about their ability, attitudes and expertise the PPTA conducted a survey of members about their ability, attitudes to and experiences of learning te reo Māori.
Bridging the gaps at John Paul College
John Paul College English teacher Kelly Douglas is part of a group of 10 staff taking part in a te reo course after school. The group includes the school's principal, who is present as often as his role permits and the lessons are paid for as part of the staff's professional development. Kelly sees learning te reo as extremely important.
"Language is the backbone of any culture and without it cultures wither up and die. New Zealand is supposed to be a bi-cultural country, but so many things get 'lost in translation' between Māori and Pakeha. I think a better understanding of language and culture will help bridge many gaps between all of us," she said.
No govt plan to develop te reo in existing teacher workforce
While there are a number of government strategies to increase the amount of teachers entering the profession with the skills and capacity to teach te reo, there is no plan to develop the already existing workforce. With around 24,000 secondary teachers working in Aotearoa and only 1000 or fewer new teachers joining the workforce each year, this will make for very slow change.
Most teachers know some reo
According to the survey a majority of secondary teachers said they knew at least several phrases in te reo Māori and only 2% said they had no knowledge. The percentage who said they could hold a conversation or were fluent in te reo was higher than the general population. In the 2013 census just under 4% of the general population said they could hold a conversation in te reo. This compares to 9% of secondary teachers. Ability in te reo Māori was significantly higher for teachers who identified as Māori.
Building confidence
"I know little bits and pieces but not enough and I have a genuine love and interest in learning more. My subject has a lot of te reo in it due to our strong focus on New Zealand Literature. I don't want to offend anyone with rubbish pronunciation but also it helps in the understanding of both content and context for many of the texts," Kelly said.
She is already finding herself more confident using the language and is encouraging her students to correct her and engage with her attempts to learn. "I am also reminded of what it is like to be 'learning' something when you are tired so it has made me more aware of the activities I put forth to my students," she said.
Teaching Māori History in Southland
James Hargest College history teacher and Southland PPTA executive member Chris Abercrombie decided to learn te reo after teaching Māori history became a larger part of his job. "I was teaching more and more Māori history after being involved in the Māori History Project and I wanted to improve my understanding."
Chris has been taking a course through the Southern Institute of Technology, which he says has been great. He started knowing just the basics but is getting better and has his students to help him with it. "My students help me out with it. They get to see me sometime struggle but keep working on it. It has been fantastic.
"It opens up a new world and is helping me to be a better teacher," he said.
"It's a trick"
Secondary teachers see great value in understanding and speaking basic te reo, with 68% of those surveyed saying they believed it was rather or extremely important. There was little variation in this question when analysed by age. Young teachers under the age of 30 and teachers over the age of 50 had similar responses to how importantly they rated te reo.
Wairoa College teacher Conan Doyle is learning te reo online through Te Wānanga o Raukawa. He thinks learning te reo Māori is really important and would like to see it become a core subject in our schools. "We know that children in many other countries learn more than two languages. We should begin with the one that has been spoken here for centuries. It's a tāonga, it has its own unique beauty and will make us all richer in terms of understanding and identity," he said.
Realising a fascination for te reo
Northland PPTA executive member Terry Robson has taught in the far north for 30 years. "I began to realize a fascination for te reo, spoken by fluent users, both casually (in the supermarket in Kaikohe) or at Marae."
"Since then I have taught in a bilingual setting for a period of time, and continued promoting what I now consider 'our' language in all the schools where I have subsequently taught. I have spoken in Te Reo Maori to people in public forum, PUMs, sporting events and to parents whenever I can and I accept the challenge of offering karakia for meetings. My experience in these situations is that Te Reo speakers in the audience appreciate the effort I make to korero (although my efforts may seem disjointed at times). It creates within me a sense of pride, achievement and mana when I choose to korero," he said.
Ways of learning te reo
Three quarters of the survey sample had done some formal learning of te reo Māori. The most common ways were through professional learning and development (PLD) opportunities provided at school (28%), while they were at school themselves as students (23.5%) and during initial teacher education (23%). Just under 20% had learned te reo from community based or other courses in their own time while working as a teacher. Fewer teachers had experience of formal study in te reo Māori – 9% studied te reo in a tertiary qualification before they were a teacher and 6% had studied te reo formally for a tertiary qualification while teaching.
Undertaking PLD opportunities at school seemed to make little difference in regards to the level of skill of te reo. On the other hand undertaking community-based courses in one's own time correlated with much greater level of skill in te reo.
Learning te reo online
Conan has given his te reo a push this year and has found learning online through Te Wānanga o Raukawa a very positive experience.
"They have created an excellent online course that starts at about level 4, it is called Poupou Huia te Reo. I know there is some concern at present about online learning, and the possibility of it being used as a substitute to classroom (kanohi ki te kanohi) learning. I think many of our concerns are well founded, particularly in relation to young people. But for those of us with good literacy levels and self-motivation there are learning opportunities via the internet; particularly if a course of study is well planned and supported. I try and do an hour or two every night," he said.
"It's hard for me to measure my level of te reo Māori. I'll leave that for others to judge. Remember the whakataukī: The dara is not talking about its own taste. "
One-off opportunities not enough
The conclusion from the survey would be that one-off, or even a series of one-off, opportunities provided by schools makes very little difference to the confidence of teachers in te reo Māori – a finding that would be consistent with the conclusions of the Best Evidence Synthesis research on teacher professional learning, that learning needs to be in-depth, sustained and challenging.
The majority of teachers (60%) have not had support from their school to develop their te reo Māori, such as time away from class or support with study costs. This was the case with Chris and Conan, but Conan is working on getting a Teach NZ scholarship that will allow he to focus on te reo Māori full time for a year. "My BOT has endorsed this so fingers crossed! On a personal level, I get encouragement from some of my peers and my wife, who is also passionate about te reo Māori," he said.
"My school is the reason I'm doing it"
Kelly on the other hand describes herself as "super fortunate" that her principal had paid for a tutor to come to the school one afternoon a week. "It was open to all staff and, as much as time is always an issue when you are a teacher, having it on site straight after school makes it easier to get to. My school is the reason I am doing it," she said.
Māori Cecelia Pakinga says it has been exciting and wonderful to watch staff learn te reo Māori. "I am loving telling the students about their teachers learning te reo Māori," she said.
Time is a barrier
There was also a strong message from survey respondents that lack of time was a major barrier to developing competence in te reo Māori.
Members spoken to by PPTA News agreed.
"The biggest challenge is time. Finding the time to practice, to do the homework, to focus on it. We are already under the pump in so many ways that the time you have to commit to do this well," Chris said.
"Time. Definitely time. As it is, we are snowed under by paper work, over-availability due to technological expectations and then just basic 'teaching' requirements. Making the time to attend and then learn and reinforce new learning is difficult when you are tired, have paper coming out the wazoo and then have to go home to tend to your own whanau.​ That is one of the reasons I am so grateful for the initiative here; it is on-site, immediately after school. Like a meeting BUT you want to go because you are gaining so much from it. The quality of the tutor is obviously a factor and we are certainly lucky with ours," Kelly said.
"The main barrier for teachers wanting to learn te reo would be the overall lack of tautoko/support. Like so many things we want to grow in terms of education, teachers who really want to learn te reo need real opportunities in terms of time and resourcing. If we want more teachers using te reo Māori and teaching others how to kōrero Māori then they need tautoko in terms of PD, and lots more scholarships to learn while they earn. I believe there are plenty of good teachers just yearning for an opportunity to grow themselves in this area," Conan said.
Take the opportunities and overcome your fear
Terry's advice to aspiring te reo learners and speakers is to take up any learning opportunities that come their way. "Overcome the emotions of fear and embarrassment (at making a mistake) and keep using your te reo at any opportunity… it's an amazing feeling."
Conan encourages all his colleagues in education to keep being part of growing te reo Māori.
No reira, ki ōku pouako hoa o te motu,
nau mai piki mai ki tēnei kaupapa nui.
Ahakoa ngā uaua, kia kaha, kia toa, kia manawanui!
(Despite the difficulties, be strong, be brave, and be persistent!)
More te reo journeys:
Terry Robson - a sense of pride
Desiree Mulligan - each new word is a treasure
Celeste Warner - my goal is to be bilingual
Tony 'Haggis' Henderson - NZ could be less angry, more inclusive