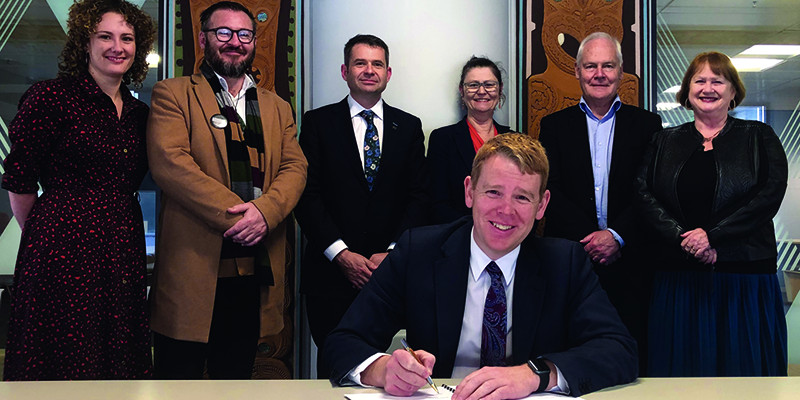 The Accord – what happens now?
New advisory officer Susan Haugh updates us on the tripartite accord between PPTA, NZEI and the Ministry of Education
Feature image: PPTA, NZEI, the Ministry of Education and education minister Chris Hipkins sign the tripartite accord.
The tripartite Accord between the Ministry of Education, PPTA and NZEI stems from the settlement of the 2019 STCA and is sponsored by the Minister of Education Hon. Chris Hipkins.
One of my portfolios, in my new job at PPTA national office, is to support the president and general secretary as the two PPTA representatives at the Accord governance table. This involves being one of three people on the Accord secretariat and ensuring all Accord agenda items are well-researched and tuned to PPTA policy.
I will be updating members during 2020 on Accord developments, through the PPTA News, Collective News and on the website. I am also available to travel to regional meetings and update members on Accord matters.
Here are the key achievements in the Accord to date:
NCEA teacher only days for secondary and area school members
There will be eight teacher only days over the course of the next three years to ease workload around the NCEA changes.
You can view a list of teacher only days on the Ministry of Education website (education.govt.nz).
Removal of appraisal
Legislation is now before the House that will remove any requirement for teachers to undertake appraisal. Schools should therefore be winding down current appraisal approaches that involve workload-heavy portfolios of evidence or inquiry projects. Instead, we are moving to a high trust model, where teachers are encouraged to:
Have professional conversations with each other.
Undertake an annual lesson observation (two for PCTs).
Engage in reflective practices.
Undertake professional learning and development.
Have brief documentation of the above, not create evidential documents.
More information is available on our website and the teaching council's
Removing appraisal - a workload reduction win (ppta.org.nz)
Latest appraisal news (teachingcouncil.nz)
Teacher wellbeing
PPTA president Jack Boyle has led this piece of Accord work and the wellbeing framework toolkit. We are excited that wellbeing workshops for secondary and area school staff will be taking place throughout the country starting from March this year.
These workshops will be run by WorkSafeReps and will give teachers a strong sense of the features of proactive, respectful school-place cultures and how to use risk management strategies to create these safe work environments. It will also look at the definitions of bullying and harassment, and what the law says about the duties of reps, teachers and principals in maintaining wellbeing..
Workload groups
2020 will see a big focus on workload in the Accord, with a number of specific sub-groups examining different areas that impact on a teacher's working day. Two of these Accord sub-groups are already underway: PPTA advisory officer Fran Renton is representing PPTA on a group looking at workload associated with dealing with students with complex learning needs. Fran is joined on this group by chief science advisor professor Stuart McNaughton and former NZEI president Lynda Stuart.
The second of the workload sub-groups up and running is looking at the impact of personalisation of learning. This is an especially important area in the digital era, as members are telling us about the constant pressure they are under as a result of technological advances in the student/parent/teacher communication spaces. PPTA executive member for Tāmaki Makaurau Auckland (Eastern Ward) Lawrence Mikkelsen and I will both represent the association on this group.
Change management
PPTA's change management toolkit will be distributed by the association and ministry as a resource available for schools to use at a local level.
The three Accord partners will also be working on a set of confirmed system-wide change management principles that we hope to publish mid-way through 2020. The principles will be based on national and international best practice education change management, including the lessons we can learn from Finland and Singapore.
Education change management toolkit (ppta.org.nz)
To learn more about Susan, check out her profile
Hitting the ground running - Introducing Susan Haugh, PPTA's national campaigns coordinator