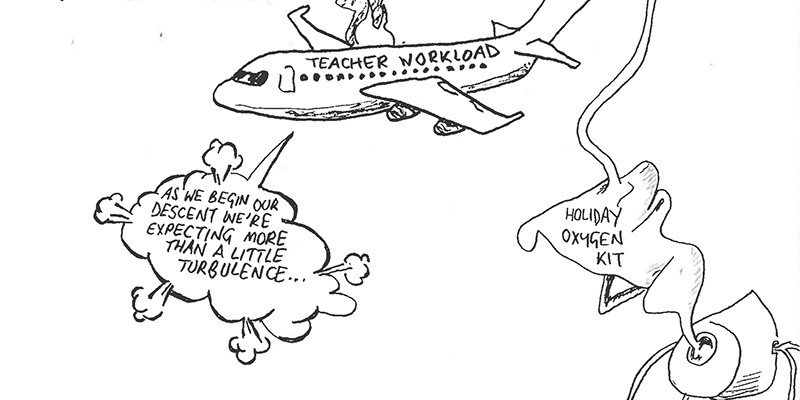 Time for teachers to secure their own oxygen masks
PPTA president Jack Boyle talks about the importance of teachers prioritising their own well-being in the lead up to the end of the school year.
A holiday safety briefing
During the safety briefing on every plane journey adults are reminded that, in case of an emergency, they are to secure their own oxygen masks before they help children fit theirs. Why? Because it helps you look after children more effectively.
I'm convinced that the same is true of teacher mental health and wellbeing. Various factors contribute to stress in the workplace; teacher burnout, not feeling supported as a professional, continual change, increasing workload, feeling like we have no say in the direction education is taking – it all adds up.
As the end of year oxygen masks drop from the ceiling it's important we prioritise our own well-being.
Taking a break
Teachers are the heart of education. Our contribution makes it successful. As we near the end of the school year, fill in the last forms, inquiry documents and testimonials and awhi the seniors concluding their exams, I hope we can all take a moment to recognise how important teachers are.
I hope that we feel acknowledged for our efforts and have the opportunity to acknowledge others - we deserve it. Our high-quality public education system is built on the hard work of teachers.
While the concept of holidays for teachers has become almost a myth, I sincerely hope you get some downtime over the summer break. It's time to enjoy a welcome wind down after a crazily busy and pressured year. (I'll be following the escape-path lighting all the way to the beach!) As educators we know that allowing ourselves time to reflect on the year and our achievements can help our emotional wellbeing and will be motivating for when we start all over again in 2018.
Gearing up
A bit of R & R is a good thing but it's not PPTA's intention to sit on the tarmac till February. The difficulties we face as a profession need to be acknowledged and solutions implemented. So while it's pleasing that the new government is making noises about some of the most pressing issues we face, we will continue to advocate for genuine support from government and from society, in terms of pay, working conditions and professional support.
We'll be working over the break to pursue the variation proposed by principal John Russell at our annual conference, working on developing our claims for the STCA bargaining round next year, continuing with our pay and equity case and pressing for action on the teacher wellbeing commitment the previous education minister made at the International Summit of the Teaching Profession earlier this year.
We'll need to prepare for a little turbulence
When you get back to school next year we'll be asking you to channel your energy into collective motivation – to make sure teacher wellbeing is guaranteed for all of us.
We know we can do it: "the most fundamental and pervasive benefit of wellbeing is a growth in self-confidence".
Rest well. And thank you for all that you do.
Cartoon: Jack Boyle