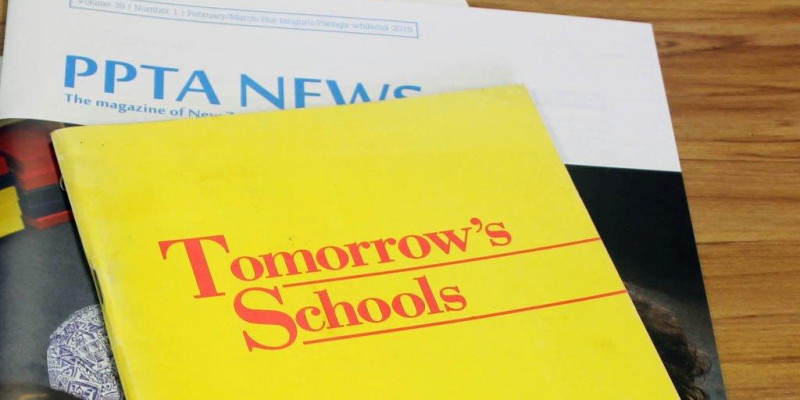 Tomorrow's Schools – how did we get here?
The government has announced a review of New Zealand's education system, but what is Tomorrow's Schools? How did we get here? And where are we going now?
"The government's objective, broadly expressed, is that all persons, whatever their level of ability, whether they live in town or country, have a right as citizens to a free education of the kind for which they are best fitted and to the fullest extent of their powers."
This was Prime Minister Peter Fraser's vision for education in the 1940s. Today's competitive education system with 'have' and 'have not' schools appears to be a far cry from that. To see how we got from there to here, PPTA News looks at the timeline of Tomorrow's Schools.
Before Tomorrow's Schools
Before the introduction of Tomorrow's Schools New Zealand had a tightly controlled and centralised public education system. Schools operated under regional secondary school boards and local education boards. Schools were monitored and supported by a system of inspectors.
The Department of Education administered property and provided support around curriculum and professional development and central functions such as payment of salaries, building and funding entitlements. The curriculum was the same for all students, which the department supported through an advisory system. Teachers and principals were employees of the department and the principal was the school's professional leader.
Schools were zoned and the expectation was that people would attend their local school. Schools were more socially diverse and there was limited parental involvement.
The Picot report
In the late 1980s the then Labour government announced that the schooling system was not responding to the broader changes happening in the economy. "More immediate delivery of resources to schools, more parental and community involvement and great teacher responsibility" was what was needed, according to then prime minister and minister of education David Lange.
In 1988 the Administering for Excellence: Effective Administration in Education report (more commonly known at the Picot report) by a taskforce headed by businessman Brian Picot was released.Picot was the managing director of supermarket operator Progressive Enterprises and his report encouraged government to shift from centralised management of education to local communities with a focus on "value and efficiency".
The changes
In 1989 the national Department of Education was abolished and the Ministry of Education established. Overnight control of primary and secondary schools was moved to locally elected boards of trustees made up of volunteers. Principals became CEOs as well as professional leaders and tool on legal, financial, property and employment responsibilities.
The inspectorate system was removed and the education agencies were separated with the Ministry of Education handling policy, ERO accountability and the New Zealand Qualifications Authority (NZQA) qualifications.
In 1990 a National government was elected and in 1991 zoning was abolished and full parental choice of schools was given, leading to the development of a competitive culture in the state education system. Schools were bulk funded and given responsibility for property and operations. As independent businesses competing in a market, successful schools survived and grew while unsuccessful schools failed and closed.
What happened?
There has been some innovation, greater flexibility but no educational improvement. The system has become incoherent with 'successful' schools oversubscribed, social segregation and decreased equity.
This has led to the call for a review of the system. "The benefits of the changes have run their course and we need to take a fundamental look at the system," current education minister Chris Hipkins says.
An independent task force has been set up to review the last 30 years with a cross-sector advisory panel due to report by the end of 2018. Any change is to be constructive, evidence-based and done in a way that schools and communities feel empowered.
Tomorrow's Schools - advice for the decision makers (PPTA's position on the Tomorrow's Schools review)