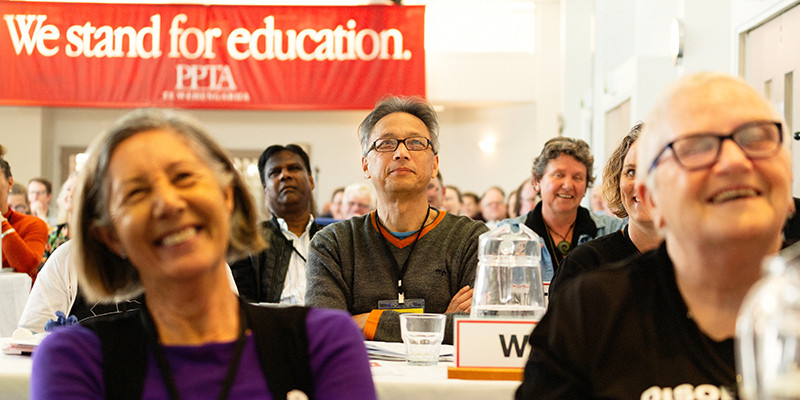 Tomorrow's Schools, the Treaty and looking after yourself
A round up of the 2018 annual conference decisions.
A record number of delegates attended PPTA's annual conference this year to decide the association's policy and the direction of the work we will undertake next year. Here is a roundup of major decisions made.
Kua tae te wā ki te arotake, ki te whakakaha ake i ngā tūhonotanga i raro i te tiriti / Time to review and strengthen PPTA's treaty relationships
Next year a treaty audit of PPTA structures, policies and practices will be carried out, and a progress report and recommendations presented to the 2020 conference for membership consideration. Members also agreed that PPTA promote opportunities for members to share culturally responsive and relational pedagogy practice.
Career Pathways – Subject Pedagogy Specialists
The conference agreed to look at subject pedagogy specialist roles, investigate the reinstatement of the regional subject specialists and then bring recommendations to next year's annual conference.
The Tomorrow's Schools review
The conference agreed that PPTA will support the Independent Taskforce's amended design principles. It also formalised a list of priorities we believe the review should focus on.
PPTA reaffirmed the commitment made at the International Summit of the Teaching Profession to work with the Ministry of Education to co-construct the governance and administration system of New Zealand schools and will urge the minister to ensure any changes be carefully planned, implemented, and properly resourced.
Professional learners
PPTA re-affirms that all types of professional learning and development (PLD) are important and that teachers should be able to access relevant PLD.
We believe every teacher has a right to access to fully funded, readily accessible, timely PLD that relates directly to specialist areas; can be accessed from a centrally or regionally based PLD provider; is based on best evidence; is in-depth and/or one-off, and may connect teachers with colleagues from other schools.
PPTA will call on the government to press ahead with its commitment to establish a national, public and comprehensive advisory service.
Improving the Community of Schools model
PPTA endorses the underlying principles of collaborative practices within and between schools and classroom-based career options. However we note that there are significant weaknesses in the implementation of Communities of Learning, and call on the Minister of Education to resolve these with urgency.
The conference agreed that the IES Advisory group be re-established and that PPTA prepare for members to consider options for changes to address the problems identified in the paper.
Looking after yourself
PPTA will research best practice from other professions on how they protect the hauora (health and wellbeing) of workers, the ethics thereof, and how these can be adapted for the teaching profession. A paper on this research will be prepared for the 2019 annual conference.
PPTA will also lobby the Ministry and Minister of Education to require all schools to provide access to external employee assistance programmes and agrees to promote and support the inclusion, in all initial teacher education programmes of education, of hauora, mental and emotional health support for teachers and their colleagues.
Constitutional amendment: regional name change
The Auckland region will henceforth be known as "Tāmaki Makaurau Auckland" in the PPTA constitution.
Recipients of the PPTA Service Award for 2018
Colin Wood – Cambridge High School, Waikato 
John Gaffney – Lately of St Thomas of Canterbury College, Canterbury
Perry Petelo – St Thomas of Canterbury College, Canterbury
Alec Campbell – Maniototo Area School, Otago
Pauline McNeill – Columba College, Otago