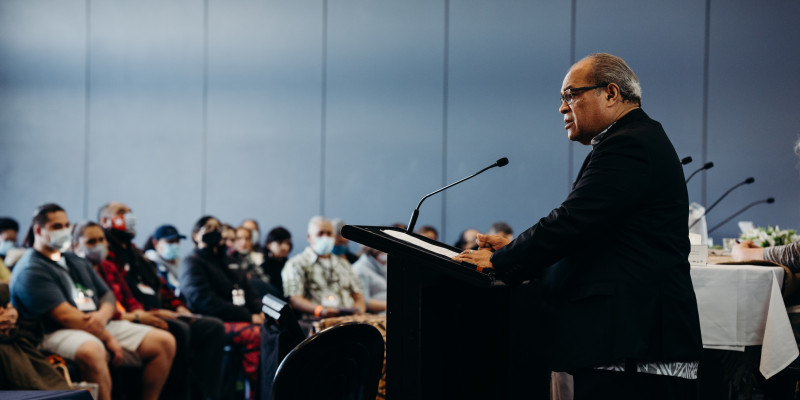 Tū Toa as warriors
Stand strong was the theme of the recent PPTA Te Wehengarua Pasifika Fono
Hon. Aupito William Sio at the Pasifika Fono
"As a matai I have a clear vision of what I want our children to achieve. I'm calling on you to Tū Toa, stand strong as warriors and learn from your ancestors to help you navigate the challenges you face."
That was the message from Hon. Aupito William Sio, Minister for Pacific Peoples and Associate Minister of Education to participants at PPTA Te Wehengarua Pasifika Fono, held in Wellington in July. He encouraged participants to think constantly about the transition of leadership. "Like Māori, our world view is for the next generation, those are the people we need to keep thinking about. Generation 6Bs – brown, beautiful, bold, bilingual, brainy and brave – these are the people that will shape the future of Aotearoa New Zealand."
Minister Sio told Fono participants that it was their support and passion for learners that was often the key to their success. "Our Pacific learners and their families can often experience hardship and this has been exacerbated by COVID-19. We must never lose sight of our children and families' needs and their aspirations for educational success."
Leadership – an opportunity to serve in a different way
Aspirations and leadership were also the themes of a panel discussion featuring a range of Fono participants who were deputy and assistant principals.
Katalina Ma, Assistant Principal at Mangere College, thought senior leadership would take her away from her happy place in the classroom. "However, when I got on to the senior leadership team I found it was an opportunity to serve in a different way. Being a Maths teacher I can see it's about problem solving and it's about the now. I'm thoroughly enjoying senior management and I have a couple of community projects that keep me in touch with the South Auckland community."
"I have come to this point because I have been exposed to good leadership and I have been mentored by many people."
Building connections and networks
Hannibal Ikahihifo, Deputy Principal at Ashburton College, was also encouraged by mentors to apply for various leadership roles.
"My career started in Cheviot. I was housed on a farm in a cottage, it was a very uncomfortable start. There were only three Samoan boys at the school - their parents were shearers.
"I moved to Waimate High School for six months. Then I went to Te Kuiti High School. I knew the school, a predominantly Māori school, would give me something I didn't have in terms of getting to be a leader. Te Kuiti was a culture shock to the max. I was DP there for two years.
"I chose my current role at Ashburton because it's given me the ability to enhance my skill set and build connections, particularly between the school and the community. As a senior leader, you need to build connections and networks. It's been hard and enjoyable."
Culturally safe spaces important for students and staff
Sinapi Taeao had only been in the role of Deputy Principal at Sacred Heart College, Lower Hutt for a month when she spoke at the Fono. "I'm still coming to grips with calling myself a DP. I am a Maths teacher and the first non-palangi in the school's senior leadership team. It's a massive responsibility and such an honour."
After teaching for five years in Japan, Sinapi returned to New Zealand and started teaching at Sacred Heart, where 15% of the roll were Pacific Island students. After working there for eight years, she was encouraged by a friend to apply for a role at Naenae College. "Having grown up in the Hutt Valley, I thought 'Naenae, that's pretty rough'.
"However, I found that staff reflected the school population and for the first time I felt really safe. Because of that I was my true authentic self and I thrived. Culturally safe spaces are just as important for staff as they are for kids."
Then the Deputy Principal role at Sacred Heart College came up. "It wasn't until the girls got up and sang to me at my pōwhiri that I knew I was coming home for my girls.
"People say if you're not at the table, you'll find yourself on the menu. It was time for me to get off the menu and put on my big girls' pants and sit at the table and do it for my girls."